Test drive: Mack Command Steer
Technology reduces driver fatigue in the Mack Granite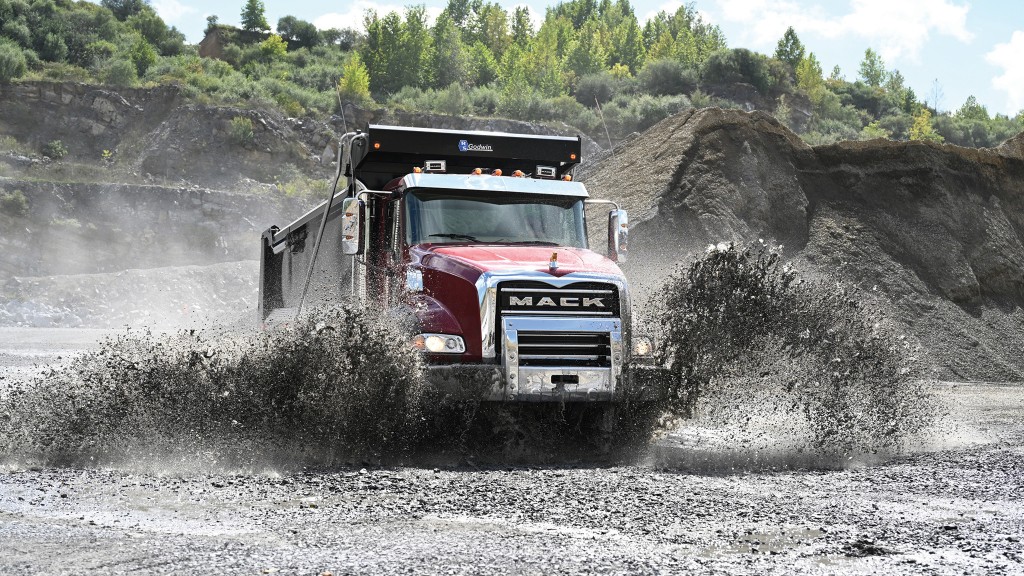 Even in the most ideal road conditions, driving a truck all day can be exhausting. I recently had the opportunity to test Mack Command Steer, the active steering system designed to reduce driver fatigue. The demonstration area at H&K Easton Quarry in Easton, Pennsylvania, featured a variety of terrains, grades, and gravel mounds as well as obstacle courses. I drove two Mack Granites, one equipped with Command Steer and one without, so that I could experience the difference.
"Driving a heavy-duty construction truck is physically demanding on the body," says Mack Construction Product Manager Tim Wrinkle. "Job sites have uneven road conditions which contribute to wear and tear on the driver. Mack Command Steer has been shown to reduce driver effort by 85 percent, improving job site safety and driver productivity."
Once I got behind the wheel, the experience wasn't as dramatic as transitioning from manual steering to power steering in a car, but the difference in the effort required to guide the trucks through an obstacle course was significant. It was considerably easier for me to steer the truck equipped with Command Steer than the truck that did not have the technology.
This is accomplished by combining an electric motor with the truck's existing hydraulic steering. The terrain, driver inputs, and environmental conditions are monitored throughout the truck using multiple sensors that gather data more than 2,000 times per second. The system takes the information and uses it to provide variable steering effort and applies additional torque through the electric motor as needed. Command Steer can also suppress the feel of potholes, dips, and ruts. It reacts to the uneven terrain by countering the steer force, smoothing the steering feedback, and reducing steering wheel kicks.
When I drove a slalom course in the Mack Granite with Command Steer, all I needed was a light touch on the wheel to steer my way through the turns. On the rough-terrain portion of the obstacle course, the wheel didn't jerk out of my hands as I navigated over deep ruts and bumps. But my favourite feature was the system's return-to-zero capability. It automatically returns the steering wheel to the centre position (in forward and reverse), helping to simplify tight maneuvers.
Wrinkle tells me that Command Steer decreases driver fatigue by 30 percent, "Drivers no longer need to fight the wheel when driving on severe terrain or during difficult weather conditions requiring a lot of steer effort. Mack Command Steer helps the driver maintain greater control of both on-highway and off-road applications at low speeds and high speeds."
The system is now available in Mack Granite models.