Grove makes first North American delivery of largest six-axle all-terrain crane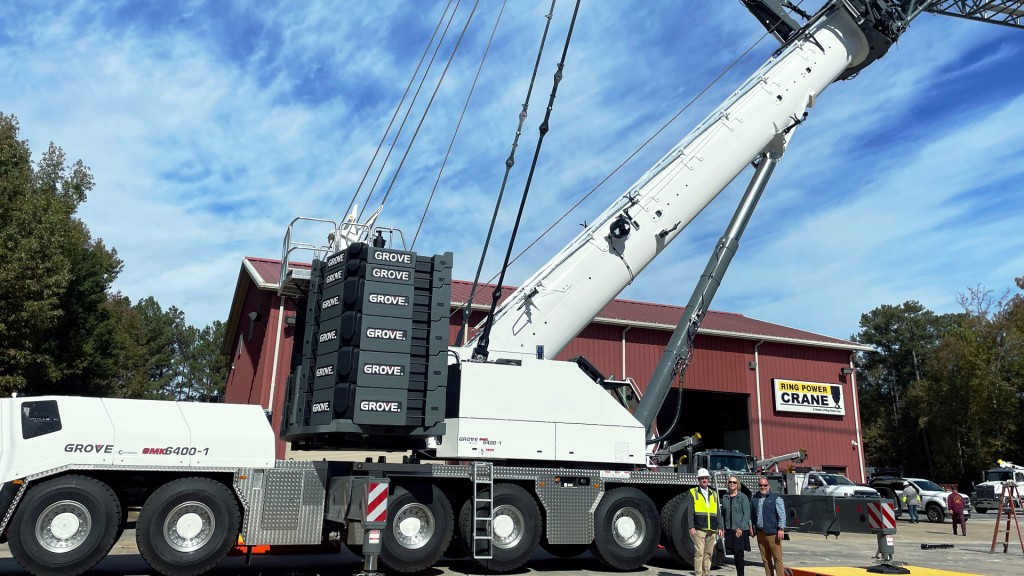 The first of Grove's 450 US ton GMK6400-1 all-terrain cranes to be delivered in North America has made its way to Heaton Erecting, a crane, rigging, and transportation company in the Atlanta, Georgia, area.
The new six-axle crane will expand Heaton's growing fleet of Grove cranes as business booms in the Atlanta region, which is one of the United States' fastest-growing cities.
The GMK6400-1 has a maximum tip height of 448 feet (136.6 metres) within a small footprint, at 57.5 feet (17.5 metres) in length and 9.8 feet (3 metres) in width. The boom overhang is 5.9 feet (1.8 metres).
Heaton ordered their crane with Grove's optional self-rigging MegaWingLift attachment, which increases lift capacity on the 197-foot (60 metre) five-section main boom by up to 70 percent. The attachment also boosts the lift capacity of the luffing jib by up to 400 percent, allowing for its use on jobs that would normally require a much larger crane.
"A lot of the work we do is building data centres, and the GMK6400-1 will be a great fit with that type of mechanical work," said Billy Hancock Jr, vice president at Heaton Erecting. "We'll be installing 72 cooling units on the roof of one data centre soon, as well as providing a hook for pipes, lights, and other components. This crane will also give us the ability to assist in the assembly and disassembly of tower cranes across Atlanta."
The Manitowoc Crane Control System (CCS) makes tasks easier, Hancock noted.
"We have a large GMK fleet, so our operators and mechanics are very knowledgeable in using CCS for optimum results. So, whenever manpower is low, we can reposition operators and they're immediately comfortable with it. We're also expecting to reduce our assembly time even further so that we're quickly in and out of the job site," he said.
Quick setup is aided by the use of the MAXbase variable outrigger positioning system, which enables outriggers to be extended in a variety of symmetric or asymmetric lengths when obstacles prevent their full extension. The system works in conjunction with Boom Configurator mode to achieve longer working radii and higher main boom capacities in less than ideal environments.
In transport mode, the crane features a 577 hp (430 kW) Tier 4 Final/Stage V Mercedes-Benz OM473LA engine, 12-speed ZF transmission and MEGATRAK suspension with automatic leveling system. At the jobsite, the MegaDrive 12x8x12 hybrid driveline, with axles 4 and 5 being driven hydrostatically, assumes control to optimize the ease of precise positioning.
See more about Grove's first GMK6400-1 in North America