Ritchie Bros. to increase presence in vehicle remarketing industry with majority acquisition of IAA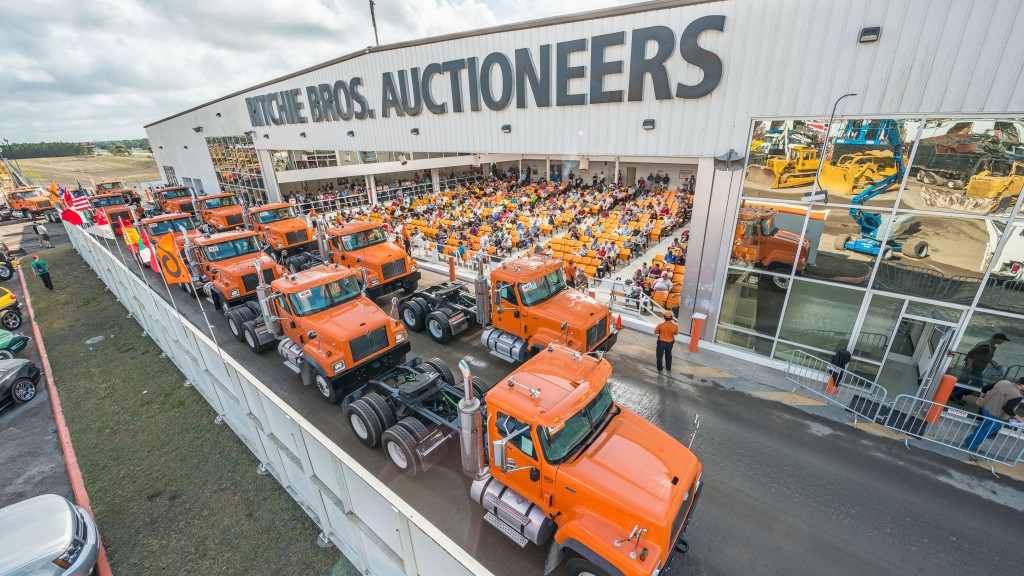 Ritchie Bros. Auctioneers Incorporated will acquire IAA, Inc. in a stock and cash transaction valued at approximately $7.3 billion including the assumption of $1.0 billion of net debt. The transaction has the unanimous support of both boards of directors.
Following the acquisition, IAA stockholders will receive $10.00 in cash and 0.5804 shares of Ritchie Bros. common stock for each share of IAA common stock owned. The purchase price of $46.88 per share represents a 19 percent premium to the price of IAA's common stock on November 4, 2022, and 23 percent of Ritchie Bros.' 10-day volume-weighted average price on the NYSE of $63.55. The total purchase price also reflects IAA's last twelve-month adjusted EBITDA as of October 2, 2022 of a multiple of 13.6.
Upon completion of the transaction, Ritchie Bros. stockholders will own approximately 59 percent of the combined company and IAA stockholders will own approximately 41 percent.
IAA is a digital marketplace connecting vehicle buyers and sellers. The transaction will diversify Ritchie Bros.' user base by providing the company with a large presence in the vehicle remarketing industry. The acquisition will accelerate growth and the vision to create a next-generation global marketplace for commercial assets and vehicles, supported by advanced technologies and data analytics. With an enhanced scale and an expanded addressable market, Ritchie Bros. will be able to drive additional gross transaction value ("GTV") growth through its platforms and auction sites.
"IAA accelerates our journey to become the trusted global marketplace for insights, services, and transaction solutions," says Ann Fandozzi, CEO of Ritchie Bros. "Their highly complementary business in an adjacent vertical will allow us to unlock additional growth. Through our trusted brands, similar operating model, and complementary services, we expect to drive efficiencies and create a more resilient business."
"Together, IAA and Ritchie Bros. will have expanded global operations, accelerating international buyer development and enhancing ancillary services such as transportation and finance," says John Kett, CEO and president of IAA. "The transaction will also provide compelling value to stockholders through the immediate cash component and the opportunity to participate in the substantial growth potential of our combined company with significant resources. I believe that very appealing new opportunities are ahead for IAA employees and new capabilities for customers as we enter this exciting new chapter with Ritchie Bros."
Strategic and financial benefits
Creates a global marketplace for commercial assets and vehicles
Combining Ritchie Bros. and IAA's product offerings creates a global marketplace for commercial assets and vehicles. The increased scale of the company will allow Ritchie Bros. to build out its integrated digital marketplace.
Provides an entry into the vehicle market
The transaction represents Ritchie Bros.' entry into the large and steadily growing vehicle sector. IAA is established and currently delivers an annual GTV of approximately $8.6 billion. Adding a successful business will diversify Ritchie Bros.' business and create a more resilient business model to perform through market cycles.
Expands local yard footprint to broaden user reach
By combining IAA's existing 210 facilities across the United States, Canada, and Europe with Ritchie Bros.' over 40 owned and 24 leased facilities globally, the combined company will have new opportunities to advance its yard strategy more efficiently in key regions. The expanded real estate base will provide the company with additional flexibility to drive profitable growth. This includes leveraging Ritchie Bros.' footprint to expand IAA's broader capacity. The combined real estate footprint also increases Ritchie Bros.' proximity to a broader user base and local yards, allowing it to provide faster service and reduce transportation time and costs, enhancing the overall experience for users.
Advances Ritchie Bros.' digital marketplace development
This combination brings together the capabilities of both Ritchie Bros. and IAA. Marketplace technology investments are expected to drive enhanced returns as they will be amortized over significantly more units. Moving forward, the combined company will offer expanded access to additional insights, services, and transaction solutions to a wider user base.
Unites two complementary businesses with significant synergy potential
The companies expect to achieve $100 to $120+ million in annual run-rate cost synergies by the end of 2025, driven primarily through consolidating back office, finance and technology, general and administrative, and operations.
Integration plan, leadership, and board of directors
Ann Fandozzi will continue to serve as CEO of the combined company.
The Ritchie Bros. Board of Directors will expand to add IAA CEO and President John Kett and three other current members of the IAA Board following the close of the transaction. Erik Olsson, chairman of the Ritchie Bros. Board, will serve as chairman of the Board of the combined company.
Ritchie Bros. will continue to be legally incorporated in Canada and will retain its offices and employee base in Burnaby, British Columbia and IAA's Chicago, Illinois offices will serve as the official headquarters of the combined company. As of the transaction closing, approximately two-thirds of the workforce will be in the United States on a combined basis.
The transaction is expected to close in the first half of 2023 subject to approval by Ritchie Bros. stockholders of the issuance of Ritchie Bros. stock in connection with the transaction and approval of IAA stockholders of the transaction, receipt of regulatory approvals, and other customary closing conditions.
Ritchie Bros. intends to fund the cash consideration of the transaction through a combination of cash on hand and new debt. The company has bridge financing commitments in place from Goldman Sachs, Bank of America, and Royal Bank of Canada. At the closing of the transaction, the combined company is expected to have a pro forma leverage ratio of approximately 3x net debt to adjusted EBITDA. Additionally, Ritchie Bros. will prioritize de-leveraging following the close of the transaction. Ritchie Bros. also intends to maintain its current quarterly dividend of $0.27 per share and will consider future increases.