Liebherr launches bauma 2022 with showcase of cranes big, small and versatile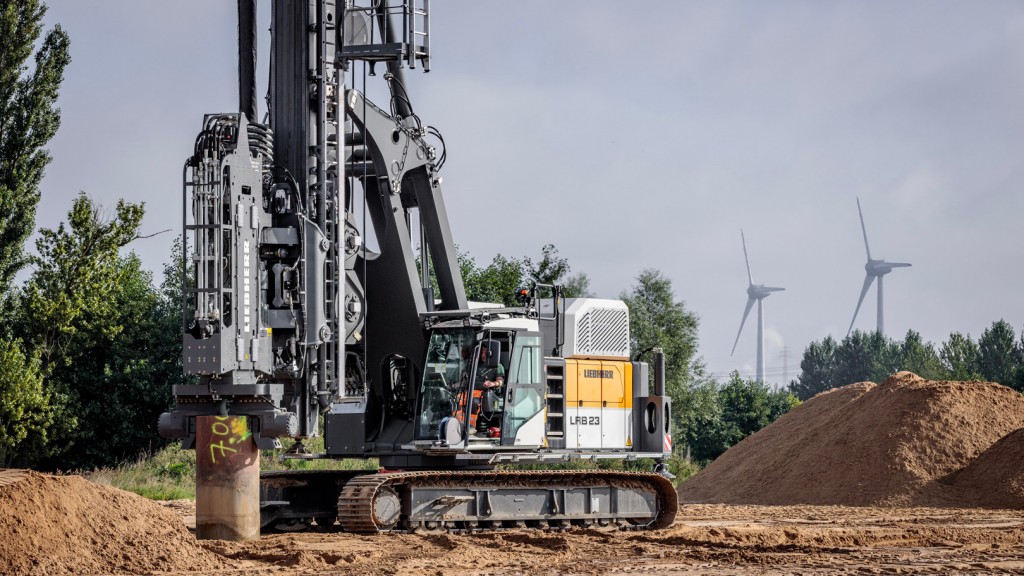 Liebherr isn't waiting for the gates to open at the Messe Munchen trade fair centre in Germany to start sharing its latest innovations - the company has lifted the veil on four recent introductions that will be on display as it prepares for the launch of bauma 2022.
A pair of new crawler cranes, a new duty cycle crawler crane, and a piling and drilling rig will all be on hand for the show, representing a string of new launches from Liebherr in 2022 that have included the expansion of its unplugged line of machines.
Piling and drilling rig gets in deep with flexibility and high torque
The LRB 23 piling and drilling rig is powered by a 600 kW (804 hp) engine that allows this compact machine to work on plenty of job sites and handle a range of deep foundation works. It can also get to those job sites without disassembly - its compact size makes it transportable in one piece, and a remote control eases the loading process and setup.
With that power, the LRB 23 is capable of providing plenty of torque through the BAT 300 rotary drive, and in fact offers enough performance to allow for Kelly drilling, which Liebherr says is unique to this machine size. A Kelly visualization system gives operators a real-time display of the Kelly bar's locking recesses on the cabin monitor, keeping the operator informed as to when the bar can be locked, among other alerts. When being used for continuous flight auger drilling, the concreting process is automated through a drilling assistant, which provides time savings and greater safety.
Big and bigger: new cranes reach high and lift more
The two new crawler cranes Liebherr is introducing aren't shy - in fact, one is the tallest piece of equipment exhibited at the Liebherr booth in Munich, even without the full maximum boom length configuration. For Bauma, the LR 1400 SX is fitted with a 68-metre main boom and 62-metre luffing jib, raising it to 116 metres in total.
Adding the LR 1400 SX to the Liebherr line means the company can now offer crawler cranes with lifting capacities of up to 400 tonnes, in a machine that has a compact transport weight of just 46 tonnes. The platforms and railings can remain attached to the uppercarriage during transport, and thanks to the self-assembly system the boom sections, carbody counterweight, crawlers and hoist winches can be assembled and disassembled without an auxiliary crane. It can hydraulically lift, lower and secure the 150-tonne rear counterweight without assistance.
The LR 1400 SX is flexible; its four crawler drives make it easier to maneuver the machine in tight spaces, and thanks to track width adjustment, it can pass through narrow roads much more easily. The use of radio remote control gives operators more flexibility and added safety.
Other technology adding safety includes the Gradient Travel Aid, which makes slopes safer by monitoring the crane's centre of gravity and warning the operator before it leaves the safe area. Ground Pressure Visualization calculates ground pressure in real time and compares it to the specified safety limits of the relevant position, with a display available to the operator so they are permanently aware of whether the machine is in or nearing a critical area. The crane also features ground pressure reduction plates which can be lowered to increase its ground contact area and cut ground pressure by more than half. A boom up-and-down assistant is also available to ensure the operator remains in the safe zone when raising or lowering the boom.
Smaller but no more effective, the new LR 1100.1 crawler crane is designed for all lifting applications in the 100-t crane class. It can be configured with either a main boom up to 62 metres or a main boom up to 44 metres and fixed jib of up to 20 metres.
Fitted with what Liebherr says is the most powerful engine in its class, the crane is fitted with an Eco-Silent Mode that cuts engine speed to a predefined level, reducing diesel consumption and noise emissions.
The LR 1100.1 is, like its fellows, designed for quick transport, with a width of 3,500 mm with crawlers attached. It has a self-assembly option and radio remote control to aid in setup, and to provide a range of flexibility and safety during regular operations.
All-around performance from new duty cycle crawler crane
The HS 8070.1 is the first of Liebherr's latest generation of duty cycle crawler cranes, with a lifting capacity of 70 tonnes and the ability to function in several applications such as material handling, deep foundation, or lifting.
This crane is designed to be modular - instead of mounting a single counterweight, users can mount them individually, as needed, allowing for flexibility. A floating A-frame system allows for higher performance in dynamic applications, and also makes it easier to assemble and transport the machine. A new jack-up system makes these crawlers easy to disassemble for moving.