Canadian contractor conquers swampy ground with CTL and mulcher pairing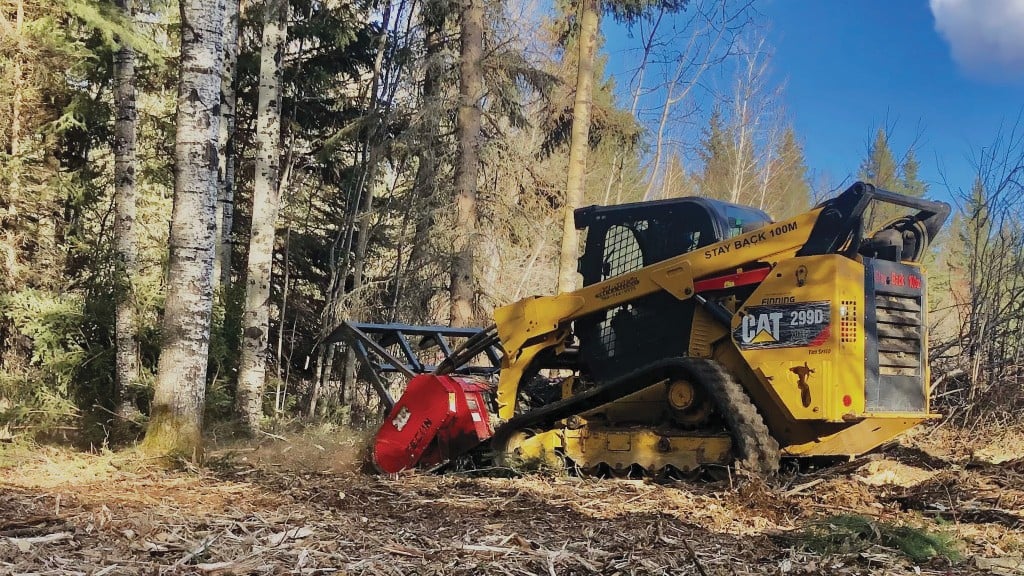 Vinnie's Bobcat and Mulch Master, Ltd., more commonly known as Vinnie's Mulching, performs a lot of FireSmart clearing work from its Drayton Valley, Alberta, location. And while some folks have adopted the mantra "go big or go home," owner/operator Vinnie Holmes gets big mulcher results from more nimble compact equipment. Operating two high-flow Cat 299D XHP compact track loaders with Fecon BH74SS Bull Hog Forestry Mulchers, Vinnie's Mulching tackles FireSmart mulching projects over diverse terrain populated with an interesting array of vegetation.
Swampy conditions challenge mulching operations
One of the company's FireSmart jobs covered a three-year span, working only in wintertime to avoid swampy, unworkable conditions. "We were actually cutting existing pipeline rights-of-way to clean them up so they can access them," says Holmes. "Over a three-year span, we did 300 kilometres with two machines 10 metres wide, so 300 hectares of land we cut. We only worked in February and March, so in six months, we cut 300 kilometres [for] pipelines."
These FireSmart jobs are very important to limit the damage fires cause. The black spruce, or swamp spruce as it's called locally, acts as ladder fuel, allowing fire to build momentum, climb to the canopy, and leap from tree to tree.
"We want to eliminate a percentage of the fuel. In areas where it's really heavy black spruce, we go and wipe out 90 percent of it, just put it on the ground," explains Holmes. "Then when we get into the bigger trees, they want to maintain a 12-foot crown spacing in the trees so that the fire doesn't get the momentum to hop from tree to tree." They also limb the trees up about six feet high and pull the limbs out and mulch them. Any dead-standing trees are taken out, any trees that are laying on the ground are allowed to stay. "We leave some standing bigger broken off ones for owls and other wildlife, but we try to eliminate as much of the fuel as we can."
The foliage encountered on these projects was anything from grass to eight-inch trees. Primarily encountering spruce, pine, poplar, and willow, the only really hard wood that he saw was tamarack. Most of the trees were 10-year-old growths. Holmes enjoyed the variety of foliage, and how each day would present unique challenges for him and his Fecon mulchers.
The terrain for these projects can also be rather challenging. "We had some pretty good hills we had to climb, and some pretty ugly swamps where we could've lost a machine," he recalled. At one point, when his daughter was helping on another machine, she noticed a spot of dirt that didn't feel quite right. "I went over there, and we took about a six-foot long stick, and we shoved it right out of sight." With up to 26-degree slopes, and perilously swampy ground, Vinnie's Mulching relies on the Fecon mulcher head for help. "If it wasn't for the Fecon head tickling the ground as you're going, we'd be in trouble. It's not pulling you up but it's stirring enough tread up as you're going up the hill to give you a little bit of traction."
Hidden obstacles test mulcher attachment durability
This swampy ground can also hide other problems.
"I've hit lots of metal, blocks, wire, cable, phone boxes, everything. You name it, I've hit it. Rims - I've split rims with my Fecon heads and had them jammed in there so bad you have to use a chain to get them out, but then we just carry on." Holmes is very impressed with the Fecon mulching head's durability. Recalling his experience with early mulchers, he said, "If I hit something on my old ones, I broke something. Then, as Fecon evolved, they've definitely given me a more superior product. I can go out and roll over a three-foot rock thinking it's an anthill or something and come out of it unscathed doing 2,200 rpm on the drum."
The rugged build of the Fecon mulcher heads is compounded by the strength of the teeth used. Holmes prefers the double carbides, saying "I've tried the sharp ones in the past, and I just prefer the durability of the double carbides."
Double carbides are the standard teeth offered with the FGT rotor that Holmes has on his mulcher heads, and he's averaging 1,000 hours of life per set. The balance, performance, and durability of these teeth complement the durability of the FGT drum rotor, and the lacing pattern of the teeth maximize energy transfer into the material, optimizing tool life and ensuring that Holmes can get the most use out of his mulcher head. The mulcher and the teeth are tough, but the durability of them really comes from simple continual maintenance.
"They're so durable now, as long as you keep up on making sure they're balanced and keeping your teeth good and your skid shoes all maintained, you won't have problems. I've never had a motor fail, never changed a bearing yet, only had one spline failure, and that was on an older head, which was off warranty."
Holmes greases once a day, balances his mulcher head when he needs to, and has had very few problems. When he does have problems, Fecon has been very helpful in solving them. When the off-warranty spline failed, he explained that he hadn't used the head much recently, and that it shouldn't have failed. Fecon shipped him the parts free of charge to get him up and running again.
Fecon also takes feedback on their products very well. Holmes used to have to gouge off the skid shoes to balance the head and bring in a welder to put them back on. Other contractors had faced the same dilemma, and when Holmes brought up the issue to Fecon, they said that a fix was in the works, and soon followed up with bolt-on skid shoes.
On a separate occasion, Holmes had a problem with a head that didn't free-spool. He ran over a cable which then wrapped itself around the rotor. With the power off attempting to remove the cable was challenging because Holmes could not roll the rotor backward by hand. After mentioning this to Fecon service personnel, they came up with a solution and shipped him the parts. He was able to get back up and running very quickly. "They just continuously give a better product, and they take good feedback and criticism," comments Holmes. "I've had some issues, and I phoned them up, and they come through and fix whatever the problem is."
All his mulching equipment was purchased through SMS Equipment in Edmonton, and Holmes doesn't foresee ever switching from Fecon. "I've never run anything but Fecon, and I have no reason to change."
Related Articles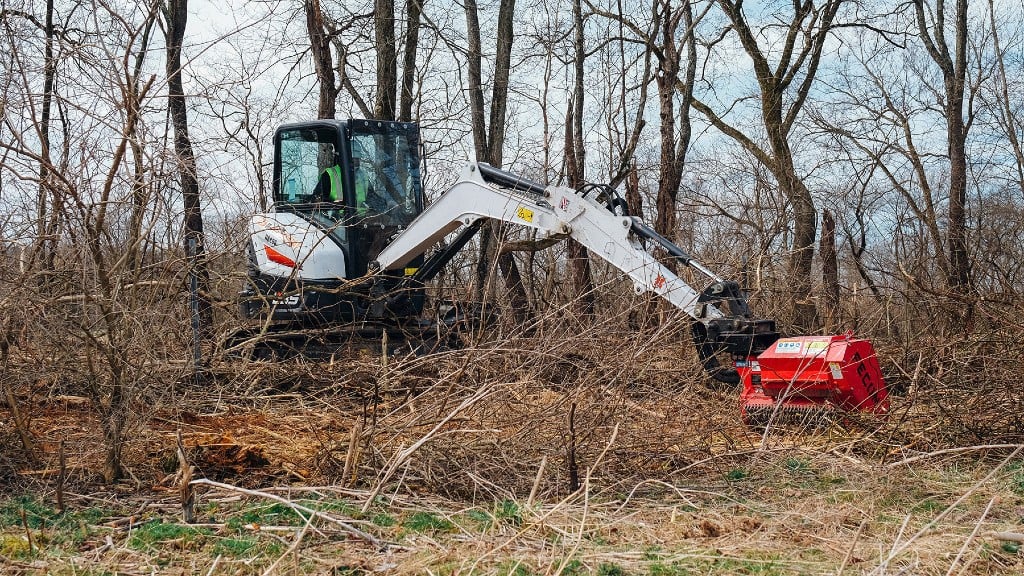 Fecon compact excavator bull hog mulcher increases vegetation management safety