5 things to know about Caterpillar Smart Creep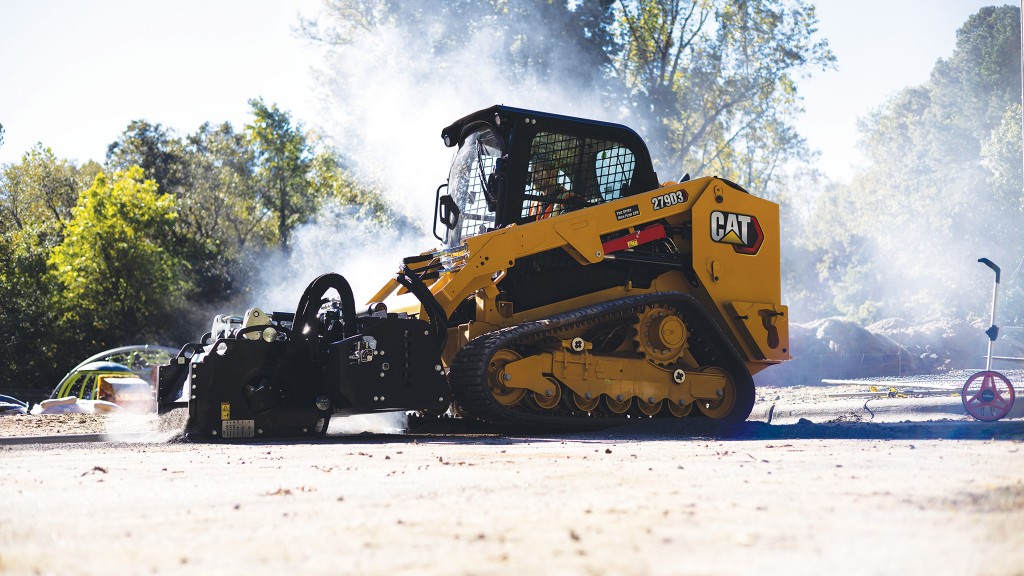 Caterpillar has introduced a new technology for operating a cold planer or wheel saw attachments on the Caterpillar D3 skid-steer loaders and CTLs - Smart Creep. With Smart Creep, operators no longer need to guess the right creep speed for operating these attachments. It is, essentially, adaptive cruise control for creeping.
Here are five things to know
1 The standard creep control system is activated and is set to the maximum creep speed. Smart Creep kicks in once the tool engages the cut. It measures load on the attachment and adjusts the drive command automatically as cutting begins.
2 Smart Creep continually senses the load on the attachment using sensors and software to balance the load on the attachment with the machine speed. It will increase machine speed when there is less resistance and automatically slow down the machine when there is a higher load. The machine monitors what the attachment is doing via pressure sensor feedback. An algorithm in the machine uses the data to do the finessing for the operator.
3 If the attachment head has stalled or the cutter jams, Smart Creep's auto reverse changes the machine's direction momentarily and allows the tool to clear the jam or free the stall. It then starts itself back up again to re-engage.
4 Smart Creep is useful to the expert operator as it eases the stress of maintaining maximum productivity by taking over some of the tasks involved in monitoring performance. The inexperienced operator using Smart Creep will be able to rely on the technology to achieve greater productivity while getting up to speed on the use of the machine and its attachments.
5 For existing fleet loaders and attachments, a field installation kit with sensors and machine software will be made available. New cold planer and wheel saw purchases will have the required hardware already installed from the factory. New Caterpillar D3 skid-steer loaders and CTLs will come Smart Creep ready from the factory.