How to select the right excavator for sewer and water projects
Trenching, lifting, loading and more - full-size excavators need to be versatile for underground infrastructure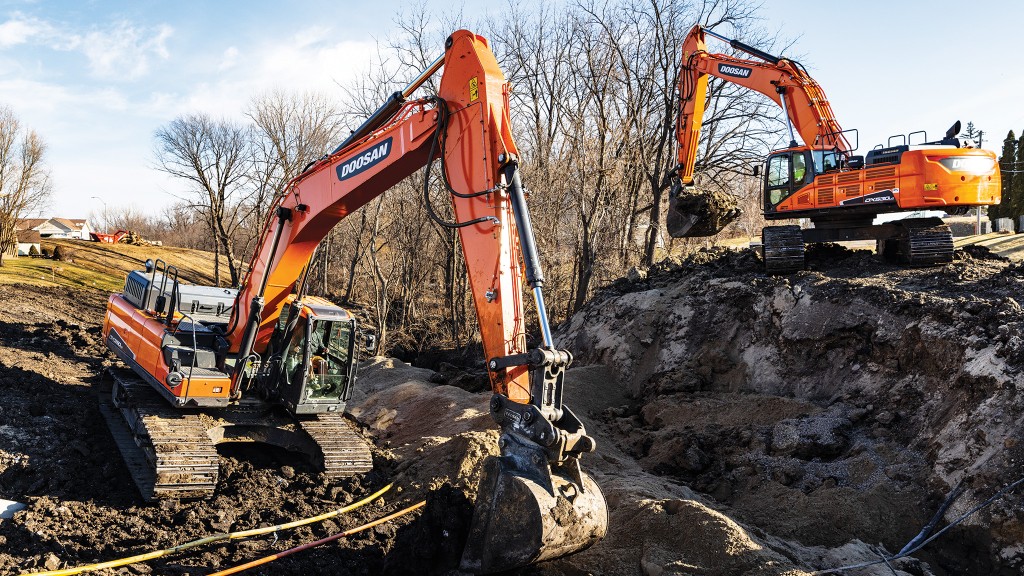 Sewer and water infrastructure, handled by municipalities and contractors alike, requires the right machinery to ensure that installation or repair is done quickly, efficiently, and in the safest possible manner. Trenching, lifting, grading – all of these applications are handled by excavators.
Heavy Equipment Guide spoke to a panel of industry experts to find out what buyers should think about when they are selecting an excavator for sewer and water work.
The right size of excavator for water and sewer projects can vary
Of the many things to consider when picking an excavator, size is a key point for our experts – though the right size of machine will change depending on the overall needs of the buyer and their projects.
"Size can be dictated by a number of things," says Kurt Moncini, senior product manager with Komatsu. "For example, the size of pipe . . . or lifting capacity. Am I dealing with manhole risers? Am I dealing with concrete pipe, steel pipe, large pipe, small pipe – all those kinds of things."
Depth of digging, size of pipe, and operational considerations all come to mind when choosing an excavator size, advises Sam Wagstaff, JCB product sales manager. Municipalities especially are likely to be purchasing machines for multiple uses, while keeping sewer and water work top of mind.
"If you've got to put so many feet into the ground per day, that could dictate the difference between a 50,000-pound and an 80,000-pound machine. I think that's part of the reason you see contractors doing these bigger pipeline jobs jump into the bigger excavators - they're going to get more feet in the ground per day," he adds.
"The name of the game is always keeping the excavator as small as possible, while still being able to do the work that it needs to do," says John Deere Solutions Marketing Manager Justin Steger. Utility contractors tend to buy 21- to 35-metric-ton machines, in Steger's experience, though that changes depending on how deep the pipes are buried.
Review the machine's geometry and determine how deep it can dig a level bottom to ensure it will work for the jobs it will perform. Moncini, for example, advises that an eight-foot trench bottom is often an ideal dig depth to keep in mind when spec'ing a machine.
Some contractors may go larger to dig more in less time where speed is a factor, according to our experts. Bigger machines can move a lot of dirt in many different situations, says Brett Mitchell, product sales support manager at Headwater Equipment, a Sany dealer in B.C. and Alberta. He finds that buyers in the utility pipeline sector are buying machines in the 50-ton range or larger because they prove more economical on many projects. Bigger machines moving dirt at a lower cost per yard also lend themselves to different approaches to trenching, such as benches that allow smaller machines to dig deeper.
In the end, the choice of configuration comes down to evaluating the jobs to be done, advises Ryan Neal, market professional with Caterpillar.
"I was with a customer using one of our 374 Next Gen machines with our longer fronts, and they're digging 30 feet deep – they need one of the larger excavators to move the amount of dirt, the depth, and the size of the trench box needed," Neal says.
Manufacturers offer a variety of stick and boom lengths, notes Trevor Hoff, Liebherr-Canada Alberta sales representative. Liebherr, for example, offers five different stick lengths and four boom options for a six-metre spread in dig depth.
Longer reaches, however, can cause issues with weight, says Doosan Infracore North America Senior Product Specialist Joel Escalante. Buyers should be aware that the addition of specialized attachments and universal quick couplers can weigh down the arm and unbalance the machine when that longer reach is used.
A shorter tail swing machine can also be a benefit for buyers in this sector, but again its capacity must be reviewed to ensure it fits the needs of the job. Patrick Baker, product manager, large excavators with Hitachi Construction Machinery Americas, says shorter tail swings work well along roads or highways, as well as in new construction where there are many machines in a small space.
Quick response, lift, and digging all important factors on sewer and water jobs
Beyond size and general configuration, there are some important capabilities that can be considered for excavators being tasked with water and sewer work.
Hoff says buyers should keep several things in mind: machines should be quick and responsive, while providing the lift and digging capability that best fit the job. Hydraulic systems are key, and Hoff notes that the Liebherr machines encourage multifunction capability with a three-pump system for fast operation.
Wagstaff agrees, noting that all excavators can dig holes, but finding the right mix of weight, features, and capacity is what makes the difference on the bottom line.
The type of soil to be moved and the general location where it will be operating can also be a deciding factor in picking size and features of an excavator for underground work, Neal suggests. Digging in a city, for example, means avoiding existing infrastructure, requiring a nimble machine.
For Steger, power is important, not just for digging and moving material but for manipulating other items.
"Typically trench boxes are going to be set up at roughly 48 inches or narrower, and your bucket's going to be sized accordingly if you're digging the narrowest possible trench to eliminate extra digging," he notes. "Think about pulling that trench box through the tight, not exactly perfect walls of that trench . . . Sometimes it can take quite a bit of power to pull through."
Attachment versatility should be considered, and Escalante points to the growing use of tiltrotators.
"With a tiltrotator, it allows the machine to do much more because you don't have to move the machine around. If you're doing, for example, a manhole, because you want to reach down to the sewer or water, with a standard machine you would have to move the machine around, but with a tiltrotator you don't have to reposition," he explains. Mid-sized excavators pair well with tiltrotators, but buyers need to keep hydraulic capacity in mind.
Hydraulic quick couplers should also be part of the consideration. Mitchell and others note that being able to switch from one bucket to another quickly adds efficiency and also plays into the machine's overall lifting capacity.
Sewer and water infrastructure projects call for lifting ability as well as digging
Using excavators in place of a crane requires precise knowledge of the weights involved, the lift chart of the machine, and many other factors.
Moncini emphasizes that buyers need to know the over-the-side lift capacity of any excavator they are considering, as it is often a limiting factor on the job site when moving material or equipment – a lift may be successful over the front of the machine, but then if the operator needs to swing it to the side, they may find it exceeds the side stability.
It's also important to understand the proper use of the lift chart and how to adjust it based on the attachments being used on the excavator. If the bucket is not taken into account, users need to calculate that into the weight being moved. In addition, things like quick couplers change the capacity and must be calculated in – but also allow the bucket to be dropped quickly to save that additional weight at the end of the arm.
"This is why quick couplers are so predominant . . . I can easily drop my bucket, perform my lift, then get my bucket and go digging," Steger points out.
How to lift is as important as how much to lift when it comes to rigging out an excavator, he also points out, and buyers need to ensure that the rigging they intend to use is also certified for the weights that it will be called on to handle.
A knowledge of what the excavator will be moving is necessary to ensure it can handle the job, Neal advises.
"If you have a heavy concrete structure, a large manhole, or whatever it may be, if the excavator can't lift it, it's not going to do you any good," he said. Weight can differ depending on the type of pipe, whether it's steel ductile pipe or concrete, and the width of the pipe to be placed - these are all aspects that need to be kept in mind when calculating lifting capacity.
From a power perspective, excavators that have specific operating modes for lifting work are beneficial for this type of work. Wagstaff says JCB's dedicated lifting mode provides added power for the lift while managing a number of other actions.
"You're doing very delicate precision work – you don't want auto engine shutdown engaging, you don't want auto idle to engage. Sometimes you have to sit there and wait while the guys are in the trench," he says. "When you do need to move that pipe, you want the power exactly where you left it."
Buyers should look for machines with hydraulic systems that are able to handle the pressures of lifting, Baker points out. High-performance hydraulics such as Hitachi's TRIAS 2, which features three pumps that serve individual actuators, help put more power into heavier lifts and aid in multitasking during lifts.
Even when the operator is aware of the load and lift chart, overloads may happen. Overload warnings, an option on Liebherr excavators, can help, Hoff notes. "You can set the excavator to lifting mode, and it will reach 75 percent lifting capacity, then sound an alarm and let the operator know, so you aren't putting anyone in danger in the trench."
Visibility and technology improve safety for excavators on sewer and water projects
Safety considerations on excavators can encompass everything from the overall design concept of the machine to optional technology additions that aim to protect operators and others nearby.
"There's always at least one person in the trench at any given time . . . maintaining eye contact on the job site is really, really critical. If they can't see you, you can't see them," Steger points out. Hand signals are used frequently on trenching jobs, so it's important to have that visibility. In many cases the operator will want the front windows of the machine or the door open when working closely with a crew.
Design for visibility encompasses more than just window size - it includes small things, like window screening to protect against rock chips being thrown up during hammering, or sun shades to block glare. Lighting packages are also important, and today's LED lights are becoming key to added safety around operating equipment.
"The LED light systems now are fantastic - we do different lighting packages, and you can go all the way up to one that gives you 20-odd lights on the machine," Wagstaff says.
Cameras are also an important part of safety precautions, and for infrastructure projects the newest options that provide a broad field of view around the excavator are ideal. Bird's-eye-view cameras are becoming popular, as they give the operator much broader awareness of where other workers and machines might be around them. Moncini describes the Komatsu system as providing indicators on its bird's-eye views showing the swing of the counterweight, as well as a cautionary area, giving the operator a better indication of where potential hazards might be in relation to their excavator.
Doosan adds an ultrasound sensor system that complements its area view, Escalante says. "If the operator is getting too close to a structure or someone comes in toward the machine, the system will beep an alarm to let him know."
There are a number of mechanical features that improve excavator safety in operating areas especially useful for sewer and water work. Hydraulic hose rupture prevention systems can be beneficial in reducing potential dangers.
"If you blow a hose or a hydraulic line, it locks that system so you don't lose control of your stick or boom," Hoff explains. "If there's a rupture, you're not going to have anything fall to the ground or into a hole - it will hold its place."
Technology has its own role to play in improving safety, with many manufacturers including Caterpillar offering features such as e-fences that keep excavators in a specific location and operating area, important when working in tight spaces.
"We can prevent the machine from swinging too far to the left, or too far to the right, booming up or down too far, or even sticking out too far," Neal explains. "If we can prevent an excavator from getting close to a power line by physically stopping it, that is a great safety aspect keeping the machine, and most importantly people, out of harm's way."
Grade control adds precision to excavators for sewer and water projects
Technology has brought great advances to the industry in the form of grade control systems, which our experts agree are ideal for pairing with excavators in the sewer and water sector.
"It's becoming really key in underground utility to have machine control. I want to minimize any overages on bedding materials or aggregates, and the best way to do that is excavate to the correct depth and grade the first time," Moncini describes.
Overwork and reworking on an infrastructure job can be costly and time consuming. The use of grade control in these jobs not only reduces the number of workers on the ground near the machine by eliminating the need for the grade checker, but also reduces potential errors.
"As an underground utility contractor, I get paid for the amount of feet of pipe I lay in a day - if I can lower my cost per foot of pipe, I can potentially make a better margin, I can reduce my bid, I can do a lot of things," Steger describes. "Eliminating that over-excavation saves time, it saves rework, and it reduces the amount of bedding material. Every penny counts."
Long, gradual slopes such as those needed for sewer work call for the growing use of grade control, Escalante notes, to improve efficiency overall on the job. Allowing the machine to handle much of the work rather than relying on survey stakes and ground workers to get the slope right makes life easier and reduces the potential for errors and rework.
Advanced grade control systems that can import digital job site maps and plans also add a level of safety, especially when they incorporate municipal data to identify potential problem spots below ground; it's now possible to set boundaries for machines to dig within and prevent those potential conflicts.
Mitchell says that he expects to see continued growth in the use of grade control systems as newer operators move in, especially with a growing number of OEM and aftermarket options. "That's going to be the way of the future - we have young operators who are inexperienced, but now are responsible for these high-dollar jobs. Anything you can do to take the human error out of it is increasing profitability."
Technology reaches beyond grade control in excavators, however, with engines, hydraulics, and other systems adding efficiency. Hoff notes that improved engine technologies have helped Liebherr meet Tier 4 Final emissions requirements without the use of DPF or EGR systems on its equipment, as well as expanding oil change intervals to reduce maintenance time and costs.
Telematics systems can monitor a variety of machine conditions, and are beneficial for sewer and water as well as other operations. Hitachi machines feature ConSite OIL, Baker says, which tracks the oil and hydraulic systems. "You get a monthly report to see how efficient the machine is, so it's a great way for the owner to sit down and analyze the report to see what they could be doing better," he notes.
Finally, payload systems are also beneficial for infrastructure work, especially when excavated dirt must be moved off site in trucks, Neal says. Tracking the material that is moved into trucks means less likelihood of overloads that can end up being ticketed, while also adding data that can be used for improving efficiency over time.
Underground utility installation and maintenance requires machines that are quick, efficient, and capable. When buying an excavator that will be used on sewer and water projects, it's important to know the requirements of the job, consider the machine size needed, the dig depth and lifting capacity, the technology that will make it more efficient, and safety options to keep operators and others on the job site safe.
Related Articles
Which is better for your needs? Backhoe vs excavator and skid-steer loader