New White Paper focuses on benefits of building with metal in retrofits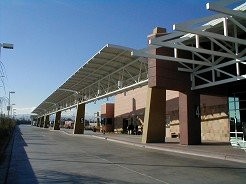 The Metal Initiative recently released a white paper focusing on using metal in retrofit applications. With retrofit being one of the hottest topics in the commercial building industry today, this new white paper addresses the reasons why building owners, developers and architects are and should be choosing metal. Metals benefits are more than economical and environmentally friendly; they're also visually appealing and long lasting. The Metal Initiative's new white paper outlines the financial and environmental advantages of retrofitting with metal roof and wall systems. For contractors, architects, and business owners the paper explains how to increase business, improve building appearance, and reduce long-term energy costs by using metal in retrofit projects.

The following benefits, versatility and applications of using metal are highlighted in the report:

Existing Building Solutions
For more than 25 years, retrofit has been a quick, cost effective solution for problematic roof geometry, maintenance issues and outdated appearance. In more recent years, thermal efficiency and energy savings are the hallmarks of a retrofit roof application.

Roofing Applications
The most common retrofit applications are metal over existing flat roofs and metal over existing sloped roofs. Both of these improve a building's appearance and reduce maintenance, but each can offer solutions to different problems.

Existing Flat or Nearly Flat Roof Solutions
The two common types of retrofit installations on existing structures are low slope and steep slope roofs. During installation of either of these types of retrofit systems the building interior is not exposed to outside elements or contamination from construction.

Rooftop Equipment
A key consideration in designing a retrofit system for flat roofs is location of the rooftop equipment. Typically this involves air handling and non-air handling equipment for heating and air conditioning systems, as well as skylights, sanitary vents, exhaust fans, and fresh air intakes. How this equipment fits into the retrofit is up to the designer, but the location of existing equipment usually dictates what can be done.

Existing Sloped Roof Solutions
Designing retrofit systems for sloped roofs requires attention to many of the same details in the design stage as for flat roofs. These include analyzing the existing roof support system and using the opportunity to improve ventilation systems and insulation levels, and potentially adding renewable energy systems to the design.

Energy Efficiency
The retrofit process offers some excellent ways to improve a building's energy efficiency and help reduce its carbon footprint. By adding a few low cost elements to the retrofit system the designer can help the building owner realize significant savings.

To read the entire White Paper, visit www.themetalinitiative.com.
Company info