Case Minotaur delivers dozer pushing power in a CTL package
World's first compact dozer loader is designed to deliver full capability of two machines in one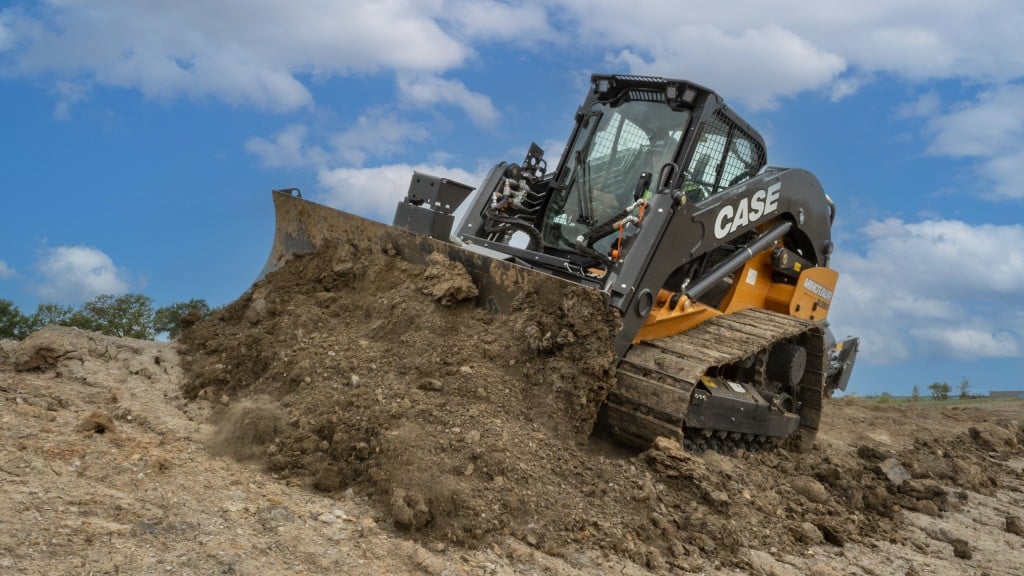 Delivering multi-functional capability was the driving force behind CASE Construction Equipment's latest release, the Minotaur DL550. Billed as the world's first compact dozer loader, this totally unique machine has been designed and engineered for uncompromising ability to perform as both a small dozer and as a compact track loader. CASE launched this new machine in August at its historic customer centre and demonstration facility in Tomahawk, Wisconsin. I was there to see first hand that this is not simply a CTL with a blade but a true innovation that delivers everything you would expect from a dozer.
The minotaur is a dozer first
The Minotaur uses the same 90-inch blade as the CASE 650 dozer and can be outfitted with an optional 96-inch blade. The six-way blade is on an integrated C-frame that hydraulically couples into both the chassis of the machine and the attachment coupler. This 18,000-plus pound machine has 114 hp and drops down to 85 hp while it is in dozer mode. Once the C-frame and blade is connected to the chassis, the geometry dictates that the blade pushes from a position more parallel to the ground instead of solely from the loader lift arms. Working from this lower angle provides better leverage to get the dozing power to the blade. The controls in the cab are very similar to those in full-sized CASE dozers. The machine's electro-hydraulic controls can adjust the blade, steering, and shuttle sensitivity to smooth, moderate, or aggressive as the operator prefers. Blade responsiveness can be dialed in even more by independently setting the speed of the blade tilt, lift, and angle.
The Minotaur can be ordered with a fully integrated rear ripper that can be controlled from the inside of the cab. It comes standard with three shanks but can be expanded to five. Rippers need to be ordered from the factory. They cannot be added on to a Minotaur at a later date.
But it's also a loader
When the operator wants to use the Minotaur as a loader, the C-frame is detached, and the ISO/dozer button in the cab is pushed to switch from dozer mode to ISO (loader) mode with a 1.25-cubic-yard bucket.
CASE Product Manager Jeff Jacobsmeyer was at the launch to walk us around the new machine and he explained, "When you hit that dozer button, it remaps the hydraulics (and all the electronics) so it's going to send hydraulics to different portions of the machine. For example, the tilt cylinder doesn't work anymore because you don't need a tilt cylinder for the dozer. It's actually two separate machines in one."
In its loader configuration, the Minotaur has a 5,500-pound rated operating capacity (50 percent of tipping load) with 12,907 pounds of breakout force. The vertical lift operates in the ISO control pattern. Electro-hydraulic controls let operators dial in machine responsiveness to low, moderate, or aggressive; or independently set tilt, lift, and drive speed, as well as loader arm and drive control to best match the work conditions. Enhanced high-flow auxiliary hydraulics come standard for running attachments such as mulching heads and cold planers. These hydraulics can deliver up to 41.6 gpm at 4,100 psi via ¾-inch hydraulic quick couplers.
Using Hydraulics on Demand, the operator can select the percentage of auxiliary hydraulic flow to the attachment using the multi-function display in the cab. This is to dial in the attachment's performance to their preference. "We've given operators the ability to turn this compact dozer loader into one of the industry's most versatile and powerful compact machines and deliver on the awesome capabilities that other manufacturers tried to emulate after the original concepts were announced," says Jacobsmeyer.
Minotaur track options
The Minotaur is built on a dozer-style undercarriage and pushes with more than 25,000 pounds of drawbar pull. Three different track options are available: a 14-inch single-grouser steel track, an 18-inch triple-grouser steel track, and a 17.7-inch rubber track. The two types of steel tracks are interchangeable with each other, but steel and rubber tracks cannot be swapped. Machines need to be ordered with either steel only, or rubber only.
Machine control and connected fleet management
The Minotaur comes standard with CASE Universal Machine Control, which makes the machine ready for any of the major three providers of machine control technology, which are sold separately. From the factory, the mounting plates, brackets, and wiring for machine control are all pre-installed. Depending on whether the chosen machine control is from Trimble, Leica, or Topcon, CASE will supply extra wiring harnesses to match to help with installation.
CASE's SiteConnect Module is included. It improves the volume, flow, and integration of data to the CASE SiteWatch telematics platform for real-time monitoring and management of maintenance and service intervals, and the analysis of equipment utilization and performance. The machine owner can choose to share real-time information with a CASE dealer and the CASE Uptime Center in Racine, Wisconsin. These remote service capabilities are done through the CASE SiteManager App (iOS and Android), which pairs the operator's phone or device to the machine.
"Reducing trips to the field, showing up with the needed parts on the first visit, and the ability to avoid field visits all together by remotely clearing basic codes all drive major savings in time and resources, both for the equipment owner and the dealer service department," says Jacobsmeyer. "This type of collaborative fleet management has the ability to drive major gains for fleets of all sizes and ensure optimal uptime."
Cab technology
Inside the cab is an 8-inch LCD screen. The top half of the screen displays the view from the backup camera, which can be set to be on all the time. The lower half of the screen shows all of the vital signs of the machine which include oil pressure, hours of use, whether it is in dozer or loader mode, etc. The adjustable hydraulics are controlled by buttons at the bottom of the screen.
When the Minotaur is in dozer mode, the screen displays a menu of dozer operation settings. When it is in loader mode, the menu switches to operation settings for a CTL.
Since it is primarily a dozer first, it has been given dozer style control grips and deceleration pedal.
CASE Construction Equipment North America Vice President Terry Dolan was also at the customer centre in Tomahawk. During our interview, he told me that job site managers will find that using the Minotaur is advantageous for many reasons. He says, "I now no longer have to bring a dozer to a job site, bring a loader to a job site, have two operators, have trucks and fuel for those to come and use all that manpower. I can now have one of my people go with a truck and a trailer, with a blade, with a bucket and be able to load and move, as we say, 'dig, do, and rip.'"
Bringing the Minotaur to market
The CASE Minotaur DL550 compact dozer loader is being manufactured in Wichita, Kansas, on a dedicated line which took more than six years of development. Following 29 patents and approximately 10,000 hours of field testing, this is not the same machine that was introduced as a concept at CONEXPO 2017. Dolan says, "Customers had been waiting for it to come to market faster. We just wanted to make sure it was ready and making sure it was ready was more important than speed to market. It's a brand-new category. There's nobody out there competing in a space. We can come in and still be the first entry into the space."
When it comes to the Minotaur's acceptance in the North American market, Dolan says, "For contractors who are dozer customers first, they will give this an opportunity because of the versatility that it's going to offer them that a single dozer doesn't. It's not going to replace a monster dozer on a job site, those are still purpose-built machines. But for those contractors who are opening up a new ground, whether it's for a strip mall or anything else, this is going to be a really great product for them."
After finishing the walkaround tour of the compact dozer loader, Jacobsmeyer told me of a conversation he had with a contractor who had been testing the Minotaur. The contractor bid a job putting in roads and doing some grading that he believed would take three days. Using the Minotaur, he finished in three quarters of a day. Jacobsmeyer adds, "One other time was when he was comparing it to a much larger loader that he owns, a loader that weighs 32,000 pounds with a two-yard bucket, he was telling me the Minotaur has more production because of the agility, the feel, and the overall machine was just getting more work done."