Hybrid electric crusher designs drive SBM efficiency efforts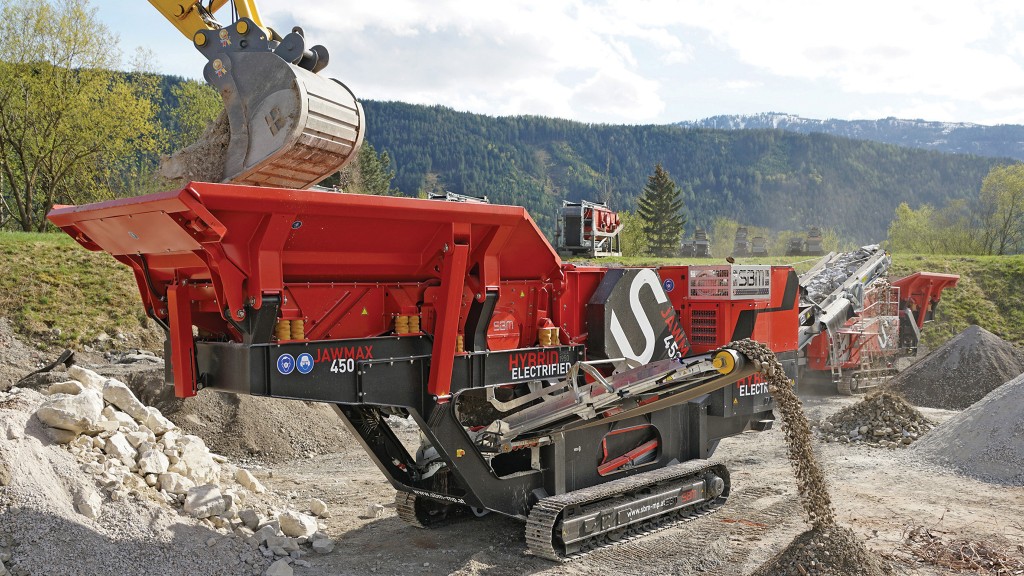 For almost 40 years, SBM Mineral Processing has been using diesel-electric drive systems and has supplied plug-in hybrids for track-mobile jaw and impact crushers from under 30 tons to about 150 tons operating weight. The most recent models are the 40-ton-segment JAWMAX 450 and REMAX 450.
Hybrid design concept available across the line
SBM says it aims for consistent design in all of its plants to ensure the significant benefits of diesel-electric drive systems plus power grid option are available in all power classes.
At the heart of these machines is a diesel generator unit with emission-optimized Cummins diesel motors and directly flanged low-maintenance generators. The compact drive units are positioned outside of the dust-intensive machine zones. As standard, the control cabinets are additionally overpressured and can be heated or air-conditioned for extremely difficult operations. At the control cabinet, the plant is optionally supplied by the grid or by alternative external power sources (auxiliary generators) – activation is easy and safe. Operators simply switch the central master switch before starting the plant.
Then the central SBM plant control system, Crush Control, automatically starts, monitors, and controls the individual machine components during crushing operations.
The working hydraulics system (crusher gap setting, hydraulic cylinders, etc.) and the proportional traction drive are energized by two electrically operated pumping systems and circuits that are activated separately. This assures full functionality of the plants even in all-electric operation; at the same time, the energy footprint is not affected due to the unnecessary standby status of the track motors, for example. This minimizes the oil quantities required on board.
Instead of using complex hydraulic pipings - resulting in high thermal losses and costly oil cooling – all other drive systems and components in SBM plants are connected to practically eliminate leaks and corresponding breakdowns. Without the detour via control blocks, electric activation ensures continuous quick response of the various plant components and facilitates easy and simple adaptation of feeding rates, screening capacities, or frequency converter controlled functions, such as the automatic cleaning function of the feeder and feed hopper.
Efficient and eco-friendly hybrid machines
The degree of efficiency of diesel-electric-drive systems can be considerably increased if energy-intensive hydraulic drive components are eliminated. At about 80 percent the efficiency clearly exceeds that of diesel-electric systems without or with optimized load-dependent control; with grid connection the efficiency factor comes to more than 90 percent. This directly influences fuel consumption: the diesel engines of the SBM plants operating at a speed of 1,500 to 1,800 rpm adjustable in steps consume more than 40 percent less than all-hydraulic systems. Compared to models with directly driven crushers, consumption is still reduced by 20 percent.
Given the sharp increase in fuel prices, even if electricity costs vary SBM says that its hybrid technology will deliver a 60 percent benefit in energy costs. SBM anticipates that due to saving operational costs, diesel-electric hybrid plants with a high all-electric workload will - thanks to lower maintenance costs resulting from less wear and a longer service life – fully pay off after just a few years.
SBM says that its hybrids provide even further benefits. The enclosed units deliver low noise levels without load-dependent fluctuations. If switched over to all-electric operation, the noise generated by the same plant will decrease by another 6 dB.
With all-electric zero-emission operation, these crushers are ideal for tunnel construction or indoor recycling. For urban demolition this technology efficiently reduces exhaust emissions.
Up next: autonomous crushing
Looking forward, SBM Mineral Processing will demonstrate the possibilities for development of its in-house electrified mineral processing technology with the REMAX 600 tracked mobile impact crusher. The new 60-ton plant takes the technology a step further, towards autonomous and fully automated mobile crushing systems.
This intelligent crusher features all the benefits of the all-electric SBM drive system and uses telematics to analyze data in real time, providing actionable insight. Using sensors, the plant automatically monitors feeding material and final products, determines load conditions of the crusher and conveyors, and optimizes all separation processes down to overbelt magnetic separators and wind sifters. The SBM Crush Control system validates all operating conditions and material properties in real time, matches the values via a cloud solution with thousands of reference data points, and carries out the necessary adjustments (gap setting, rotor speed, etc.). Pre-production of this machine starts in summer 2022, and the crusher will debut in October at bauma in Munich.