How to choose the right skid steer for demolition work
In-depth report: Skid-steer loaders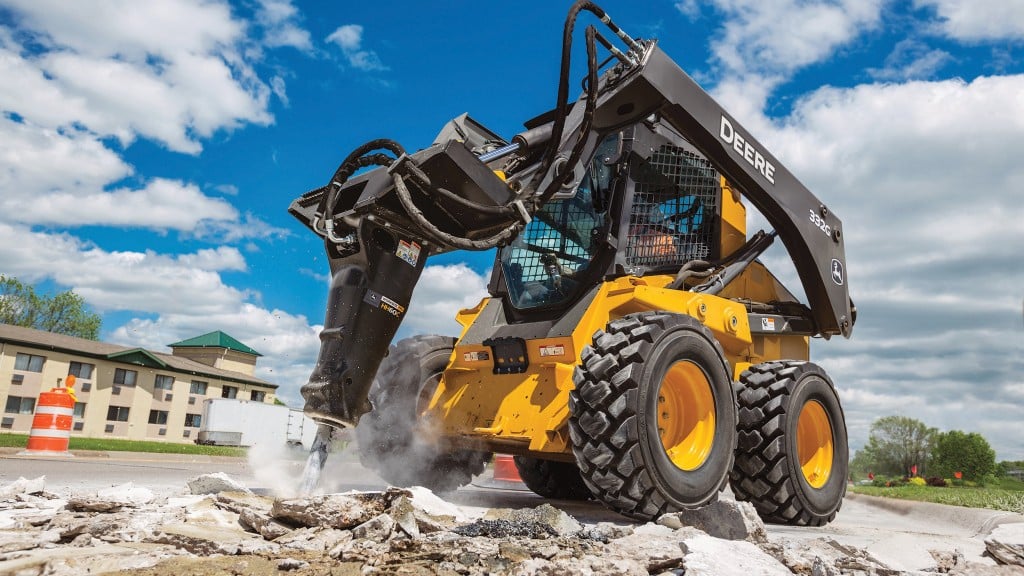 The roles that skid-steer loaders can play on a demolition job site are wide and varied. Their compact size and power make them ideal for tearing down small structures, accessing hard-to-reach demolition sites, and cleaning up debris.
They are particularly versatile for demolition applications due to the ease with which attachments can be swapped out. Outfitted with a grapple bucket, they are the perfect support option for cleaning up debris and loading trucks on the job site. With a hammer or breaker they can help break up concrete footers and other structures that are not as ideal or easy for an excavator to get to. Today's skid steers can even be outfitted with shears to cut through metal material on demolition job sites, or with concrete and asphalt rock saws for breaking down those materials. With a broom, a skid-steer loader can clean surfaces that you've already worked on, and for demolition applications where a site needs to be restored to its natural setting with grading and grass, a skid steer can take care of those tasks too - moving topsoil and utilizing a landscape rake.
Demolition environments are harsh on equipment and there are a range of factors to consider when selecting a skid-steer loader for demolition work. In this in-depth report, we take a look at a few of those elements – maintenance and tire selection, how to spec your machine for the job, what to consider when selecting a skid steer for interior vs. exterior work, and the latest equipment advances that can increase safety for workers on demolition job sites.
Tires and maintenance for skid-steer loaders in demolition applications
Demolition job sites are among the harshest that a skid-steer loader will encounter and its tires need to stand up to the punishing conditions. According to all of our experts, non-pneumatic tires are essential.
Foam-filled or solid rubber tires are two of the best options, as well as segmented tires where you can replace individual damaged segments, says Mike Fitzgerald, marketing manager from Bobcat.
In addition to harsh ground conditions, Kevin Coleman, senior product specialist for skid-steer loaders from Caterpillar, says that most of the time in demolition applications the machine will be around flying debris and dust. You will want to have a good maintenance schedule set up for cleaning the machine, especially making sure that the cooling cores are cleaned out to remove any accumulated dust. Anything around the engine compartment should be cleaned regularly to ensure debris doesn't get in and around components. A reversing fan option can help keep the engine compartment clean, and you can set up a manual purge or automatic purge.
Coleman also recommends cleaning and replacing filters. You can extend filter life by adding an engine-free cleaner to get some of the material out of the airflow stream before it makes its way to the engine air filter in a dusty environment.
Finally, general inspection is especially vital in demolition applications. There is ample opportunity for damage to the machine in the course of demolition work and operators should look around the machine at the beginning and end of their shift to see if any damage has occurred that could cause potential downtime - including bent lines and tire damage.
"Because of the nature of the work - you're dealing with steel, concrete, rebar - the daily pre- and post-operation walkaround and inspection . . . is critical," says Jeff Jacobsmeyer, product manager from CASE Construction Equipment. "A piece of rebar stuck up in an undercarriage, or bent rims . . . can lead to unexpected downtime throughout the workday. Identifying that, particularly at the end of the day, can help you get a fix in place and make sure you're up and running first thing in the morning."
He adds that normal rules of equipment operation apply: as much straight forward and reverse operation as possible minimizes wear, while consistent counter rotation will accelerate wear and lead to downtime.
What else to consider when spec'ing a skid-steer loader for demolition applications
The first thing to look at when spec'ing a skid-steer loader for demolition is machine size. Larger machines will have more lifting capability and can lift heavier loads into trucks. Coleman recommends picking the largest machine that will work for your application and workspace in order to get the highest capacity for what you're handling. This is particularly important for demolition applications where you will use a grapple bucket to handle large pieces of concrete.
Jacobsmeyer adds that customers working in these environments will definitely want a demo door. Demo doors are built with higher-grade components and glass to minimize the risk of broken glass and damage.
Most attachments used in demolition will operate with standard hydraulic flow, but our experts agree that high-flow could be needed for some attachments, including some breakers. But for most standard attachments, such as grapples, high-flow capability won't be needed.
Jacobsmeyer recommends opting for high-flow hydraulics anyway. "That way you'll be able to run a full gamut of attachments without worrying about whether you've got enough power to work them," he says. He adds that CASE has built-in control technologies in its compact loaders that allow you to control the percentage of flow to the attachment, which both provides greater control and ensures that the attachment is operating at optimal parameters.
Both vertical and radial lift configurations will work for most demolition applications, but all of our experts agree that if your skid steer is going to be loading trucks regularly, a vertical lift arm is the way to go.
While canopies are ROPS certified, additional falling object protection is available on most machines. Guard kits are also available for lights, hosing, and service access points. Extended bumpers also provide additional protection for the rear compartment.
Ethan Clowes, product manager with JCB, says that a demolition machine should be spec'd with cab guarding to protect the operator, and notes that JCB machines are designed with side-entry, which can eliminate the chance of being trapped in the machine if something falls on the front screen.
Fitzgerald from Bobcat recommends an engine seal kit, which can prevent debris from getting into the engine compartment. Some machines come built with a sealed engine compartment.
Good visibility is also essential for demolition jobs. "Many manufacturers have rear-view cameras, but not all are created equal with regards to the field of vision that they provide," says Coleman. "A rear-view camera that gives you a wide panoramic view behind the machine can be quite helpful."
According to Clowes, a telescopic boom is ideal for demolition applications as it provides greater reach and keeps the machine at a safer distance from the structure you are removing.
Luke Gribble, solutions marketing manager with John Deere, recommends adding an engine air precleaner and reversing fan. Deere also says that access to critical machine information is also beneficial through a telematics solution, such as its JDLink.
How to choose a skid-steer loader for interior vs. exterior demolition
While there isn't much difference between skid-steer loaders suitable for interior demolition and those suitable for exterior demolition, machine size, job site awareness, and dust suppression are the three things to consider.
The obvious consideration for interior demolition jobs is whether the machine is small enough to access the job site, but smaller machines may also be necessary for exterior partial demolition projects where the machine needs to work around structures that are not part of the demo job, says Fitzgerald. However, for large interior demolition projects with wide access, a smaller loader may not be necessary, so machine size choice will be entirely dependent on the types of projects that you are doing.
Job site visibility constraints may also be different on interior projects. Coleman says that there may be different lighting considerations for skid-steer loaders that will be working in interior applications versus those working on exterior demolition. Cat offers standard LED front and rear working lights, but you can also add side lights to the machine that will allow you to cast adjustable light and provide a better field of vision.
CASE has built in the ability to always have the rear camera on a split-screen in its cab to improve job site awareness. Jacobsmeyer says that CASE has also focused on overall 360-degree visibility with a full-length rear-view mirror, visibility to the sides of the machine and down to the bucket, and excellent rear visibility.
For interior applications, you may also want more dust suppression so the machine could be equipped with a water tank. Coleman says that Cat's 44-gallon water tank option can provide that dust suppression, particularly while working inside.
Safety advances for skid-steer loaders in demolition applications
Safety must always be top of mind in demolition applications, and the latest equipment features can enhance safety on the job site.
ROPS and FOPS standards ensure that skid-steer loaders meet the strictest roll-over and falling object protection standards. Clear sightlines on today's machines, as well as rear-view cameras and additional lighting, can provide operators with excellent job site awareness.
Gribble from John Deere points to the excellent visibility from inside the cab. "Not only are there clear sightlines to attachments and other parts of the machine itself, but operators can back up with confidence if the machine is equipped with an optional dedicated rear-view camera."
Coleman says that technology on the machines can provide added safety benefits. Cat Command enables remote operation of the machine in harsh environments, keeping the operator within viewing distance, but away from the area of work. Coleman also says that non-line-of-sight technology is another option. This relies on cameras to give the operator a field of view from even further away.
Clowes from JCB recommends being aware of how to safely enter and exit the machine on a demolition job site and recommends JCB's side-entry design, which enables the operator to exit the machine even if the boom arm isn't all the way down. With side entry, the operator can enter and exit no matter what attachment is on the front of the machine, or if the boom can't fully lower.
Related Articles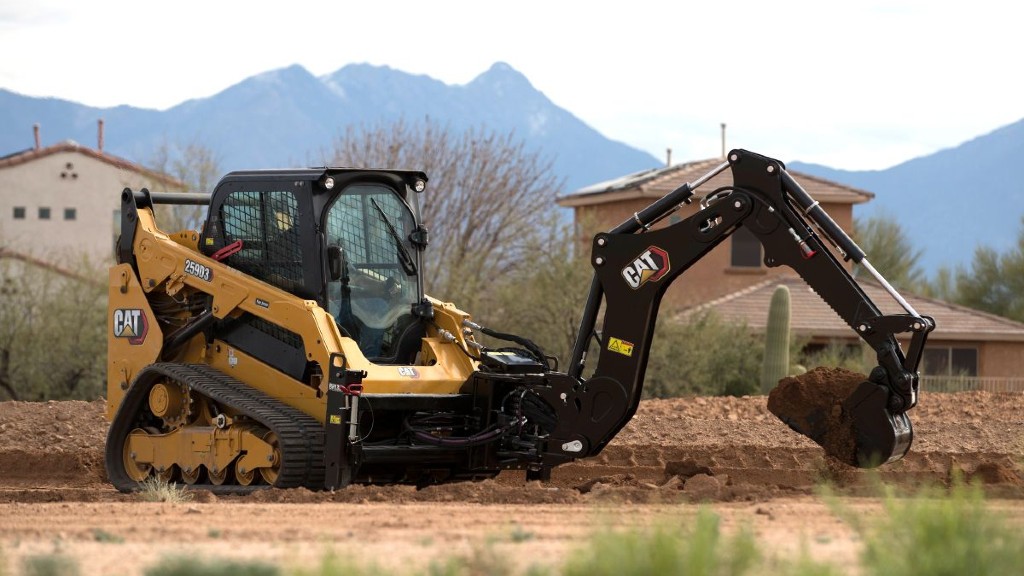 How a backhoe attachment can extend the capability of your skid-steer loader