Link-Belt telescopic crawler cranes help streamline Malcom Drilling concrete pier construction project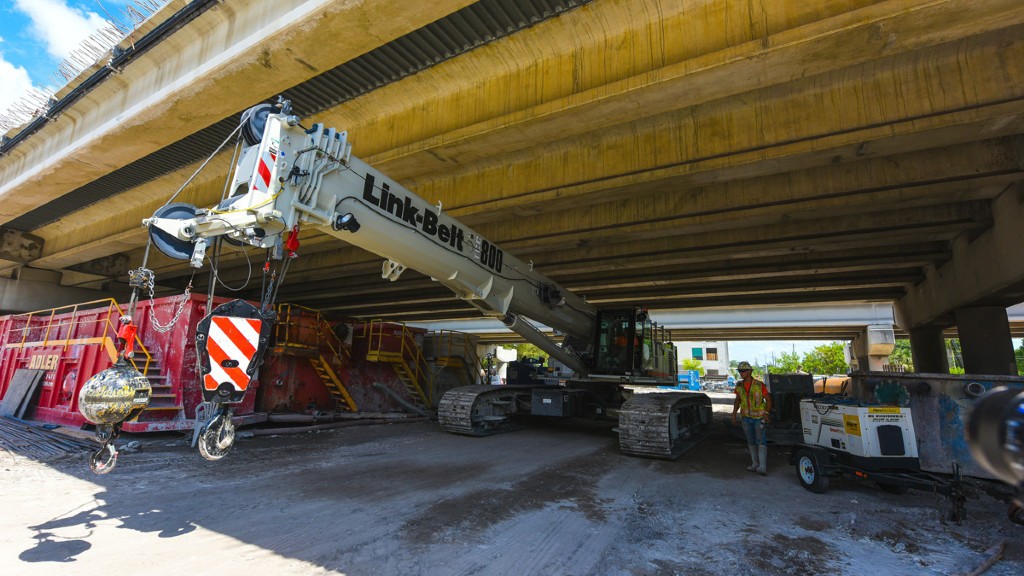 Malcolm Drilling of Pompano Beach, Florida recently completed drilling and concrete pier construction for 212 foundation shafts for a section of Interstate 595 (I-595) highway between Sawgrass Expressway and Florida Turnpike. Malcolm Drilling used two Link-Belt crawler cranes (telecrawlers) – an 80-ton TCC-800 and 75-ton TCC-750 – as well as multiple oscillators and drilling rigs for the project.
"You take drilled shafts or auger casts, we've installed thousands of those with the Link-Belt telecrawlers. They are the perfect crane for supporting drilling shafts and moving around equipment for foundation work like this. We always use two because sometimes the cages get a little long – but servicing an oscillator, moving an oscillator, the TCC is my preferred crane," says Jason Cribari, field operations manager for the Southeast for Malcolm Drilling.
I-595 Express is an east-west thoroughfare for motorists travelling between Fort Lauderdale-Hollywood International Airport, Port Everglades and nearby beaches. On March 3, 2009, The Florida Department of Transportation signed a public-private partnership for the $1.8 billion project – a commitment to long-term corridor improvements for 35 years.
In 2020, Malcolm Drilling was awarded an 18-month contract to install 212 foundation shafts for a 1.5 mi (2.4 km) section of the I-595 Express project. The contract required the construction of five bridges running adjacent to I-595, crossing large retention ponds, and roads. Malcolm Drilling used an oscillator to drill shafts up to 100 ft. (30.4 m) deep and lower rebar cages for the drilled shafts.
One of the larger water retainer holding sites, about 1,500 ft. (457 m) long, required the equipment to be placed on barges as they worked below road level in the median of the existing highway. With a median of 45 ft. (13.7 m) in width, there was little room to maneuver drilling rigs, stage cans, and rebar cages.
The TCC-800 was located on a second barge and moves into place for lifting cages and cans as needed. Once done, the crane can quickly retract and lower its boom, and the barge can be repositioned out of the way under the viaduct.
"It's convenient to have that mobility. With the lattice boom crane, you would have to tear it down, walk it under the bridge, and put it back together again. This way, you can just telescope everything in and just walk from one side to the other (of the viaduct). When you are using the TCC-800 it's nice to telescope in or out based on all the different radius of equipment we have sitting here," said Malcolm Superintendent, Mike Esposito.
Both crawler cranes lift up to 23,000 lb. (10,432 kg) casings, oscillators up to 58,000 lbs. (26,308 kg), and up to 100 ft. (30.4 m) tall spliced rebar cages.
"On the water, we're splicing cages for a total of about 100 feet long. We are in a tight spot in the median tying two types of cages together so you have to be able to control your swing; you have to control your boom. The control of the swing and the control of the crane are very crucial, particularly when you have five people working the cages while you are bringing it down the control of the crane has to be efficient and you have to be in control. The smoothness of the TCC-800 helps a lot," said TCC-800 operator, Rafael Padro.