Compact equipment machine control delivers flexibility for dirt businesses
Topcon's MC-Mobile combines machine control and survey technologies into one system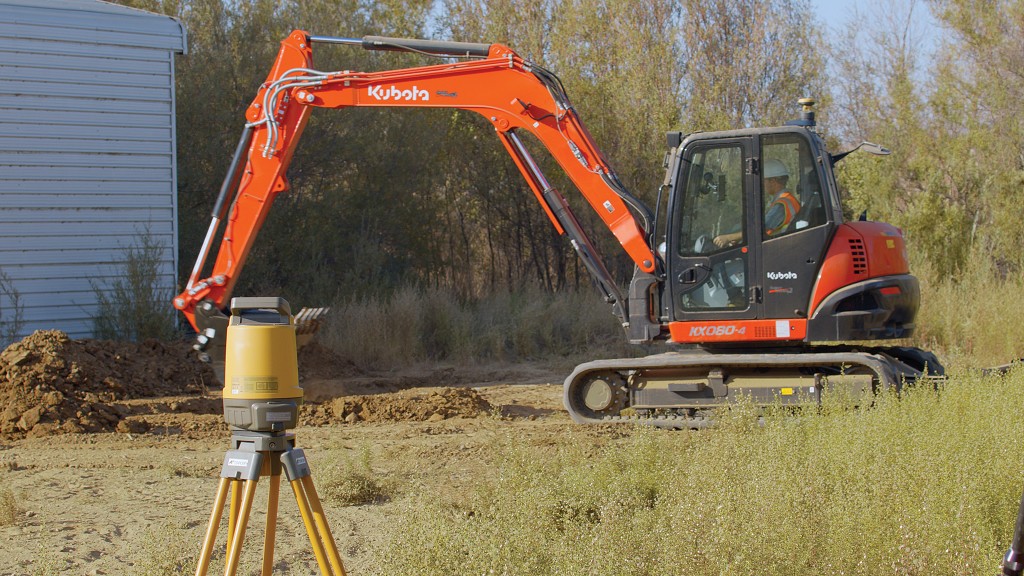 The sheer number of compact machines in use at job sites large and small far exceed that of full-sized equipment. Yet, the availability of machine control technology for mini-excavators, compact track loaders (CTLs), and skid steers is nearly nonexistent. Also, the price of a machine control system for full-sized iron can cost as much as a piece of compact equipment.
Topcon Positioning Group has addressed these issues by creating MC-Mobile, a combination of machine control and survey technologies that allows compact equipment operators to lay out, grade, and check jobs with the same system. The platform's displays and other components are designed to be shared across numerous machines and can be moved from a grade checking/layout rover pole to a compact machine, and back.
You can take a video tour here.
Mark Jones, Topcon senior manager of business development for MC-Mobile, recently demonstrated the portable machine control solution for Heavy Equipment Guide. Jones explained that the technology employs a tablet that is used in multiple functions. Layout is accomplished with an LN-150 Layout Navigator as an elevation reference. Its laser then tracks a prism (attached to the tablet) that is set up on a known control point. The tablet acts as a data collector and completes the layout. The tablet can then take the layout data and be used as a design tool to create desired elevations and grades. Finally, the tablet is mounted inside the compact equipment and is used for machine control to execute the design.
At the end of the day, the tablet can be reattached to the prism to verify the work has been completed as designed and an invoice can be generated. Jones calls it an advantage for an entrepreneur that's in the dirt business adding, "This is the technology they've been waiting for. The price point is not a hard one to swallow. And the flexibility of doing all these things, they're going to control their material, they're not going to have too much material or more than they bid for. They're not going to have a third party cost with a surveyor coming in to charge them $150 an hour to do layout because they don't have a complex design. They just need to do simple tasks. There's certainly a time and place for all survey instruments, but a dirt guy doesn't need that. He can do this himself."
The MC-Mobile tablet can be moved around to different machines in a compact equipment fleet. Inertial sensors are attached to the compact equipment along with an MC-X1 controller and removable 3D positioning technology. It all communicates with the Android tablet.
Topcon says the platform can also perform and/or assist with tasks such as site surveying, bidding, volume calculation, design on the fly, inspection, and validation. It can be used for small earthmoving/contracting, landscaping jobs, and indoor or underground earthmoving projects.
Jones calls the technology affordable and easy to use and the return on investment is easy to calculate. He explains that it can help manage material, it can increase production, and it can help unskilled or inexperienced operators improve their performance.
"It's an umbrella tool. I'm going to use this tablet in so many different functions. I'm going to measure, I'm going to design, and I'm going to execute. And at the end, I'm going to capture it all. I'm completely safe because I did what I said I would do. It just makes sense for working in small spaces."