How to turn your CTL into a road base rock crushing machine with one attachment
FAE's new solution takes rock down to size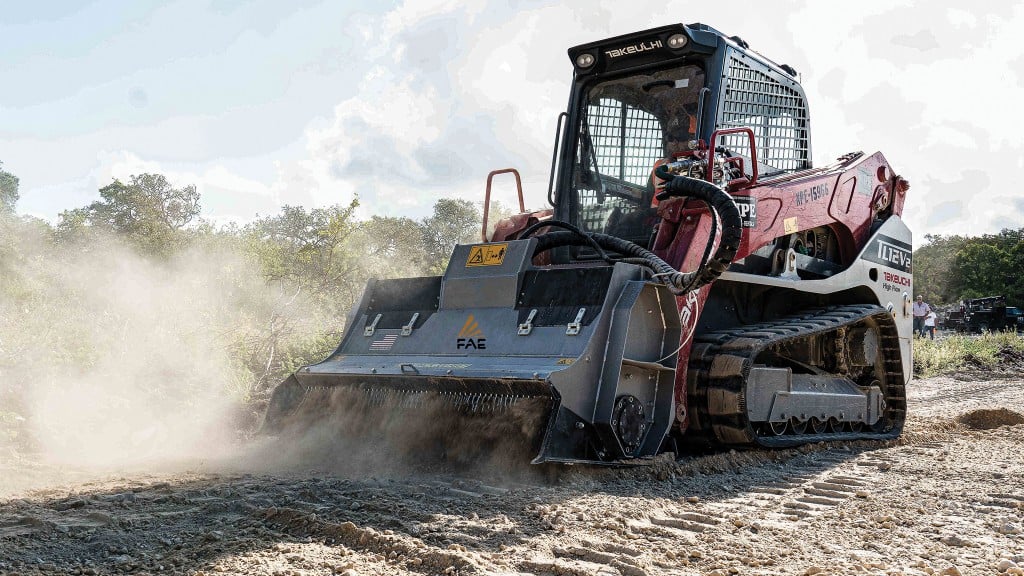 Skid-steer and compact track loaders excel at taking on a variety of tasks on job sites. FAE's latest attachment for skid-steer and compact track loaders, the STC/SSL, enables compact loader owners to add rock crushing for road or trail base to their repertoire, simplifying a task that may otherwise require several other pieces of equipment.
Crush rock down to size
The main application for this attachment is the crushing of loose rock that can be brought into the chamber and broken into smaller rock, ideal for road base. It can serve as an alternative to using a crusher bucket on an excavator or rock picker where the operator has to pick rocks up and handle them, or stack them and store them. It also eliminates the need for a hammer on the front of a skid steer to fracture rock since the STC/SSL can crush and grind it into smaller pieces. Fraction size is controlled by a hydraulically driven door and horizontal breaker bar inside the attachment.
"We can usually feel confident down to a good 1-inch minus or 2-inch minus area," says Lee Smith, product manager with FAE USA. From there the attachment can go up to a 3-inch or 3.5-inch size. "Those are the main sizes that we're usually dealing with because the limit on the unit, as far as all day every day, is a six-inch rock. We're able to take a six-inch rock and basically make it down to 1-inch minus rock."
Crushing by the mile
In a typical 8-hour work day, what can be accomplished will depend on the type of rock, but Smith says that in average conditions an operator can hit half a mile in an hour, potentially crushing a four-mile stretch in one day. If there's a lot more rock the machine will have to go slower to process the material.
"It's really based on the type of material you're grinding, how much you have, and what your final product needs are," he says. "If you have to have a real fine product, sometimes you have to go a little slower so the machine can actually process the rock into what you're looking for. Sometimes slow and steady wins because if you try to go faster than the machine can process the rock, you end up having to make more passes, so usually a good slow, steady pace will be the best bet."
How to spec your loader for the rock crusher attachment
The main carrier features to consider when outfitting a compact track loader or skid-steer loader with this attachment are horsepower, hydraulic gallons per minute output, and hydraulic psi. Since the attachment is made to work subsoil, all of these features need to be spec'd high, says Smith.
The higher the horsepower of the carrier, between 80 and 120 hp, the better the attachment will handle, he adds, and that goes for gpm and psi as well. "Gallons per minute is really where we get our rotor speed, but the pressure is where we get our power in the rotor, so the higher the gpms are, say, around the 40-45 range, and the pressure is to the 3,500-4,000 psi range, that's where you're really going to be in the sweet spot for this unit."
How to keep the crusher attachment in top working order
Maintaining the attachment is simple, Smith says. It's a belt-driven unit, and there are two eight-hour grease zerks and a 40-hour grease zerk that need to be maintained. Belt tension should be checked once per week to ensure that it's not too tight or too loose. Visual inspections are also recommended to check for worn teeth and to ensure the equipment is otherwise in working order. Teeth wear life will depend on how abrasive the application is - a set of teeth will last anywhere from 250 to 500 hours.
Rock crushing attachment expands versatility of compact carriers
Adding specialty attachments for your compact loaders is a great way to maximize the use of and diversify the capability of your fleet.
"This unit is one of the smallest, if not the smallest, professional grade rock crushers on the market, so it has really allowed us to fill a need in the industry for a unit that you can use with most likely a carrier you already own," says Smith. "It just gives that contractor another tool in the box, if you will, to be able to go out and find jobs that normally would require multiple pieces of equipment - something to pick the rock, something to haul the rock, and situations like that.
"So it's really filled a need that's not been met before . . . in areas where rocks are a real nuisance, it allows the guys to not have to deal with it."
Related Articles
Which is better for your needs? Backhoe vs excavator and skid-steer loader