Hitachi digs North American opportunities with new excavators and revamped distribution network
Hitachi Construction Machinery Americas is building equipment and a company culture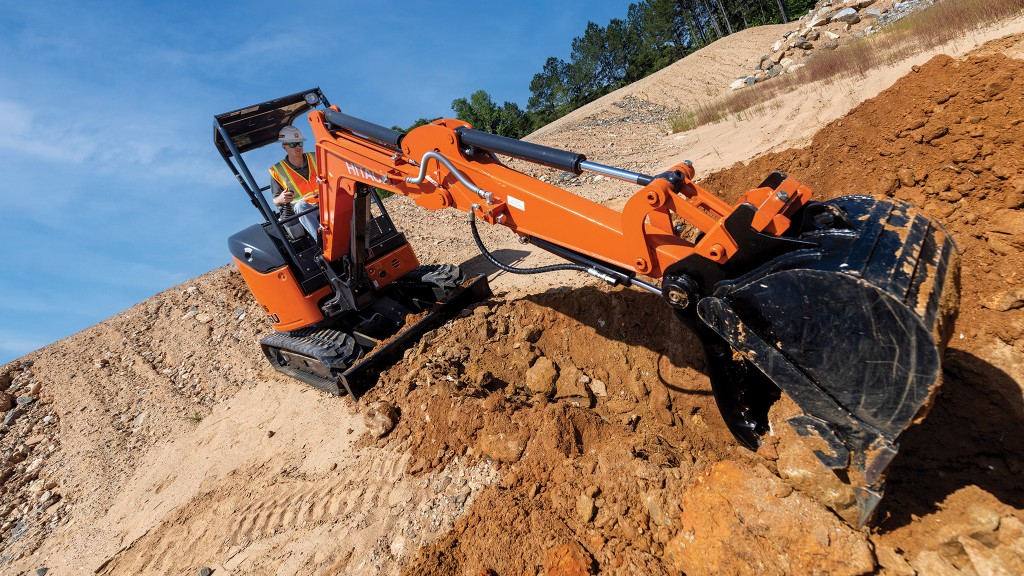 Hitachi Construction Machinery Americas (HCMA) began a new era when it recently unveiled the first three Hitachi-built excavators on a hot, muggy day in Pine Mountain, Georgia. The introduction of the ZX210LC-6 HP excavator and the ZX26U-5N and ZX50U-5N mini excavators, all bearing the Hitachi brand, is the first of many steps HCMA is taking after ending its sales and marketing agreement with John Deere Construction & Forestry last summer.
"We call it almost a baby step because there are many steps still left to go," says HCMA Vice President of Sales Simon Wilson. "For us, it's just a cool time to now be able to talk about these products and really show that we have configured them to what the customers have told us they want. We want to be able to show them that we've listened and did what we said we were going to do when we met with them not long ago."
Watch the video interview with Simon Wilson here.
More product offerings are also on the horizon – several new mining products are in the stable and ready for release, including larger shovels and haul trucks.
Leading up to this new chapter, in 1988 Hitachi and John Deere started the Deere-Hitachi manufacturing joint venture to produce excavators in Kernersville, North Carolina, that were sold under both the Hitachi and Deere brands. The two companies combined their marketing and distribution efforts in the Americas in 2001. This lasted until 2021 when it was announced that this marketing and distribution agreement would be dissolved in March 2022. Moving forward, Hitachi and Deere will enter into new licensing and supply agreements, which will enable Deere to continue to source, manufacture, and distribute the current lineup of Deere-branded excavators in the Americas. Also as a result of this agreement, there were three Hitachi-Deere joint-venture factories in Kernersville, North Carolina; Indaiatuba, Brazil; and Langley, British Columbia, that Deere acquired and from which it will produce its own excavator lines. This leaves Hitachi Construction Machinery Americas with control of its own products and services, business strategies, and developing technologies, using a revamped distribution network.

HCMA is currently in the process of converting its manufacturing facility in Newnan, Georgia, into a new regional headquarters that will support corporate offices for Latin America and North America as well as a customer centre and training and learning centre for end-use customers and dealerships. The headquarters will be approximately half a million square feet under one roof. Wilson adds, "When a customer or somebody comes and visits, they'll really see the power of Hitachi and, as a regional headquarters, it's important for us to have that central destination for the Western hemisphere."

From this point on, all Hitachi products will be sourced from Japan. Manufacturing facilities that have supplied components, kits, or complete machines will now support HCMA in the Americas. That may not be a permanent arrangement as Hitachi continues to evaluate what it determines what the "correct" manufacturing footprint would be globally, and in the Americas. According to Wilson, the ability to bring in product directly from Japan is working out well, so far, despite global supply chain issues. He says, "To have a finished product in a very tight supply chain within Japan has enabled us to bring those products to each of the ports and closer to the end customer. And because of some of the inland transportation costs and blockages and shortages of truck drivers, being able to bring that product right to that customer has been able to save them some money and save some of the cost and time that we're all facing now with supply chains."

Hitachi is passionately intense about being able to have control of its own destiny and creating its own methods for connecting with customers. The autonomy will allow the company to react quickly to the needs and suggestions of end users and implement solutions. Wilson stressed the importance of establishing a strong presence in the Americas not only for HCMA's success, but also for the global success of Hitachi Construction Machinery considering that the combined Latin and North American market is the largest in the world.
While Hitachi Construction Machinery Americas is putting considerable time, effort, and money into new products, a massive headquarters, and customer relations, it is also expanding its workforce. More than 3,000 people applied for 150 positions. And bringing in personnel has not been a matter of simply hiring professionals with the most experience. New hires had to fit in with employees who have been with the company, in some cases, for 25 to 30 years. HCMA's goal is to build upon the foundation of its work culture that is marked with an emphasis on listening, teamwork, and an ability to connect with customers. It is hiring people who are not necessarily focused on the financial success of the company, or the percent of market share the company can achieve. Instead, the desire is for those who look to build the best business relationships. Wilson says, "It was the key focus. And if we think that we did anything really well, we've executed in that area. The team is phenomenal that I get the pleasure of working with on a daily basis. It's a lot of fun and it's really exciting to see where we can take it."
With the introduction of the ZX26U-5N and ZX50U-5N mini excavators and the ZX210LC-6 HP excavator, HCMA is certainly putting its best foot forward with this first move that begins its new chapter. The mini excavators are expected to make their mark with their easily replaceable flat glass on the cab, simple and durable design, and easy to use controls. HCMA director of product management and engineering Rob Orlowski calls the ZX210LC-6 HP excavator "The Beast," pointing out the heavy boom and counterweight as well as the hydraulic system that yields not only more lifting capacity, but also more delicate arm and bucket maneuvering. While these three pieces of equipment are worthy of marking HCMA's debut, company leadership says stay tuned for much more.
Hitachi Construction Machinery Americas is, one could say, moving mountains to reach its desired goals for both its immediate and long-term futures.
Take a video tour of the ZX26U-5N, ZX50U-5N, and ZX210LC-6 HP.