Kohler Enters Portable Generator Market
New models launched at Greenbuild, geared toward building industry and excel in fuel efficiency, reduced emissions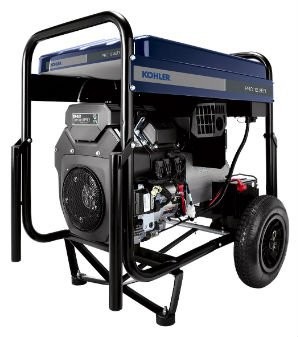 Kohler has launched a new line of portable generators targeting building contractors and other construction professionals, who need a durable and dependable portable power supply for tools and electronic equipment, as part of its exhibition at the Greenbuild sustainable design and construction conference in Philadelphia.
The complete line of models, ranging from a 2.0 kW inverter to a 12.3 kW gasoline generator, will be available in January 2014 and formally unveiled at the World of Concrete show Jan. 20-24 in Las Vegas. This new portable generator family from Kohler excels in fuel efficiency, while offering clean power output that is safe for even the most sophisticated electronics. The line will also include trash pumps and water pumps in varying sizes and flow rates.
At Greenbuild, Kohler is displaying two models – a 2 kW inverter and 12.3 kW commercial model. The KOHLER 2 kW inverter (PRO2.0iS) – the industry's lightest 2 kW unit – includes an intelligent sensor that monitors power demand and varies engine speed for improved efficiency.*
On the high end, the KOHLER 12.3 kW gasoline generator (PRO12.3EFI) is the first closed-loop electronic fuel injection (EFI) generator, utilizing the company's popular commercial-grade Command PRO EFI engine. As a result, users can expect to see up to a 25 percent reduction in fuel consumption and exhaust gases.**
The PRO12.3EFI also features Kohler's patented Accu-FillTM angled side-fill design, which minimizes the hassle and danger from spillage during refueling.
The larger units include an on-unit maintenance reminder to indicate when oil and air-filter changes are needed, taking the guesswork out of equipment maintenance. Some models offer recoil and electric start options. In addition, Kohler's lineup is specifically designed with customizable features so contractors can create a portable power package that fits their needs, without having to pay for features they don't need in a pre-assembled package.
All KOHLER portable generators meet the company's high standards for quality and reliability for which it's recognized and include a three-year warranty. Kohler boasts a service network of 10,000 dealers nationwide, dedicated to serving the needs of commercial and residential customers.
"Kohler has a long heritage in power generation going all the way back to the 1920, with our first KOHLER Automatic Power & Light," said Manny Rumao, senior product manager. "Today Kohler offers a complete range of generators up to 3.2 megawatts that are relied upon in myriad applications: construction, telecom, residential/light commercial, industrial, mobile and marine. Adding portable generators helps us further meet our customers' needs for clean, efficient and dependable power."
*Compared to a conventional generator that always runs at a fixed speed.
**KOHLER® EFI engine compared to comparable KOHLER carbureted engine under comparable loads and duty cycles.