New technology, processing solutions, and more from AGG1 2022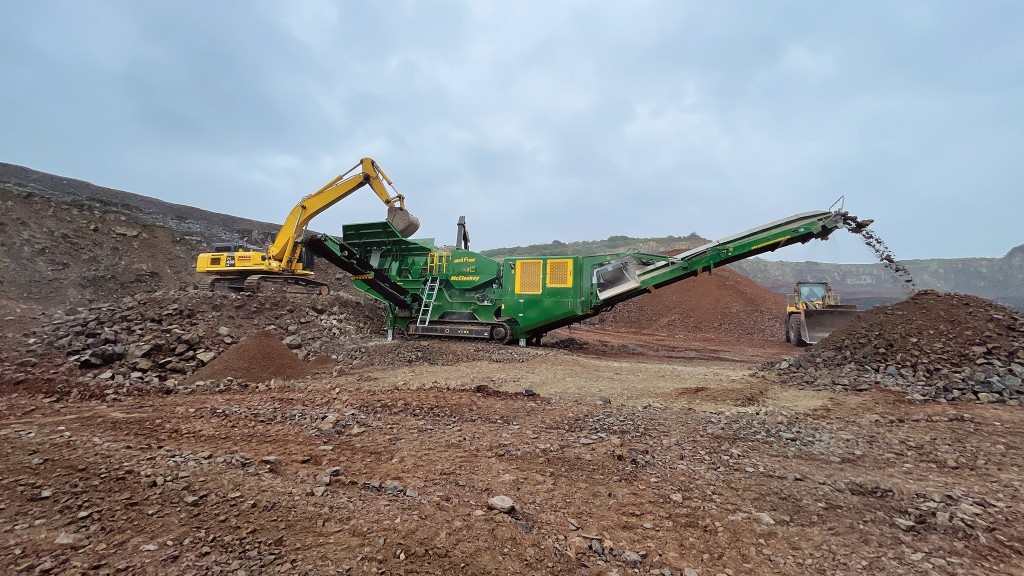 Aggregates professionals joined a sold-out crowd at this year's AGG1 Aggregates Academy and Expo held alongside World of Asphalt at the Nashville Music City Center in Nashville, Tennessee, in March. National Stone, Sand and Gravel Association President & CEO Michael Johnson said, "The record-breaking attendance at this AGG1 Academy & Expo and the co-located World of Asphalt shows the enthusiasm of the aggregates industry to be back in-person again." Here are some highlights from the event.
McCloskey highlights its new jaw crusher
The jaw chamber of the J6 has been designed for enhanced material flow and work in hard rock applications. It has a 48- x 34-inch (1,200 x 864 mm) jaw opening to accommodate large feed sizes. The adjustable speed 47.4-inch x 7-foot 8.8-inch (1,204 x 2,360 mm) double-deck grizzly prescreen under the hopper, along with the variable speed panfeeder, allows for the sizing of material with a variety of mesh options.
The angle adjustable 55-inch-wide (1,400 mm) main conveyor has a 16-foot-9.8-inch-high (5.13 m) stockpile. The integral folding side conveyor with a 32-inch (800 mm) adjustable speed belt can fuel a stockpile height of 3.99 m.
Remote control tracks can move and position the jaw crusher. A high-volume fuel tank enables the J6 to run for approximately 20 hours. It is also equipped with a 12-inch DSE Control Panel, as well as wide main and side conveyors. The J6 has a high tph to accommodate the jaw chamber design and material flow. A factory-fit rock hammer is optional.
The crusher is fitted with a telematics modem for the 365SiteConnex program to collect, analyze, and deliver information on the crusher. Safety features include engine safety shutdown systems, start-up alarms, full safety guarding, external ground level maintenance access, and a tagout capability on the isolator.
John Deere wheel loader burns less fuel
John Deere showed its 904 P-Tier wheel loader at AGG1. This wheel loader is equipped with 7.5- and 7.1-cubic-metre (9.8 and 9.3 cubic yard) material-handling buckets with integrated spill guards and curved side cutters, as well as seat-mounted hydraulic controls. It has high-capacity, heavy-duty axles with standard axle cooling filtration. The wheel loader also features large tilt cylinders and increased hydraulic pressures, engine power, and torque. A combination of fuel-efficient engines, lockup torque converters, and a dedicated steering pump results in burning less fuel.
The Advanced Vision System allows visibility to the sides of the machine by integrating two digital cameras on the rear-view mirror platform and then combining the views into a dedicated single display in the cab. A rear object detection system overlays a projected vehicle reversible path in the same dedicated monitor.
Fairbanks Scales introduces its new conveyor belt scales series
The FB9000 series is for idler-style, in-motion conveying applications. Its self-aligning weighbridge measures the force of material without using levers, linage, or other mechanical apparatus. It is available in the most common configurations with the instrumentation and displays to service most scale needs.
The design allows it to be used with stationary plants in which it can track product totals and ratios. The scales are suited for all portable applications and can be installed on low profile and spine conveyors. An automatic angle compensations feature allows it to be used on catenary style idlers, such as those that are used on track-mounted portable crushers. The FB9000 Series can achieve flow rates for rail, barge, truck, and ship load out of up to 10,000 tons per hour with built in load out controls for automated cutoff.
Kleemann digital app for impact crushers
Kleemann's SPECTIVE operating concept has been extended in the MOBIREX MR 110/130(i) EVO2 crushers with SPECTIVE CONNECT. The app displays all relevant process information and reporting on a smartphone. The plant operator can monitor the information without leaving the excavator or wheel loader.
Fuel level, fuel consumption, plant performance, current gap setting, and process data can be displayed at any time via the mobile app dashboard. In case of a warning, SPECTIVE CONNECT displays the fault and at the same time refers to the corresponding components and includes troubleshooting aids.
If a fault cannot be eliminated, the app generates a service report which can be sent via messenger to the servicing technician or dealer. The offline troubleshooting aids make it possible for a repair technician to remotely support the machine operator.
The app can be installed on iOS and Android smartphones.
Rubble Master's new technology is designed to improve processes
The RM XSMART Telemetry & Fleet Management system was designed to help contractors get more clarity about their operation to identify blind spots and improve processes. It also assists operators with more information about the condition of their machines to accelerate service processes.
RM XSMART is available as a phone app or desktop computer app to access machine data. From the cab, operators can monitor fuel levels, reset belt scales, and track tonnages with an optional belt scale. It also documents machine utilization such as run time, operating hours, and tonnages, which can be easily shared. The operator can choose between a job report that documents the progress of a specific job or a daily report. A Performance Indicator provides visual feedback to the operator to help them find the sweet spot so that the machine is pushed to its maximum. LED light bars underneath the feeder show the utilization of the machine based on engine load and feed speed to help operators adjust their feeding behavior.
In addition to the telematics and fleet management system, Rubble Master has also made all products available with either a diesel-electric direct drive or hybrid drive.
Sandvik wheeled rock processing solutions
Sandvik revealed a wheeled range of rock processing solutions, exclusive to North America. All electrically driven, the offering will expand in 2022 with a total series of crushing and screening units. The complete range includes jaw crushers, impactors, and cone crushers for primary, secondary, and tertiary applications. Combining crushing as well as screening solutions, Sandvik offers customers a portable package to choose from. Complete control systems come as standard.
The UK373 wheeled cone crusher was displayed at AGG1. The electric-powered wheeled crushers offer a low operational cost per ton and reduced CO2 emissions.