Defining backhoe loader versatility: an in-depth report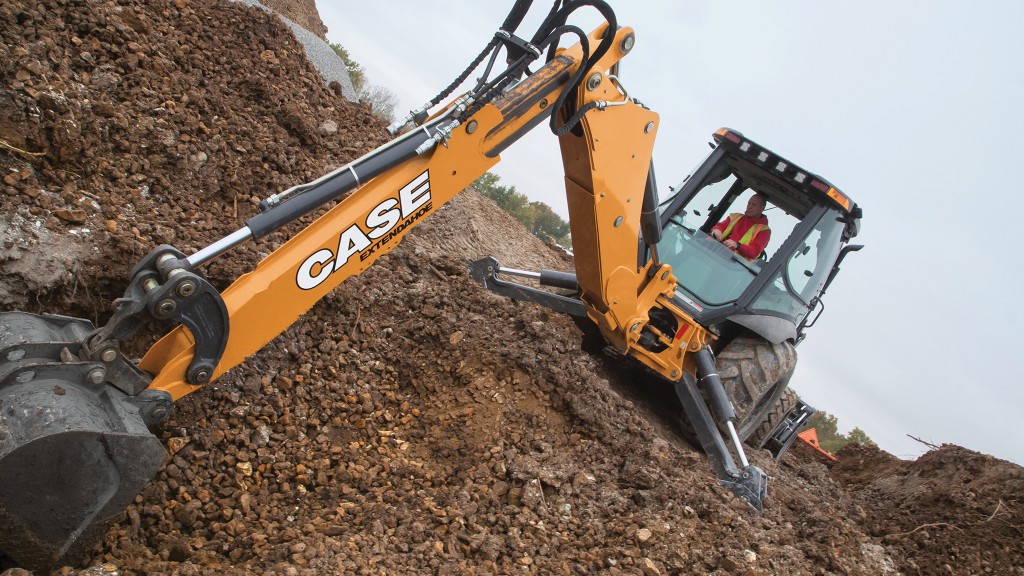 Everybody loves that one guy on the crew who knows how to do more than just one job. The guy that not only knows how to run all the equipment, but also knows where to put the safety cones. The same guy that knows where to get the best subs for lunch. Versatility is the theme here. Backhoe loaders are a lot like "that one guy." They remain a necessary piece of equipment for municipalities, utilities, and contractors.
Despite this usefulness, there are trends to be aware of when it comes to backhoe loader size, hydraulic capability, technology, cab design, and the increasing popularity of compact equipment.
Backhoe loader selection
The dominant size class is the 14- to 15-foot machine. Dig depth and horsepower have become essential, along with the ability to utilize them. This is where machine configuration comes into play. Caterpillar Product Application Specialist David Young says, "We're starting to see over the years people moving towards what I'll call richer configurations. For example, canopy machines used to be very popular, and they still are, but we sell a lot of cab machines now." Young adds that many are opting for pilot controls in the cab as opposed to the standard mechanical controls.
CASE Construction Equipment Product Marketing Manager George MacIntyre agrees that dig depth is a priority with customers. He also sees an emphasis on horsepower - units that offer more than 74 hp. "They want more product productivity. The price point is a little bit higher, but if they're going to be in the seat multiple hours a day, they want to make sure that they have the power to perform the jobs that they need."
When comparing the purchase of backhoe loaders between municipal, utility, and construction sectors of the market, although these markets vary in size, it is widely agreed that municipalities lead the way, followed by utilities and then construction. Municipalities, with their fixed budgets, want the most versatile piece of equipment for the dollar. Historically, backhoe loader usage among utilities has been consistently strong and remains so. And for the last decade or so, there has been a diminishing presence of backhoe loaders on construction sites most likely due to the growing popularity of compact equipment.
Versatility is the name of the game
The backhoe loader's versatility comes from essentially being two tools: a wheel loader and an excavator. But when you can add other types of attachments to either of those couplers, you introduce even more versatility. OEMs now offer several hydraulics advancements to address the need to use more attachments.
JCB North America Product Manager Ethan Clowes asserts that having the proper hydraulic flow and power to efficiently run attachments enhances the versatility of the machine. It is essential whether a backhoe loader is configured with bidirectional or single direction flow in order to most effectively use attachments. With precise hydraulics, the excavator end can be outfitted with tiltrotators and hammers, while the loader end can take on 6 in 1 buckets and brushes.
One available Caterpillar option is the ability to dial in auxiliary hydraulic flow right from the cab for a given work tool. On its latest generation of backhoe loaders, Cat offers electro-hydraulic joystick controls. This allows for what Cat calls dual-mode, in which the operator can use the pilot controls to engage either end of the machine regardless of which end they are facing.
Backhoe loaders equipped with side shift add even more versatility, especially in tight spaces such as along walls or roadsides. Side shift allows an operator to deploy vertical stabilizers straight down just behind the rear tires. They do not extend like outriggers. This allows for a much smaller footprint when the machine is set up to dig with the backhoe. Young says, "The hoe can shift from side to side along the rear, which is called the H frame. So, I can tuck up tighter next to a wall or a building and trench."
John Deere has updated its backhoe loader hydraulics system with pressure compensated load sensing, or PCLS. PCLS improves multifunction capability and reduces hydraulic drift. With the tighter tolerance inherent in the design, John Deere's backhoes have improved trenching cycle time times by up to 16 percent. John Deere Solutions Marketing Manager Justin Steger offers the example of trenching for underground utility work where many sections of pipe are installed. The increased trenching efficiency really pays off.
CASE offers bidirectional hydraulics for the backhoe end of its machines. Hydraulic power flows two ways allowing for the flexibility to use swivel buckets, augers, and thumbs. New pilot controls have roller switches that control the bidirectional auxiliary hydraulics more precisely. Technology is also playing a role to increase backhoe loader versatility. According to MacIntyre, telematics can monitor maintenance and data for customers. He says, "They know when they're coming up for a maintenance item, or if they see something in the data that they don't like what they're seeing, then they're able to contact the customer and let them know about that."
Steger agrees that having as much data as possible helps to manage the work the machine is doing, which adds to its versatility. If the data says a machine is being underutilized on a job site, it may be time to repurpose it for another task or move it to a different job site.
Young also sees telematics as a tool that can affect the versatility of a backhoe loader. He adds, "When we say telematics in terms of what the machine can do from a performance and capability standpoint, that's probably not something that it greatly impacts. But it does impact the owner/operator and the fleet manager in terms of keeping up with the machine's hours, service, and diagnostic issues."
Clowes asserts telematics can offer information on fleet utilization. Aside from being an excellent tool for maintenance that allows managers to see when maintenance is due, he also says they can plan better when they can tell which machines are working, which ones are idling, and how much fuel the machine and the fleet are using.
CASE works with Leica, Trimble, and Topcon to offer machine control systems. 2D or 3D systems can give contractors the advantage of not having to put someone in a trench to figure out if it is above or below grade. Operators can set the desired grade using the machine control, and take the worry out of under or over digging a trench.
Backhoe loaders vs. compact equipment
It is not necessarily a battle royale taking place on job sites, but the growing popularity of compact equipment has been reducing the use of backhoe loaders. Employing a combination of compact track loaders, skid steers, and mini excavators can be more flexible for operators. But the arguments for backhoe loaders remain strong. The primary reason is that the backhoe loader is a two-in-one machine and it has a much faster travel speed, but there are other reasons to favour the backhoe as well.
Steger says that, instead of having to keep track of multiple machines, "One machine is used from start to finish. There is no need for multiple operators or multiple machines and thus, operating costs are lower."
Clowes adds that if an operation continuously has numerous tasks on a job site, it might be the difference between deciding to obtain two compact machines or one backhoe loader. If space is limited, or if saving money on fuel, insurance, and maintenance are issues, choosing to have one machine can solve those problems.
When it comes to travel speed, compact equipment can reach a top speed of two or three miles per hour. Backhoe loaders are able to travel up to about 25 miles per hour. Young points out, "If you're in a situation where you are working a city street job and you've got backfill up at the corner but need to spread it down at the other end of the block and you have to run back and forth, that backhoe loader is great."
MacIntyre agrees with that assessment, especially in a trenching operation. Higher ground speed is a big benefit, as is not having to put a piece of equipment on a trailer.
Backhoe loader cab comfort
When it comes to cab design, the development of new electrohydraulic control systems and their integration into pilot controls has brought about an increased level of comfort. Operators can now be surrounded by seat-mounted joystick controls, touchscreen monitors, updated HVAC systems, and even USB charging ports.
Caterpillar has spent a lot of time refining the menu on its navigation displays, including the structure. What are going to be the most popular things to be touched or changed on the machine? How deep in the menu selection do operators need to be? Which items need to be at the top level? Even the type of symbols and verbiage was carefully considered by Caterpillar's development team.
Young adds, "We have found that both new and experienced operators can get in and quickly understand how to use the machine. And through the use of those new displays, we can also help communicate what is going on to the operator, if something isn't working."
JCB backhoe loaders cabs are designed to be spacious and ergonomic. A series of automatic functions that takes care of a number of repetitive tasks is also offered. This includes checking fluid levels, automatic idling, and throttle, and a cruise-control-like feature for the engine. Clowes says in terms of design for safety, maximizing visibility is key so JCB uses as much glass as possible in the cab with less structures that could create blind spots.
Steger agrees visibility is extremely important to operators and want the maximum amount of glass. He says, "They want to be able to see to the rear ground engaging with the backhoe, they want to see a surrounding view." John Deere is even exploring the possibility of being able to open the rear window to allow for more communication with workers outside of the backhoe loader. LED lights inside and outside of the machine are becoming more desired.
CASE offers pilot controls as well as different kinds of mechanical controls. Some operators still like the feel of using mechanical controls and the precision they believe can be achieved. Still, the trend towards pilot controls is unavoidable. According to MacIntyre, "What we find is that some of the contractors (municipalities as well) are moving more towards the pilot controls because with the pilot controls, the younger operators that are coming into the business are able to more easily adapt to those styles."
Backhoe loader alternative power
Considering the trend in the automotive industry towards electrification, it was only natural for heavy equipment manufacturers to follow suit. OEMs are at various stages in the development of alternatively powered backhoe loaders, but it is on their drawing boards.
CASE has two units that two utilities are trying out. The crews testing the machines are providing feedback that will be used to make adjustments to the next iteration of CASE electric backhoe loaders. "Some of the things we're hearing about what they like about it is the smoothness of the controls, the ability and the power that it has," says MacIntyre.
John Deere has an electric backhoe loader prototype project underway and partnered with National Grid for trial runs. It has been designed to meet the sustainability goals of many of its customers, as well as its own, without compromising hydraulic performance, controllability of the machine, or the HVAC system. Steger says, "The next phase before this would ever come to market is looking at the run times of the machine, understanding the infrastructure, and the charging capabilities. That is what we're working on in conjunction with National Grid and other customers that we visit with." Deere has also acquired majority ownership of Austrian battery technology provider Keisler Electric, Inc.
Caterpillar is having conversations about electric-powered equipment. The manufacturer is focused on coming up with the best solution possible - and electrification is not the only option. Young offers, "We're looking at all options on that. Electrification, hydrogen, maybe as an alternative source of power. And it's still in the debating phase, I'll call it an exploratory phase."
All agree that battery life and cooling of the battery are major issues to resolve before being able to further develop electric backhoe loaders.
JCB is taking a different path when it comes to alternatively powered machines. In the United Kingdom, it is working on developing a number of different hydrogen-powered pieces of equipment. There is no definitive timeline in terms of when they will be commercially available. Clowes says, "Every machine has the potential to go to zero emissions at the point of use. It's just finding the solution for that machine."
Versatility is the cornerstone of the backhoe loader's longevity. And as our experts can attest to, the efforts to explore, develop, and implement new designs, technologies, and alternative power sources will undoubtedly continue. The result should be a productive future for backhoe loaders and their operators.
Related Articles
Which is better for your needs? Backhoe vs excavator and skid-steer loader