Liebherr's new quiet and zero-emission battery-operated crawler crane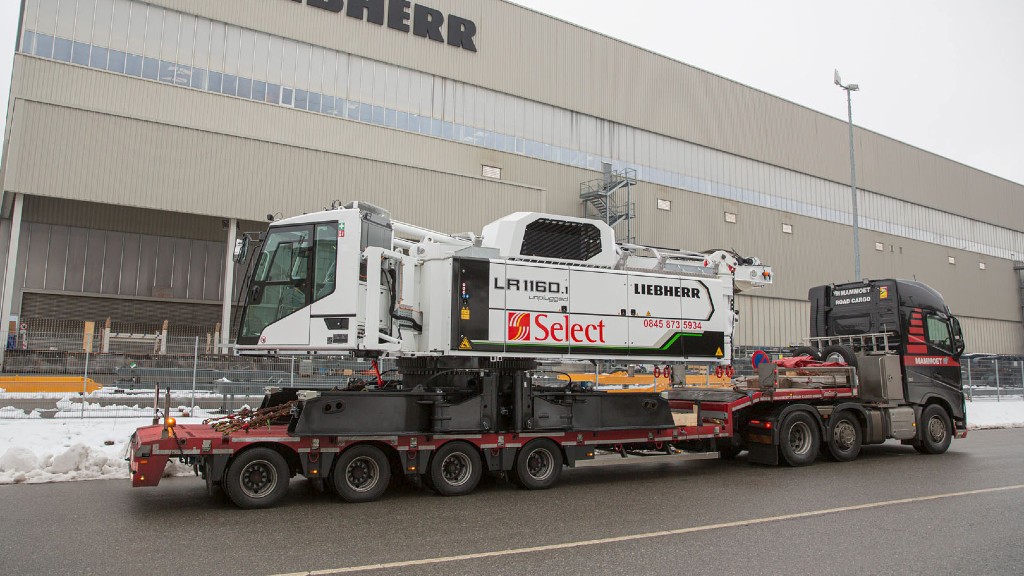 The Liebherr LR 1160.1 unplugged is, what Liebherr says is, one of the world's first battery-operated crawler cranes. The electro-hydraulic drive has the same performance specifications as the diesel engine version.
The LR 1160.1 unplugged is a zero-emission machine and is extremely quiet. This allows the crane to be used in noise-sensitive regions.
The battery capacity of the LR 1160.1 unplugged zero-emission crawler crane
The LR 1160.1 has a battery capacity that is designed for eight hours of lifting operation. The crane can be operated while plugged into a conventional electric supply with 63 amps or charged under five hours. Using a 125 amp supply, the battery can be fast-charged in only under three hours. The crane can be operated both plugged into a power source and unplugged from a power source.
Which safety systems are installed in the LR 1160.1 unplugged?
The LR 1160.1 unplugged is equipped with all established assistant systems for safe operation.
The latest feature of the LR 1160.1 unplugged is the Gradient Travel Aid for the safe negotiation of slopes and inclines. The crane's control system automatically calculates the centre of gravity and warns the operator before the crane leaves the safe area. While travelling, the operator receives information about the gradient and the crane's overall centre of gravity at all times. If necessary, the boom angle can be altered so that the machine remains in a safe area.
The LR 1160.1 unplugged comes with a ground pressure visualization feature that calculates the ground pressure of the machine in real time and compares it with the specified safety limits of the relevant job site. This means the operator is aware of whether the machine is situated in, or is approaching, a critical area.
When erecting or lowering the boom, the Boom Up-and-Down assistant indicates the approach to the tipping border and automatically stops operation before the operator unintentionally enters an unsafe zone.
First three LR 1160.1 unplugged crawler cranes deployed in Britan
Liebherr-Werk Nenzing GmbH delivered the first three LR 1160.1 unplugged cranes to Great Britain. Select Plant Hire is pursuing the goal of operating more and more zero-emission construction sites and has even planned three further LR 1160.1 unplugged cranes as an investment for 2022.