Ontario dealer CanLift steps into earthmoving with XCMG agreement
Canada is experiencing a strong return to business in the construction sector, and with that has come a strong demand for new heavy equipment. However, challenges surrounding supply are extending timelines for new machines, and customers are looking at new options as 2022 gets underway.

One Ontario dealer, known primarily for aerial equipment and material handling, is taking advantage of that new demand by moving into the construction sector, and in the process is expanding the reach of the world's third-largest heavy equipment manufacturer into the Canadian market.

CanLift Equipment recently announced an agreement with XCMG for exclusive rights to sell XCMG earthmoving equipment in Ontario. The move is a big step for CanLift, but an important one for both the dealer and its customers.

"We deal with customers that are both in the general contracting side and aerial side . . . we have a bit of a different model than other general rental companies - we sell quite a bit, probably around a fifty-fifty sales to rental ratio," explained CanLift Managing Partner Johnny Dragicevic. "So, getting involved in earthmoving was a different vertical we thought we'd jump in on."
Earthmoving adds to aerial lift success
Located in Burlington and London, Ontario, CanLift has been operating since 2009 and has plans to grow the business moving forward, targeting northern and eastern Ontario.

Business for CanLift has been strong on the aerial side, with the Ontario market showing signs of being busy through 2022 and beyond. CanLift sales manager Geoff Grant pointed out that tower cranes can be found throughout the Toronto region right now, and that doesn't look like it will slow down any time soon.

"Housing starts are up, there's lots of industrial construction and condos everywhere. The renovation market is huge as well, and of course we have a really big manufacturing sector. That's all ongoing support required on the industrial side," Grant said.

With that in mind, moving into the earthmoving sector made sense to CanLift at present. It did require a leap of faith, however, Dragicevic said.

"I think there was definitely a bit of concern, because it's earthmoving equipment. It's definitely a different sector," he noted.

Selecting a partner to work with was more of a challenge. CanLift had been approached numerous times by various manufacturers, so the company had options to work with, Grant noted.

"We went through several of them and XCMG came to the forefront, just given the breadth and depth of their product offering. It's not some little niche machine - they're incredibly massive, the number three in the world," he said. "Cat is number one, Komatsu is number two, and XCMG is nipping at Komatsu's heels in the number three spot."
High-quality machines fit North American market
Grant noted that XCMG has become comfortable with having its machines out internationally, where some other manufacturers from the Asian region have had challenges expanding beyond their home market. XCMG offers high-quality machines with the standard componentry expected by North American buyers.

"They truly are a global company - they have manufacturing facilities throughout the world, R&D facilities throughout the world. They understand different markets, and they have the capacity to deliver a broad range of equipment," Dragicevic said. "They were also looking for an exclusive dealer that will only sell their product; us being an aerial specialist, we had no other products on the earthmoving side of things."

XCMG was founded in 1989 and has risen to become China's number one construction machinery manufacturer; the company is also one of the top 500 brands in the world. It has a broad range of products across construction sectors, and sells into hundreds of regions through more than 300 distributors.

Even with all of those credentials, brand awareness is still likely to be a hurdle for CanLift as it brings XCMG equipment to the market, Dragicevic said.

"It won't be the quality of the equipment, because the quality is there - it's just brand awareness . . . getting the XCMG name out there," he noted. "We've used the analogy of the auto market industry of the sixties and seventies - it's no different than the Toyotas, Hyundais, or Kias coming into the North American market. They're here to stay, and they have a great product. I think people will see more and more of XCMG throughout Ontario or through other provinces and states."

Grant said educating potential buyers on the benefits of XCMG will be a focus for the CanLift sales team.

"We're well used to actually walking people through, saying 'here are the benefits, here is why you should consider this as one of our options,'" he said. "That's part of any sales process. Do you have to do it a little more for this product line than you would someone incredibly established, like Cat? For sure, but that's not unexpected. We welcome that challenge, given the opportunity that we've got."
Full line of earthmoving machines
When fully up and running, CanLift will be able to offer the full line of XCMG earthmoving machines, including excavators, compactors, skid-steers, and more.

"We're concentrating on mini-excavators to start. We're going to be strategic about it - we're not bringing in everything they have immediately," Dragicevic said. "We're starting with the excavators and rollers, and then that will lead to other products."

On the service side, CanLift is leveraging its in-house experience and skill set working with aerial equipment in preparation for providing maintenance and service for the XCMG machines it sells.

"We have factory-trained technicians coming to train our staff here, and we have several mechanics on the road. Our mechanics are currently versed in some of the other manufacturers' machines, so they have the understanding of the excavators and other machines we'll be dealing with," Dragicevic said.

Parts and components will be available from two XCMG depots currently operating in the United States, and plans are for a third in the U.S. as well as two in Canada moving forward. That availability will bring benefits for buyers of the XCMG machines, especially considering some of the supply chain challenges that have surfaced in the past two years.

Grant pointed out that XCMG is vertically integrated and controls much more of its own supply chain than some other manufacturers might.

"They haven't outsourced as much of their marketing as other manufacturers, so they have a greater degree of control, and hence a greater ability to deliver in the current environment," Grant explained. While in some cases some parts may take weeks or months to be delivered due to supply chain challenges, XCMG should be able to shorten that time frame significantly due to the vertical structure of its operation, he added.

"That was something in going through the decision process, that we liked, knowing the environment that we're in," Grant said. "Being with a partner who had more control over supply was very attractive, because it allows us to not deal with those issues when we're dealing with our end customers."

Those benefits also apply to the machinery itself. CanLift has machines available on site, and more are on the way.

"We've got four different sizes of excavator on the ground right now ready to go, and the next ship is due in a month or so - we've got stuff on the water," Grant said. "That's going to be arriving at the perfect time, when the ground thaws, and there's no longer three feet of snow."

Customers have proven quite interested in the XCMG machines since the agreement with CanLift was announced, and the equipment has already started to move.

"We've had customers from the aerial side of things who have requested these machines - a couple of customers have already purchased a couple of the excavators and rollers," Grant said. "It's nice when your customers validate what you believe to be true, and the response has been very, very good."
Related Articles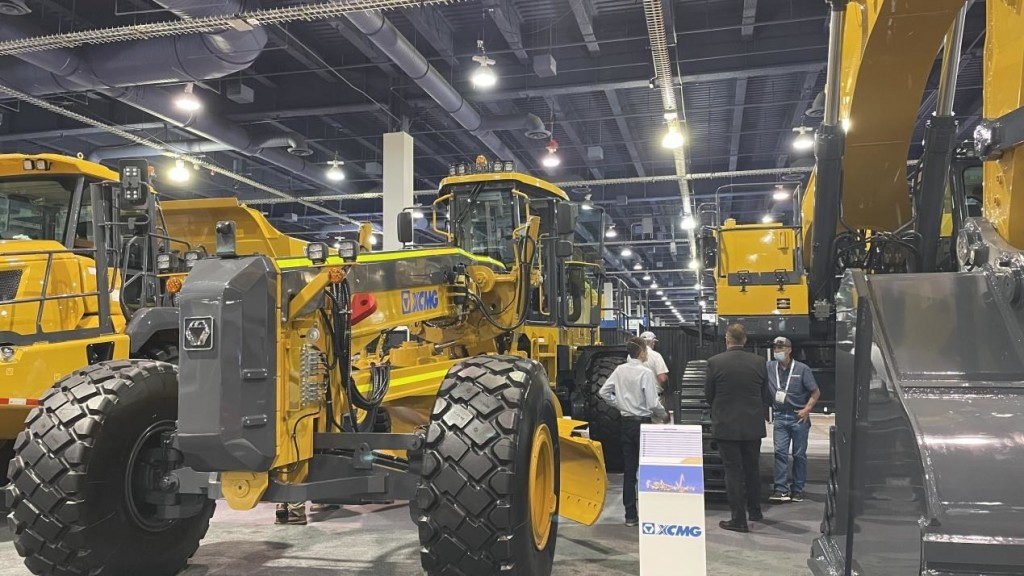 XCMG makes debut at MINEXPO 2021, plans to open service centre in southeastern United States