Smoothing it out: tips to get the most from machine control on dozers and graders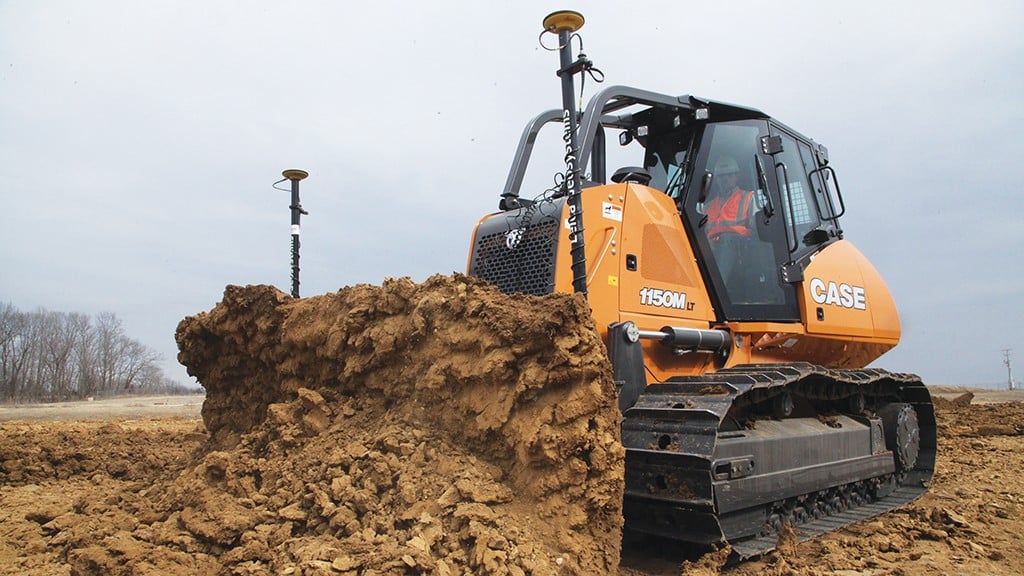 For contractors who go from moving large amounts of dirt to finishing grades on their job sites, precision is a must. Dozers and motor graders, with their broad blades and fine adjustment capability, are ideal tools for precision work - and the addition of machine control only makes that task easier to complete.

The argument for machine control use on motor graders and dozers is a simple one: it adds efficiency and reduces overall cost in many ways. And, according to CASE Construction Equipment Product and Marketing Manager Jeremy Dulak, it is more and more an important part of any earthmoving contractor's tool set.

"Let's be honest: there are very few earthmoving applications that won't benefit from machine control in one way, shape, or form. And, as acceptance and options increase, the contractors you are bidding against on a regular basis may already be using it to streamline their operations, to make their bids more aggressive," Dulak said.
Levels of control differ based on need
Grade control systems generally offer the operator much of the same information and benefits on either a dozer or a grader, since they tend to perform much of the same function especially when it comes to final grading. As with other types of machines using these kinds of systems, the level of control can differ. Nathaniel Waldschmidt, CASE product manager, noted that the solutions can run the gamut from simple to complex.

"Many of these solutions are guidance- or indicate-only solutions; this means that it is providing the operator with feedback on the screen in the cab that guides his or her actions. So, this solution still relies entirely on the input of the operator," Waldschmidt pointed out. "It is simply letting them know where they are as it relates to their desired result and helps them dial in their work from there."

A step above the simple guidance indicators are automatic solutions, which truly incorporate the concept of machine control. In those cases, the system has the capacity to take over the hydraulics of machine and blade based on input data and models. It's especially useful when it comes to working with 3D models, Waldschmidt noted.

The difference between 2D guidance and 3D control solutions may seem to be a big jump in technology, but Product Manager Richie Snyder said that many of the components are similar, making it easy to shift from one to the other when necessary. A 2D system generally involves setting an external point of reference and inputting a slope that the operator needs to reach on the grade they are producing. Depending on the solution being used, the system may use indicate to have the operator provide input, or run automatically. Units may use one or two masts on a machine; Snyder noted that CASE's SiteControl CoPilot system uses no masts, GPS, or lasers at all, instead relying on sensors to adjust the position of the blade, calculated from grade and slope specs input by the operator, and holds that grade as it works.

Stepping up to 3D is where, Snyder said, "Things get really fun, and allow you to expand beyond working with just a slope or plane."

A pre-built model of the job site is input into the machine control solution, and the job becomes akin to a video game, Snyder said.

"These systems can be indicate-only, but reach the full potential of machine control when they're automatic," he said. "You do need some additional geospatial technologies to make this work, such as a GPS or GNSS receiver, or universal total station. These systems still allow you to do plane and slope work, but really simplify those more complex curves and site plans."

Selecting the right version of machine control for a grader or dozer depends on the type of job, Waldschmidt said. A 2D system is great for simpler jobs - typically, working on a single slope, from a fixed point of reference, or building driveways, parking lots or final grades in simple situations.

"3D is for more complex projects - large commercial developments, large highway and infrastructure projects, where there are countless points of reference throughout the sites that must be hit to ensure stability, water flow and the overall aesthetics of the project," Waldschmidt described. "3D systems put the machine within the total site plan and help ensure that the earthmoving you're doing is what is needed and works within the flow of the whole site And, it makes things like contouring and more complex design flourishes considerably easier."
Three options for adding machine control
Contractors looking into including machine control as part of their dozer or grader fleet have a number of routes they can follow, Snyder noted, with factory-fit systems becoming more popular.

"You can do it aftermarket, you can do it at the time of purchase with an aftermarket solution, or you can do it at the time of purchase with a factory fit solution," he said. "Aftermarket is pretty self-explanatory - you own a machine or have bought one and in this case, you then work with your CASE machine control certified dealer to determine the best solution for that equipment."

Aftermarket systems require installation time, which means the machine is down for a certain timeframe as the equipment is added and system calibrated. That needs to be kept in mind from a planning perspective. In addition, it is a separate transaction from the machine purchase, Snyder noted. If buyers know they want machine control on their dozer or grader ahead of time, then they can work with their dealer to get the right aftermarket system for their needs. Users can start with a 2D system and scale up as their needs change.

Factory fit systems, however - like those recently introduced for CASE dozers - add more simplicity to the process, Dulak said.

"Factory fit provides a few strong advantages. Working with your certified CASE dealer, you can group the system that best fits your needs with the purchase of the machine. This combines all elements of the investment into a single payment, a single financing package and a single interest rate," he explained. "The factory fit solution also ensures that when the machine arrives at the dealer, it's just about ready to go - the machine and system are purpose-built together, ready to work."

An additional bonus to ordering a purpose-built machine control system is an increase in the machine's residual value when it's resold down the line.

"Its second owner will be confident that the system was purpose-built with the machine, and it meets all the quality and performance standards intended," Dulak said.