Previews Of New Powerscreen® Machines At International Open Day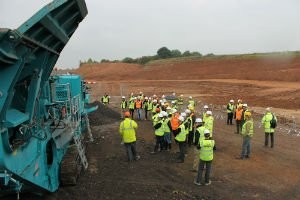 Customers and distributors from over 21 countries attended the 2013 Powerscreen Open Day held on 3rd and 4th October at Arden Brickworks near Birmingham, UK. The successful event saw Powerscreen unveil three new machines – the Premiertrak 300 jaw crusher, the Trakpactor 320SR impact crusher and the Warrior 2100 screen as well as showcase some well-established products.
International Sales Director, Colin Clements, said, "The Open Day was an outstanding success and feedback from distributors and customers has been fantastic. Economic conditions globally may be challenging, but Powerscreen is committed to enhancing the experience of all our customers, to reinforce our position as the world's leader in mobile crushing and screening equipment for our key sectors and to continue to innovate as we have in the past."
Four machines were working in recycling applications, processing tarmac, concrete, brick, and mixed demolition waste.
Premiertrak 300 HA Hydrostatic VGF jaw crusher
The Premiertrak 300 jaw crusher featured the new optional hydrostatic drive system allowing it to reverse and unblock or run continuously in reverse for asphalt applications. It is configured to run at low engine RPM resulting in excellent fuel efficiency and low noise emissions, ideal for urban sites. The Premiertrak 300 crusher was configured with the Vibrating Grizzly Feeder (VGF) set with 50mm bofor bar on the top deck and 30mm mesh on the bottom. The closed side setting (CSS) was set to 40mm while running in both asphalt and recycled concrete applications.
Other benefits of the machine include: Large clearances in the bypass chute to improve material flow and reduce the chance of blockages in sticky material; a large under crusher clearance and full tunnelling to reduce the chance of blockage due to re-bar build up; and a hydraulically lowering conveyor offers excellent access to reduce downtime should a blockage occur.
Rapid set-up times are possible with all folding done hydraulically and no need to work at height so the machine can be moved very quickly. Control is via an easy to use PLC screen control system. Jaw speed and CSS can be changed by a single button which allows the machine to be adjusted to suit the application very quickly with no tools required.
Premiertrak 400 Pre-Screen jaw crusher
The Powerscreen® Premiertrak 400 jaw crusher has been developed to incorporate a fully independent high amplitude, hydraulically driven pre-screen with increased drop angle on the bottom deck improving machine throughput and overall capacity. In order to facilitate improved pre-screened material flow, the discharge opening from the under chute has been increased from 200mm to 320mm, allowing faster movement of pre-screened material to bypass the crushing chamber.
The Premiertrak 400 was fitted with pre-screen bofor bars on 60mm top deck and 30mm on the bottom deck. Machine closed side setting was 45mm and processed recycled concrete containing a high percentage of rebar.
Trakpactor 320SR impact crusher
The Trakpactor 320SR is a mid-sized horizontal impact crusher redesigned with some key enhancements to offer operators and contractors excellent reduction and high consistency of product shape for performance in quarry and recycling applications. The plant is capable of working in the most demanding environments and features rapid set-up time, fuel efficient direct drive system and excellent output potential of up to 320 tph (352 US tph). The plant features a recirculating conveyor which raises for transport allowing more ground clearance under the machine when moving on site and loading for transport. One of the most exciting features of the Trakpactor 320SR crusher is the quick-detach post-screen section which converts it to a standard Trakpactor 320 unit. This provides operators with outstanding versatility to use the machine in a variety of different applications.
Warrior 2100 screen
The Warrior 2100 screen has been engineered to include the proven Triple Shaft technology first developed for the successful Warrior 2400, a model which is now well established in markets worldwide. This Triple Shaft technology, unique to Powerscreen in heavy duty mobile screens, is designed so the 16' x 5' screen box is highly effective and efficient while maintaining exceptional throughput productivity. The extreme screening acceleration offers the Warrior 2100 improved capabilities over its class rivals, especially in sticky scalping applications. During the event, the machine processed mixed demolition waste which included grass, soil, concrete, wood and asphalt, and was configured with a combined top deck of 60mm fingers with 60mm punch plate and a bottom deck of 40mm mesh.
Four machines were on static display:
Trakpactor 250 impact crusher
Designed especially for the recycling and demolition markets, the Trakpactor 250 impact crusher has special features designed to prevent chamber overload and damage. Capable of processing a wide range of material at a high output, the plant is versatile, easy to operate and fuel efficient due to its direct drive system.
1000 Maxtrak cone crusher
The high performance Powerscreen® 1000 Maxtrak is a small to medium sized cone crusher which has been designed for direct feed applications without pre-screening on clean rock. At its heart is the Automax® cone crusher which provides excellent reduction and product cubicity for the production of high quality aggregate and sub-base material. Hydraulic release capabilities are designed so that any uncrushable material entering the chamber is safely discharged.
Chieftain 1700 screen
The Powerscreen® Chieftain 1700 is a mid-sized track mobile screen aimed at end users requiring high volumes of finished products in applications including topsoil, coal, crushed stone, recycling, iron ore, sand and gravel.
Warrior 1400X screen
The 1400X has been designed with economy in mind, with reduced engine running speed and enhanced hydraulics, the 1400X offers a reduction in fuel consumption of up to 15% in comparison to its predecessor. This can translate into a substantial financial saving for customers over the lifetime of the machine.
Visit us at ConExpo 2014, Terex booth 1047 on the Gold Lot, to see the Premiertrak 300, Trakpactor 320SR and Warrior 2100 units on display.