New Rayco articulated wheel loader designed for landscaping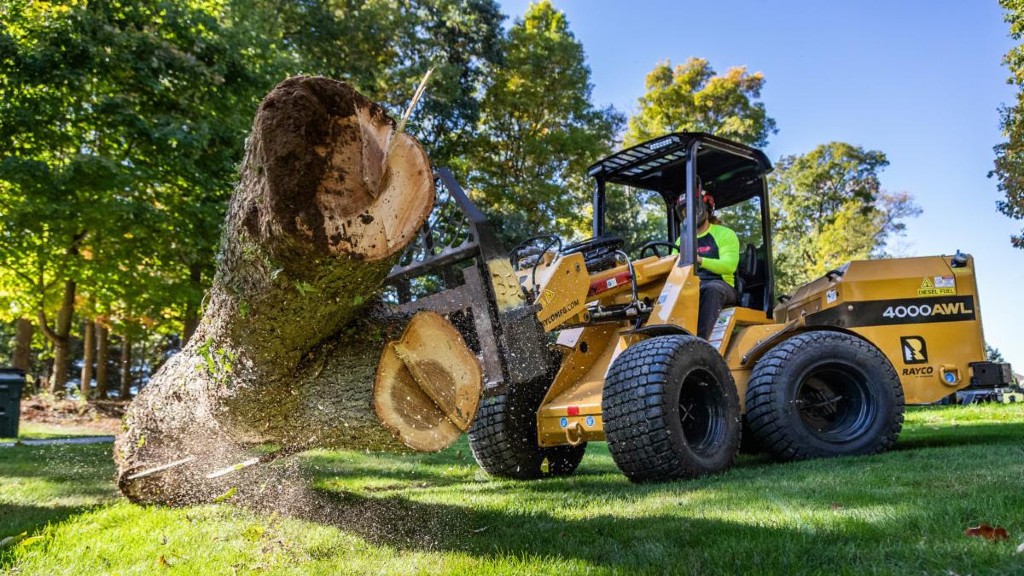 Morbark has debuted the Rayco 4000AWL articulated wheel loader, designed to meet the material handling needs of landscape contractors, tree services, rental companies, municipalities, and agricultural businesses.
Features of the Rayco 4000AWL articulated wheel loader
The 4000AWL is a turf-friendly, highly maneuverable articulated wheel loader that offers a light footprint and heavy workload. The 4000AWL can operate in tight areas while minimizing ground disturbances, ideal for fenced-in yards, pens, nurseries, and more.
The 4000AWL is outfitted with a standard skid steer attachment plate and can accommodate many attachments. In addition, the quick-attach system enables users to quickly and easily switch from a bucket to forks or other tools for on-the-job flexibility and bottom-line performance.
The telescoping boom provides enhanced lifting and dumping height, enabling loading on high-sided trucks and other applications that require extended reach. The 4000AWL has a maximum lift height of 126 inches (320.7 cm). With its 48-hp (36-kW) Isuzu 4LE2T diesel engine, the 4000AWL generates a working lift capacity of 4000 lb (1814.4 kg).
The small footprint and articulating design gives operators the ability to maneuver in close quarters, such as small yards or narrow pathways. At the same time, the turf tires provide minimal turf disruption when making turns.
The 4000AWL also includes a low-profile suspension seat within the ROPS/FOPS-certified roll cage. In addition, the open-air design provides a clear view of the worksite in all directions.