Milling machines master Alberta roads
Two high-production PM622 cold planers clear the way for new West Calgary Ring Road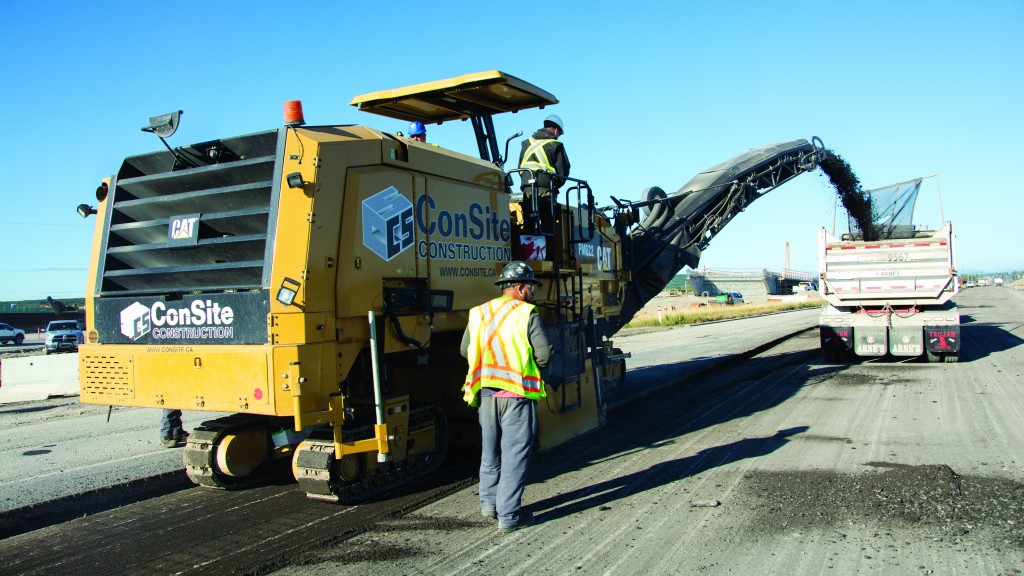 Smoothly slicing through worn, decommissioned old asphalt roads and highways surrounding West Calgary, Alberta, Canada, two powerful 630-hp Cat PM622 Cold Planers with 88-inch drums tackle the third and final phase of the massive new Calgary Ring Road. On this project, all milling must be completed during daylight hours.
The portion of the Calgary Ring Road requires ConSite Construction's work crews to strip out and remove 3,000 to 5,000 tons per day of worn asphalt from miles of decommissioned road and highway surfaces.
Asphalt depths on these old roadways can vary from 2 to 16 inches and extend right down to its gravel base while the roadways run for miles at a stretch.
The milling division of ConSite Construction is performing the milling chores using two Cat PM622s. The asphalt milling division employs anywhere from 10 to 15 crew members at any one time as part of ConSite's 120-employee workforce that engages in both asphalt and concrete milling, removal and recycling.
Both PM622 machines were purchased from local dealer, Finning Canada, and one was bought through Cat Financial, which made the purchase process very smooth and easy, says ConSite division manager David Herman.
"The work week for our division is quite strenuous during the summer months," Herman says. "We generally run about 24 days out of every month and log about 1,000 hours a year on each machine. In the shortened time frame we must work, that's actually quite a bit. We were able to work the PM622s all through last winter.
"The start-up process has been great," Herman adds. "As with any newer machines, there were a few hiccups at first, but Finning quickly resolved them, and they've always been good at listening to all of our concerns and immediately addressing them."
When asked about the 630 hp on these PM622 milling machines, Herman says: "We max that power out just about every minute of every day. And it doesn't matter how much power you have, you could always use a little more sometimes, but it's actually nice to have so much power."
The machines have a very helpful auto-speed-limit feature that automatically dials back the power, enabling working speed to be set to ensure consistent operation and then, when it ramps up, it prevents harm to the machine.
"It's a very good feature that helps us, helps the machines, and we find it very useful," Herman says.
In spite of consistently operating at full power, Herman notes the fuel economy of the PM622s is good.
"The 288-gallon fuel tank takes us through at least a 12-hour shift, which is basically all I ever want and hope for from a tank of fuel," he says.
ConSite is also very happy with the productivity and the output of the machines which are milling at a width of 88 inches.
"It still surprises me every day, the accuracy we can achieve with a milling machine," Herman says. "It's organized chaos, yet organized chaos down to the millimetre, and it continues to amaze me just how accurate the grade controls on these machines are."
Regarding the learning curve on the PM622, Herman says: "Hands down, the Cat milling machines have the best operator functionality of any milling machines we've used, and I can say that with confidence. Similar to the stations that the operators use at ground level, the top-mounted stations are very easy to learn and very easy to operate."
According to Herman, the monitors are one of the best features on the Cat milling machines.
"We like the monitors because their design permits them to change their contrast from night to daytime, so they're always easy to read - it enhances their usability. That's probably the one feature we love the most."
ConSite appreciates how bright the Cat milling machine lights are at night, especially in limited moonlight conditions.
"They've been a feature that we loved right from the outset," says Herman. "And the flexibility of being able to go from incandescent to LED lights is also a nice feature - and we've updated all of our machines to the LED lights."
The service access doors on the PM622s offer quick access to service points, and the hood is very large, so it is quite easy to walk right into the bay on top and check fluid levels, hydraulics and everything else. Hydraulically raised hoods are an added bonus.
Herman states that his crews wash the milling machines every single night using the on-board pressure-washer system.
"If you don't wash it every night, asphalt tends to harden up and the longer you let it go, the worse it's going to be," he says. "So, my operators actually demand that, even if it's been a long day, we have to wash the machines every night, and it's very nice and convenient having a pressure washer right on board.
"In our office, everything is tracked down to the penny when it comes to costs. Everything from wear products to fuel to amortization. It's all tracked very thoroughly and even through the winter I can find out basically down to the dollar what I'm spending.
Based on ROI, Herman says the PM622s have been performing "as we expected and possibly even a little bit better. We are getting optimal use out of them."
ConSite places a high value on the product support it receives from its Cat dealer.
"Finning has been hands down amazing to work with," Herman says. "They've definitely helped with service, whenever needed, and I have the personal phone numbers of multiple people that I deal with there. I can't say enough about how great Finning has been to work with."
Related Articles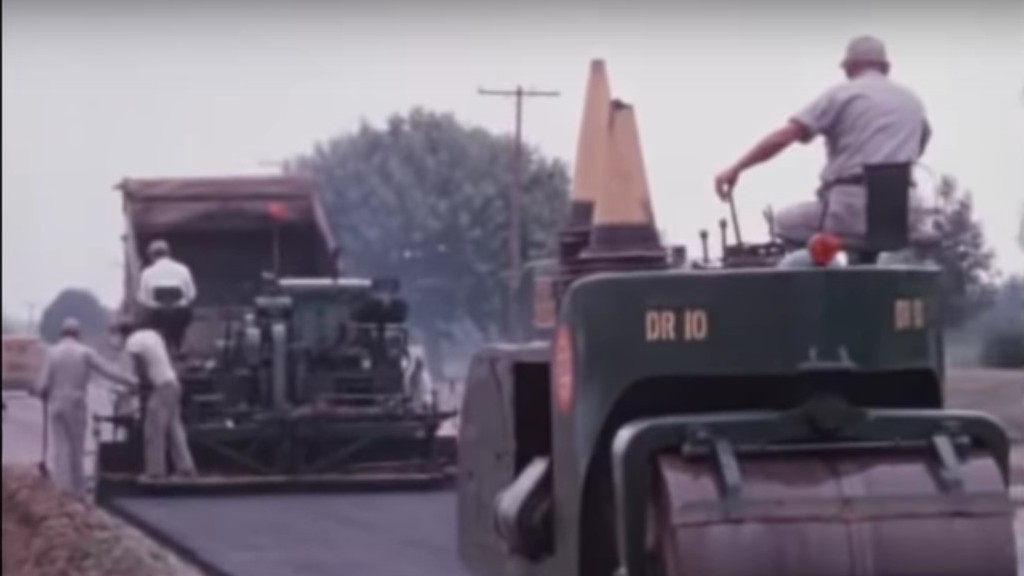 Watch: "Modern" paving techniques of the 1960s with a secret ingredient - asbestos