How to select the right excavator for loading
Top tips to ensure that excavators used regularly for truck loading fit the bill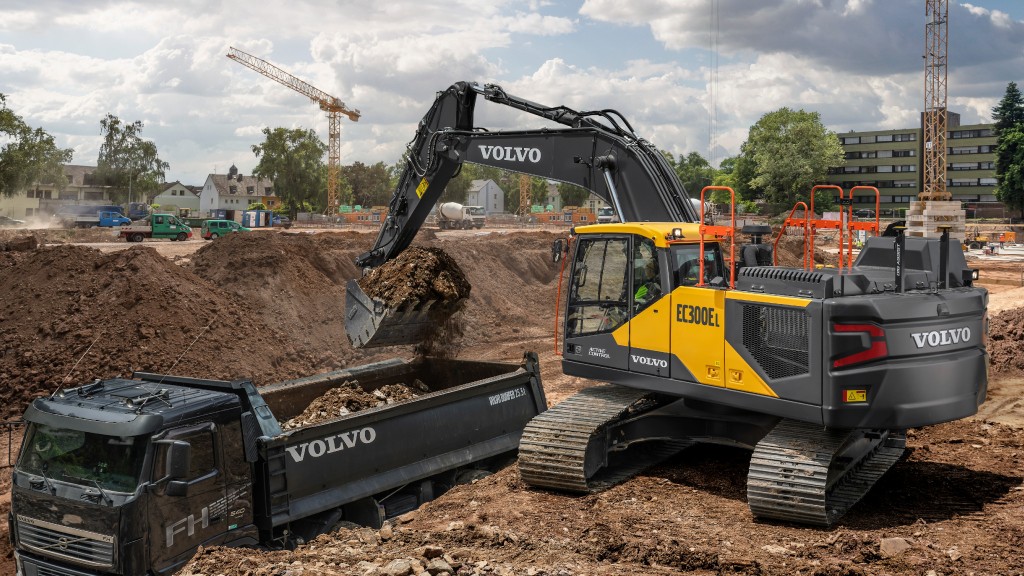 Excavators fill multiple uses on job sites of all kinds, frequently handling a variety of tasks in a day. Truck loading is one of those duties that comes up often, and in some cases excavators may spend the majority of their time in that role.
Loading trucks, whether with dirt from a construction site, aggregates in a quarry or many other materials, is a job that can benefit from outfitting the excavator in specific ways to ensure better efficiency and longevity. Size, bucket selection, technology, and other factors play a role in picking an excavator that can handle heavy-duty loading over time.
Efficient size selection
While there is no one-size-fits-all approach for pairing up trucks and excavators thanks to the many variations that can occur between job sites and uses, it is important to be sure that the machine size selected can handle the trucks, production needs and cycle times desired for efficiency, said Sejong Ko, product manager, excavators with Volvo Construction Equipment.

"It's important to match your excavators to your haul trucks to lower total cost of ownership - if they're mismatched, you'll be inefficient and burn extra fuel," Ko said.

Ko advised to consider production targets for potential products as the driver for right-sizing a fleet. Pass matching equipment to reduce the number of cycles or using fleet sizing software to cut down on idle times can be helpful. The type of material being moved can also be part of the decision-making process.

"The material being loaded also gives you an idea of the bucket type and size needed, which can inform what excavator model makes sense. This can then be used to calculate how many bucket passes are needed to fill different truck sizes," Ko said. "The location of trucks makes a difference as well. For example, will it be at the same ground level as the excavator or lower? Will it be at a 45-, 90- or 180-degree rotation for the excavator? These factors affect cycle times."

Older equipment can be more expensive to run, thanks to higher fuel burn and longer cycle times compared to more modern machines. Any fuel savings will add up over the course of a year, and those quicker cycle times aid in loading more over that time as well.

Machine size also comes into play with transportation costs - keep in mind how often the machine will be moving from site to site and factor that into cost considerations as well.
Matchmaking excavators with trucks and buckets
Matching up an excavator with a truck is best done by considering the number of passes needed to fill the truck. Ko said that the usual rule of thumb for truck loading is to fill the box in four to five passes for best efficiency.

"Loading in fewer passes lowers your operating costs because you're limiting idle time, which means you're burning less fuel, slowing down service intervals and putting less wear and tear on your machines," Ko said. "Loader fatigue is also a factor. Operators loading trucks are constantly moving, and the fewer trips they must make, the less fatigue they'll have throughout the day."

Bucket selection plays a big part in successful, efficient loading work as well. Three factors come into play there, Ko pointed out: size, quality and its ability to match to the application.

"For size, consider the application you will use it in, the material type and density, excavator specs and haul truck capacity. A bigger bucket is not always the solution - it can put more burden on frames and structure in terms of durability while also increasing cycle times," Ko said.

Quality also plays a role; Ko suggests seeking out features that promote durability and reduced wear, like wear strips protecting the bucket's side and back or side cutters that guard the cutting edge and improve penetration. A universal quick coupler can be a benefit if the operator is going to swap out attachments regularly.

Ko noted that there are a number of tools that can be used to help with sizing and set up of excavators for loading duties. Volvo's Site Simulation tool works for mining operations by looking at haul roads, total yardage, time constraints and material to provide advice on the right haul trucks and excavators for the best efficiency.

There are other construction weight and excavator calculators available to help with sizing of excavators and machines - equipment dealers can provide support with this as well.
Keep versatility in mind for multiple tasks
If an excavator is going to be used for loading most of the time but still have other roles on the job site, it needs to be versatile. You'll likely need to swap out buckets for different uses, so a quick coupler is an important consideration, Ko noted. Machines capable of changing up their operational settings can also be a benefit.

"Full throttle works for truck loading, but some tasks work better at a slower engine speed," Ko noted. "Volvo excavators have nine settings within four work modes - Idle, Fine, General and Heavy."

General modes are good for digging and excavation, and the Fine modes handle finish work like grading and lifting requiring more power and precise control. Heavy provides maximum power and aids with saving fuel. Ko noted that Volvo mid-size machines offer ECO mode, optimizing the hydraulic system to reduce flow and pressure losses and cutting fuel consumption.

Transportation needs to be considered for multi-use machines as well. Ko recommends thinking about options that make it easier to move the excavator around, such as a removable counterweight and retractable lower frame. Keep heavy-duty jobs or guarding needs in mind as well.
Technology aids operators in efficient loading
Excavators have come a long way from their early days in terms of technology, and today's machines have plenty of options that can be used to get loading jobs done easier and faster.

"Technologies like machine control, payload management and telematics are bringing increased accuracy - and efficiency and productivity - to loading operations by giving operators real-time insights on bucket loads and other data," Ko noted. "This helps reduce instances of overloading and underloading, reweighing trucks, and waiting times."

Volvo's machine control system, Dig Assist, works through an in-cab tablet. It uses sensors and GPS technology to improve accuracy when excavating. At the same time, it has features that operators can make use of for loading work. Dig Assist offers on-board weighing, which collects data on bucket loads and tonnage moved per shift. Operators are able to set load limits moved for each truck or hauler being loaded, ensuring that each load is maximized without being overloaded.

Telematics may not seem as related to loading, Ko said, but it can provide interesting insights on the use of excavators for loading. Volvo's ActiveCare Direct advanced telematics offer a variety of productivity and efficiency factors that can be used to improve loading operations. For example, a monthly fleet utilization report sent to users can provide an overview of operating conditions.

"This can help them identify trends, including whether certain machines are over- or under-utilized, allowing them to right-size their fleet," Ko said. "For instance, if you see excessive wait/idle times on a particular hauler, you may need a different size of excavator. Identifying these trends ensures that your fleet is as efficient as possible, and that no machine or operator is running up project costs unnecessarily."

Whether an excavator is working to clear excavation spoil, shipping out aggregates or loading a variety of other materials, having the right machine for the job is important. Choosing the correct excavator for loading is a sure way to improve efficiency and load up profit for owners.