An inside look at updated cabs on Cat's mining shovels and trucks
Technology and efficiency are the focus for improvements in Next Generation cabs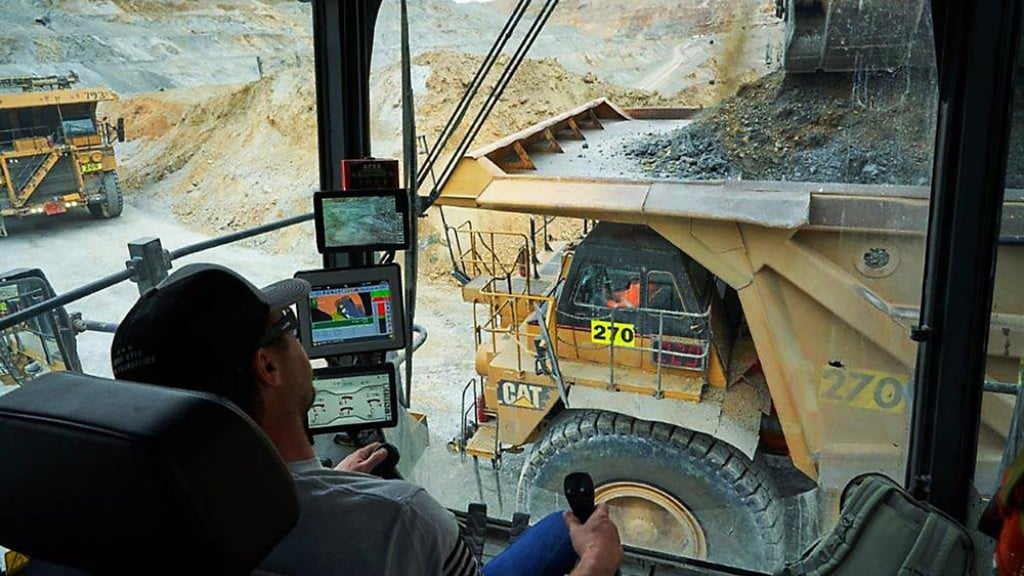 Caterpillar has released redesigned cabs for its hydraulic mining shovels and mining trucks, improving and optimizing electronics while expanding opportunities to incorporate technology that can aid operators in doing their jobs more efficiently.
Both machines include a variety of new features, with a focus on connectivity and innovative updates, as well as ergonomic optimization to make the cabs a more comfortable space for operators to work.
Shovels feature five standard technologies
The Cat Next Generation Hydraulic Mining Shovel will include five technologies as standard features: Hydraulic Optimization, Operator Assist: Enhanced Motion Control (EMC), Product Link Elite, Vision 360 and Payload.
Conventional hydraulic systems operate all pumps at the maximum required flow and pressure, resulting in metering loss and excess heat and waste. Cat optimized hydraulics deliver the exact flow and pressure required for each hydraulic function, improving efficiency by up to 15 percent, reducing heat, mitigating waste and prolonging component lives.
Operator Assist: EMC incorporates angle sensors on the linkage to calculate boom and stick positioning. Reducing pressure spikes and shock feedback to the operator, the control system slows stick/boom movement as it nears the end of the cylinder stroke. This prevents hard stops and metal-to-metal contacts, improving the service life of these main structural components.
With the new Product Link Elite hardware as standard, all next generation shovels ship from the factory Cat MineStar Solutions ready. Product Link Elite improves condition monitoring and enables the machines to quickly integrate the industry's most comprehensive suite of operational technologies.
This includes MineStar Guide, a new technology platform for high-precision on-board guidance featured in the cab display. Guide offers 3D grade control and design visualization of the site, loading material and block identification, operator and production key indicators, surface management, and equipment tracking.
Retrofit strategy brings technology to existing shovels
A vital part of Caterpillar's expansion strategy to bring technology to existing shovels. This strategy ensures existing shovels can benefit from innovation and technology advances that help customers increase safety, reliability, and productivity. Vision 360 serves as the foundational technology for the scalable retrofit architecture. The Vision 360 kit includes cameras with harnesses, an electronic control module (ECM), and a 254-mm (10-in) high-definition, color technology display with harness.
Vision 360 increases situational awareness by stitching together four camera views to provide the operator a 360-degree surround view on the technology display. The touchscreen display allows operators to toggle between views and the ability to focus on specific areas to increase safety or productivity. Vision 360 reduces blind spots and repositioning, alleviates potential safety hazards and lowers cycle times. These benefits increase operator confidence and efficiency, while reducing operator fatigue.
With Vision 360 installed, integrating future technology upgrades, such as Cat Payload, will be seamless. Cat Payload optimizes truckloads when being loaded by Cat hydraulic mining shovels. Sensors on the boom and stick measure the weight of the material in the bucket and send the data to the Vision 360 technology display in real-time. Payload automatically calculates the total amount of material loaded into each truck, preventing overloading and underloading.
Operator comfort central to new truck cabs
In Cat mining trucks, the next generation cab is designed as a walk-through concept with fully adjustable centre console, increased legroom, adjustable next gen seat, temperature-controlled HVAC system, and advanced cab filtration options.
A pair of 10-inch displays are located to reduce clutter and easier viewing for operators, and the touch screen display integrates standard and optional technologies with a simple, consistent and intuitive streamlined interface. Other convenience features include a new in-cab powered mirror control that lets the operator adjust both left and right side mirrors from their seat. HEPA filter options are available, and more stabilized cabin pressurization cuts respirable dust penetration by 96 percent.
The new cab features secure push-button start, eliminating the key and up to 30-second hold sequence for cold starting. A unique operator ID code authenticates the operator, and all pre-start functions and checks can be done at the push of the button.
Enhanced Automatic Retarder Control (ARC) sets retarding speed based on grade, payload, and brake oil temperature. This system demonstrated up to six percent higher retarding speeds in feature validation. A rotary dial can be used to set maximum speed limit maintained during retarding. Enhanced Cat Payload System delivers more accurate measurement of payloads with improved application monitoring interface for technician and operator.
A number of optional features also improve efficiency. AutoHoist allows for automatic raising of the truck body and controls the engine speed, with a dump cycle time reduction of up to 12 seconds. Speed Coaching gives a recommended speed, indicating machine capability for both propulsion and retarding, and a Cruise Control option can be set and controlled with a rotary dial.
Hill Start with Anti Roll Back keeps the truck stationary through automatic brake application when rolling in the opposite direction of the selected gear. Configurable Second Gear Start reduces shifting by automatically determining if the truck can start in second gear. Enhanced Traction Control determines targeted real-wheel speeds to improve control while cutting tire wear and damage. Object Detect combines radar and camera systems to warn operators of hazards. Cat Vision 360 is available from the factory, providing a top-down surround view of the truck.
Dynamic Stability Control, available as an option, monitors and modulates individual wheel brakes to keep the machine tracking with the operator's steering inputs. Anti-lock braking is available.