Powerscreen's new range of secondary scalping screens provide cost-effective solution in high-volume applications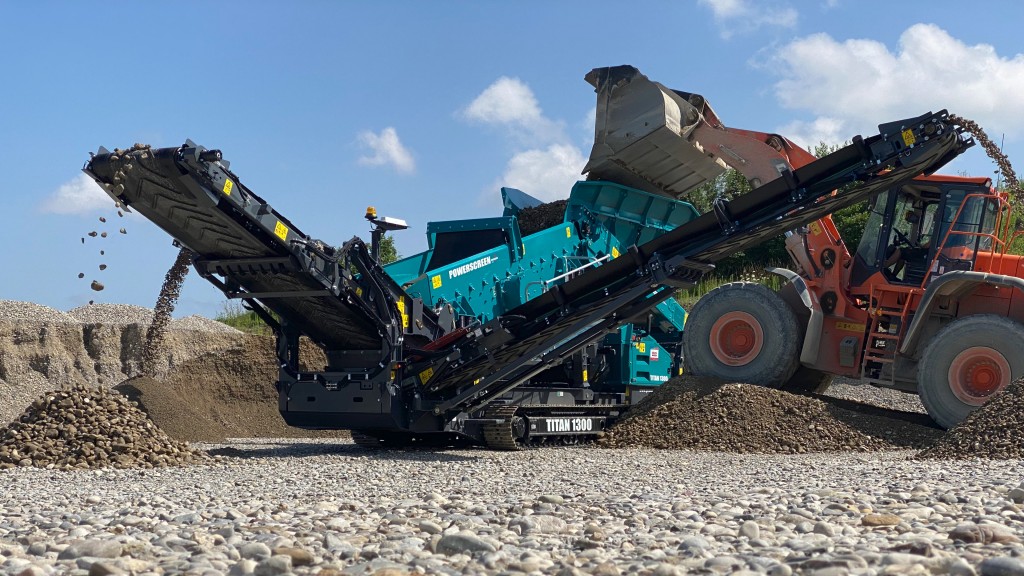 Powerscreen has launched its new Titan range, a new range of secondary scalping screens that provide a cost-effective solution in high-volume, smaller sized, or recycling applications.
The Titan range, which includes three models—the Titan 600, Titan 1300 and Titan 2300—is a simplification of Powerscreen's Warrior range, using key features and tailoring them to a different section of the market at a more affordable price point.
The Titan 1300
The Titan 1300 packs a punch while having a compact footprint for ease of transport. Comprising an extra-large capacity twin drive feeder at the rear of the machine with an 1100mm feeder belt, the feeder comes with hydraulically folding extensions to allow for side loading of the machine, can withstand heavy loads due to having impact bars under the belt in place of impact rollers, and has a folding rear door to allow for maximum versatility.
The highly aggressive screenbox has a total screening area of 10 square metres or 13.1 square yards. Complete with a variable angle to allow for tailoring of the machine to various applications, the screen also has a lift-up functionality at discharge to ensure quick and efficient mesh changes, of which there is a huge range available as well as other media including punch plate, 3D punch plate and finger screen.
Each side conveyor has its own independent speed control to tailor each conveyor to its loading. Meanwhile, the Titan 1300's tail conveyor has the optimum combination of rollers and impact slips for durability while maximizing the power draw of the machine, and has a fold to minimize transport length, fitting onto the smallest trailers.
The Titan 2300
The Titan 2300 is a completely new machine to Powerscreen in terms of concept and design, encompassing the largest belt feeder in any of the Powerscreen range at 1500mm (60"), with twin gear box drive and a combination of impact bars and impact rollers for optimum power usage. It also has the steepest hopper ever designed by Powerscreen to enable ease of emptying without bridging, with an eye specifically on the recycling market.
The body of the hopper is manufactured with wear resistant steel and a rear folding door to take a crusher feed. A low speed feeder is fitted as standard, with a medium speed option for low density material which, while sacrificing some torque, can run at up to 50 percent faster than standard.
The machine also has an adjustable screen angle, with media options include mesh (both woven and welded), punch plate, 3D punch plate, finger screens and finger and punch plate combination. Finally, the Titan 2300 has full access walkways down both sides of the screenbox, uniquely designed to be fully regulatory compliant.
Hybrid Dual Power is also available on the Titan 2300, being powered using standard diesel or connected to an external electricity supply once the machine has been set up.
The side conveyors are standardized at 1050mm (42") plain belts, with chevron belts also available if required. With a generous stockpiling height, the plant is fully customizable both in the field and from the factory with conveyors that can be reversed, can be discharged on the same side, or can be converted to a two-way split. To cater for the recycling market, there is an option for magnetic head drums on all three conveyors to carry the metallic material back down the conveyor and away from the stockpile. The tail conveyor features a 1600mm chevron belt, the widest in the Powerscreen range, with a combination of impact slips and rollers as standard to remove the need for full length skirting and reduce the power draw of the conveyor.
Similar to the Titan 1300, the large tracks of the Titan 2300 ensure a stable working platform but has a high tracking speed to allow highest versatility onsite.