IMT cranes, control system and air compressor highlighted at MINExpo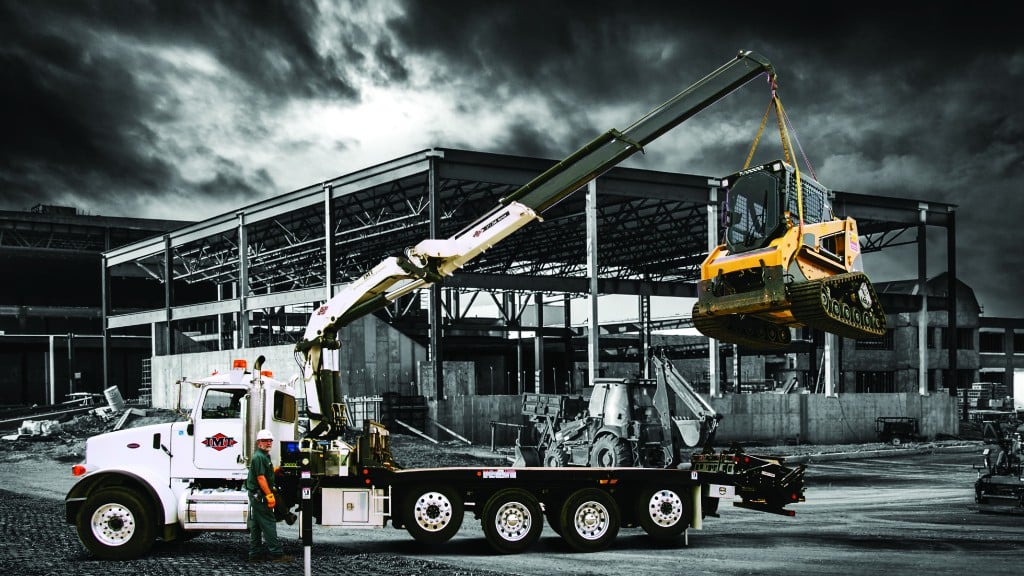 Service truck equipment manufacturer IMT introduced several new and updated products during MINExpo this year, including an enhanced line of articulated cranes, an air compressor model and control system.
Mid-range and large articulating cranes
The company displayed improved mid-range and large articulating cranes with increased capacity and higher-grade steel than before. The increased capacity for both the mid-range and the large articulating cranes comes from higher-grade steel used in their construction. The higher-grade steel improves the machines' lift-to-weight ratio, resulting in a lower weight crane.
Enhanced models include the mid-range 1610, 1620, 1910, 1920, 2310, 2320, 2810 and 2820 cranes alongside the large articulating crane models 7020 and 9520. The 7020 replaces the 60/427 and the 9520 replaces the 80/565.
"IMT customers need both lift capabilities and capacity that are tailored to their most challenging applications," said John Field, product manager at IMT. "Our new enhanced mid-range and large articulating crane models offer an elevated level of performance - with lower weight - for increased productivity."
Control system combines strong hardware with flexible software
IMT's new CMD.CTRL system will now be standard on IMT Dominator mechanics trucks, combining strong, reliable hardware with flexible, intuitive software to give operators a productive, user-friendly experience. Core components of the new system include convenient cab controls, service body compartment controls and the wireless remote-control system. Operators will be fully equipped to handle crane and body operation remotely. IMT states that the CMD.CTRL system is the only controls platform on the market that can operate crane, stabilizers, lights, compressor and auxiliary equipment remotely from the wireless controller.
The system features an advanced Load Moment Indicator (LMI) that provides the operator real time load and safety information. The crane, body and compressor wireless remote control allows operators to operate all functions remotely. Operators can customize multiple operations, including flood lights, compartment lights, etc. An IP67-rated crane compartment display and remote control modules ensure protection from the elements. Improved, remote and easy-to-understand diagnostics reduce error in troubleshooting.
Air compressor cuts weight over previous models
The IMT CAS80RL provides 80 cfm of air power at almost half the weight of previous models. The new air compressor is designed with an aluminum air end and canopy to manage weight and protect against rust. Its compact footprint increases deck space on the service truck, and its sound attenuation design decreases noise levels for comfortable operation. The new air compressor is available with mechanical gauges or an LED control panel.