How mid-size excavators are using technology to boost versatility and performance
An in-depth report on the 20- to 40-ton excavator size class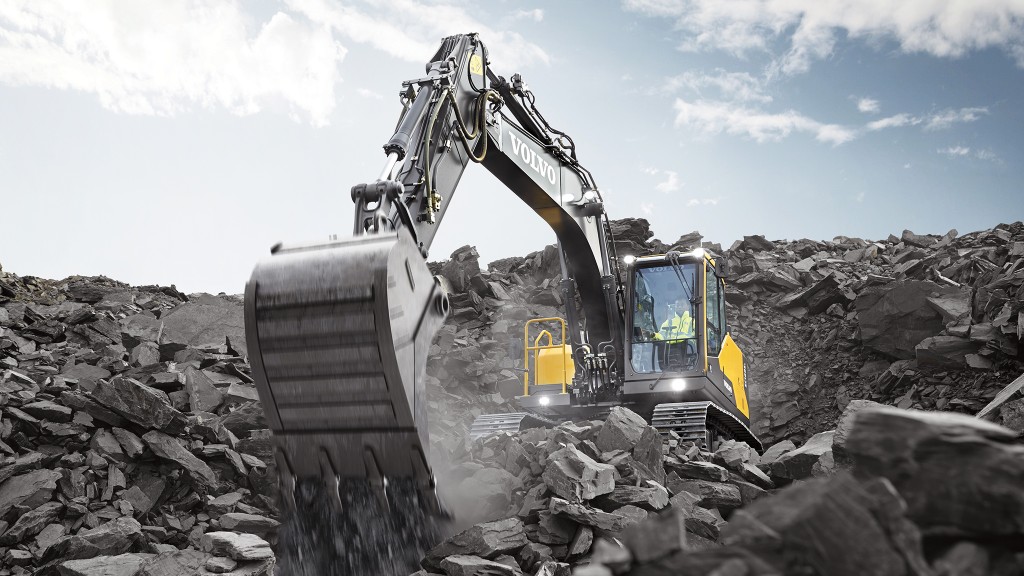 Excavators in the 20- to 40-ton range are some of the most versatile machines on today's job sites. These multitasking excavators can step into almost any job and handle it with ease, whether it's digging a basement, trenching for utilities installation, loading trucks or any other role they're called on to do. With more work being done in urban spaces, these smaller machines are playing larger roles. Thanks to technology updates, these machines are quicker, more efficient and easier to use than ever before. We asked a panel of experts to discuss the variety of benefits that mid-size excavators can add to any fleet.
Improved control adds capability in engines and hydraulics
Development of new engine systems, thanks to emissions reduction requirements in both North America and Europe, has led to a number of improvements in the engine and drivetrain areas of excavators, including on mid-size machines. Added electronics and new approaches to design help add capability while improving efficiency at the same time.

Electronic controls have opened the doors for improvements in hydraulic response, as well as other areas. For Brian Stellbrink, excavator market professional with Caterpillar, that's the centrepiece of improvements for this class of excavator.

"You've got electronic controls of the engine, electronically controlled main valve and an electronically controlled pump. We can electronically control the whole system smartly, which provides us with some huge efficiency gains," Stellbrink said of Cat's electro-hydraulic system. "The advancements of a more smartly controlled system direct hydraulic oil where it needs to go more efficiently and make the best use of the fuel going into that engine."
Liebherr also brings electronic control to its generation 8 excavators, according to David Reid, sales manager with Liebherr-Canada. Electronic control provides greater job site flexibility, allowing operators to switch between tasks like lifting and excavation more easily and - as with many makes of excavator - opens the door for the use of machine control.

Electronically controlled hydraulics like the Link-Belt Excavators SSC system mean smoother operation and easier work for operators, according to Adam Woods, manager of innovation and technology integration. "The SSC system integrates software and electronic control within the hydraulics of the X4 series. By utilizing this system, it results in a smoother, more controllable, efficient operating machine," Woods noted.
Vertical integration of excavator technology, such as is used in Komatsu machines, allows the engine computer to communicate directly to the hydraulic controls and instantly optimize engine matching with pump output flows and pressures, providing significant production and efficiency boosts, said Andrew Earing, Komatsu senior product manager.

For Hitachi and John Deere machines, technology updates have led to a different pump structure, noted Justin Steger, solutions marketing manager, site development and underground with Deere. Certain models have moved to a three-pump design, as opposed to machines with two pumps handling hydraulic operation.

"Typically, mid-size excavators will have two hydraulic pumps that will share flow for all the excavator digging functions - the boom, arm, bucket and swing, all functioning at the same time, and those pumps need to share that flow and create a balance," he described. "We've added a third pump, so there's one pump dedicated to swing, one for the boom and one for the arm. What that equals is high flow for faster cycle times."

The same electronic advances that have benefited hydraulics also come into play for engines, especially in the ability to set operating modes that can optimize excavator operation.

CASE Construction Equipment's Intelligent Hydraulic System uses four integrated control systems to improve efficiency, noted Nathaniel Waldschmidt, CASE product manager. Boom Economy Control reduces RPMs by using gravity during boom down and swing; Auto Economy Control lowers machine RPM during idle and shuts the engine off after a specific preset time; Swing Relief Control cuts hydraulic power at swing start; and Spool Stroke Control adjusts hydraulic pressure during digs, managing hydraulic power throughout lift/dump and dig/curl movements to maximize speed and efficiency while cutting fuel use.

Doosan has taken a similar approach with its Smart Power Control. Product & Dealer Marketing Manager Aaron Kleingartner explained that the system can be turned off and on by the operator as needed, and when running regulates engine power to the machine.

"It allows the system to anticipate what the operator is going to do before the operator typically responds to do it - it will back the engine horsepower off a little to make sure that the pump and torque are being matched properly," he described. "The system uses that technology to improve fuel efficiency for the machine."

Customizable operator controls are another way in which efficiency is being improved on mid-size excavators, allowing operators to find the right setting for better productivity. Hyundai's A Series excavators are fitted with a new joystick configuration that can pair with a new Lift Mode and two swing control features that make operating easier, according to senior product manager Mike Fuller. Lift Mode adjusts engine RPM as the machine lifts, while selecting Fine Swing or Free Swing allows the operator to choose what fits the job best when swinging the machine. All three combine to add control and safety for heavy load lifting and movement.

Kobelco also offers some models with the ability to fine-tune controls for easier operation, noted Dave Donneral, specialty machinery manager. "For example, we can adjust how the machine acts when the operator booms up and arms in at the same time - some operators want them both to operate at the same speed, and some want one faster than the other. This can help compensate for heavier working tools, or just operator preference."

At Volvo Construction Equipment, hydraulic efficiency comes from a different approach - a hydraulic hybrid option has been developed on select excavator models, explained S.S. Kim, mid-size crawler excavator product manager. The boom-down motion charges an accumulator, which then uses stored energy to drive an assist motor that cuts torque requirement for the engine. That cuts fuel consumption and cuts CO2 emissions, Kim noted, without power loss.
Cameras, lighting and e-fences improve safety
Safety on the job site is always a major consideration, and manufacturers of mid-size excavators know it. Most machines in this size range are found on very active job sites with a lot of other equipment and employees on the ground, so it's no surprise that new technology has been used to improve safety as well.

Plenty of excavators on the market are equipped with rear-view cameras to ensure that operators can see what's going on in the blind spot behind them. There are a variety of other offerings becoming popular that add even more of a view for users to take advantage of.

Doosan makes use of the rear view and adds a right-side camera as well, Kleingartner noted, to provide a look past the boom and arm that can often block that view from the cab. Some other manufacturers, including Link-Belt Excavators, have a broader view; Woods said the Wide Angle Visual Enhancement System (WAVES) on its X4 machines provides 270 degrees of view with left and right hand cameras.

Kobelco also features a 270-degree view from its cameras, displayed on a large 10-inch monitor within the cab.

Taking it a step further, Hyundai offers 360-degree viewing with its All Around View Monitoring system, which Fuller noted greatly protects workers on the job site. In addition, AAVM includes Intelligent Moving Objects Detection, which alerts the operator to anything within a 16.5-foot distance using an audible alarm and colour changes on the eight-inch monitor.

Doosan has a 360-degree bird's-eye-view system becoming available in the near future, Kleingartner noted. The feature, available in the automotive industry for several years, brings the valuable ability to view all the way around an excavator's circumference.

Komatsu machines come standard with rear-view cameras, Earing noted, and for owners who want more the KomVision system offers up to four cameras, offering a bird's-eye view, and allows the operator to toggle through cameras for better perspective on the job site.

Caterpillar also allows the opportunity to move up from basic rear views to all-around viewing, Stellbrink said, and the company is finding cameras to be growing in popularity among buyers.

Kim noted that Volvo offers its Volvo Smart View package, which helps operators see all angles around their machine, ensuring safer rotation within confined spaces. The company is taking cameras in a different direction with a current test project, as well - a mid-size machine is being tested with a camera on the front and video screen on the back, allowing vehicles behind to see what's happening ahead.
On CASE machines, a premium lighting package features the Maximum View monitor, which Waldschmidt said combines feeds from three cameras to provide a comprehensive view of the front and rear of the machine. Better lighting means better visibility on the ground for operators, and Waldschmidt noted that the CASE optional LED light package is more than three times brighter than halogen lights, adding work time around the clock where necessary.

Lights are also top of mind for Kobelco. Donneral said the company has had rear swing flashers and work lights for some time, increasing visibility and notifying people in the area that the machine is moving.

On Volvo machines, lighting extends to a pair on the frame, two on the roof, four on the boom, one on the rear and one on the counterweight, Kim noted, and all can be set up separately through the in-cab monitor.

The growth of telematics use has branched into some areas of safety, our experts noted, with a variety of e-fence and similar systems coming into regular use. Standard on Cat mid-size machines, the e-fence allows operators to set a working boundary that protects the machine and those around it from potential harm. If the machine senses it's going to go beyond the preset position, for example a ceiling placed under power lines or an overhead structure, it will alert the operator and prevent whatever function would cause it to move beyond the limits, Stellbrink explained.

Deere has also adopted virtual fencing, with a focus more on operator awareness than direct action to shut down movement, Steger noted. The system won't stop the machine from swinging, but alert the operator that it is close to the selected warning point.

Technology isn't the only way manufacturers are improving safety on these excavators; in some cases design changes or updates can add a level of safety for operators and their fellow employees. Service technicians are better protected when working on machines when daily fluid checks can be done from the ground, something that Caterpillar has focused on, according to Stellbrink; keeping mechanics on solid ground and off the machine deck makes them safer, especially in inclement weather.
An Auto Safety Lock Function on Hyundai excavators helps prevent unintended operation if the operator inadvertently makes contact with the hydraulic controls while engaging the pilot system, Fuller noted. Kobelco also offers its own hydraulic safety system - hydraulic pressure release. When switching attachments or disconnecting hydraulic piping, the operator can release internal pressure from inside the cab, preventing pressurized hydraulic oil from potentially spilling or spraying out, Donneral said.

For Liebherr machines, keeping operators safer in the case of a hydraulic issue has led to inclusion of load holding valves across the lineup, which prevents uncontrolled movement if a hose fails and reduces cylinder creep.
Buyers benefit from more machine control integration
Mid-size excavators are already one of the most versatile machines on the market; the addition of machine control makes them even more valuable and brings more benefits to the bottom line. With more manufacturers integrating machine control options right from the factory, use of this technology tool is growing quickly.

John Deere's SmartGrade is a good example of how factory integration is helping buyers, according to Steger; the company has four options available for buyers of its 210 and 350 excavators, all OEM installed. The offering is a building-block approach; users can start with one option and upgrade as needed.

Hitachi's factory-integrated Solution Linkage 2D and 3D grade control allows operators to set a grade and hold it while avoiding redigging, Steger added. Having the machine control the boom and bucket while the operator manages the arm cuts down on the number of passes needed to get the right grade.

The ability to avoid rework costs and time by ensuring reliable, repeatable precision is a big reason for integrated machine control selection, Waldschmidt said. An OEM-fit Leica solution offering 2D and 3D options for CASE D Series excavators is available, making it easier for the buyer to group the cost in with the machine purchase for smoother financing and payments. Integration also helps improve the resale cost of a machine when it hits the secondary market, he added.

Intelligent Machine Control is a Komatsu program across multiple machine types, and its excavator system improves efficiency because the machine digs straight to grade, Earing notes. "In certain case studies, we have found up to 63 percent improvement in time due to the reduction in staking, grading and inspection with 3D design data and semi-automatic control. These improvements help get the job done right the first time, and that time savings also means less wear and tear on the equipment."

That operational improvement is key to machine control use, especially on the highly versatile mid-size class of excavator that can be called upon for any number of tasks.
"If the machine is being used to do foundation work for a single family home, or even a large commercial building, if you use these controls in the machine you can often get the job done faster with less rework and less extra backfill that might be needed because of overdigging," Kleingartner noted. "Every job site is a little different, but machine control in specific applications is something that can become very handy. And it makes a good operator even better."

Stellbrink agreed that the importance of shortening work times and improving efficiency adds to the bottom line for contractors. "You're burning less fuel, which is lowering your operating costs," he said. "If you overdig, if you don't have that guidance system and you're trying to do it by eye, the chances of rework increase."

The addition of Volvo's Active Control automated grading machine control introduced in 2020 helps operators get the right depth angle with ease, cutting down grading times by up to 45 percent, Kim noted. The system works with Volvo's Active Control, powered through the in-cab Co-Pilot tablet; the system uses sensors and GPS technology to improve accuracy in shorter times. New features have given users even more options and precision, while maintaining easy-to-use and intuitive operation.

Mid-size machines can also benefit from the use of automation provided by machine control; allowing the system to manage some of the movements adds even more precision in many cases. Users of the Link-Belt Excavators' Precision Grade system can take advantage of semi-autonomous operation - once a dig plan is put in place, the operator just needs to control the speed of the dig and control the arm circuit, while the machine runs the boom and bucket to produce accuracy within two centimetres.

CASE is also offering semi-autonomous operation through its iCON IXE3 solution available through CASE SiteControl dealers, Waldschmidt noted. Through this system, operators can automate the boom, bucket, tilt bucket or tiltrotator bucket independently or in various combinations with built-in undercut protection to reduce overdigging. Automation helps operators execute complex tasks while increasing productivity through speed and accuracy.
Reduced tail swing tough in tight spaces
Many of the job sites where 20- to 40-ton excavators are at their most effective tend toward tighter spaces - these machines work well on smaller sites, and especially so when equipped with reduced tail swing options.

Woods, with Link-Belt Excavators, pointed out that a reduced tail swing on a mid-size excavator makes for a Swiss Army knife of a machine - even more so than the standard swing excavators.

"With space simply running out in many regions, especially metropolitan areas, reduced tail swing machines are becoming more and more popular among contractors. With the ability to perform operations within only one lane of traffic where historically it took two lanes, reduced tail swings are quickly becoming a favourite of the contractors in the field," he said.

The challenge with reduced tail swing options has always been a matter of stability - the counterweight is there to help the machine be more stable and ensure it can handle the digging that's needed, Steger noted. Deere and Hitachi each offer five mid-size models with reduced tail swing, and the focus has been ensuring they are as close to the full swing machines in performance as possible. "Customers absolutely love them. They're versatile. They aren't as stable as conventional tail swings, but they're not far off, and for the added versatility it's a trade they're willing to make," Steger said. "The more you can get done with one machine the better, and this all adds up to ROI for the customer."
Liebherr's shorter tail swing options are also proving popular with contractors, Reid added. "With congested work sites or the requirement to get close to walls or buildings, we see many customers that have had traditional excavators in the past opt for reduced tail swing machines to provide their fleet with great flexibility," he noted.

While smaller tail swings have often been associated more with smaller compact machines, that has changed over the years and today's larger excavators are showing up more frequently with that smaller operating radius.

"Short swing options are not just for compact models anymore. I would say short swing radius demand is just as high as conventional reach demand," said Kim. Volvo's ECR355E was released recently; the 35-ton unit has a short swing radius but is capable of high production work in tight areas, while the ECR235E also provides similar features in the 25- to 30-ton range.

CASE customers appreciate the smaller footprint of minimum-swing machines thanks to added mobility, Waldschmidt said.

"The feedback that we get on these machines from contractors is that they often wind up in tougher applications that are typically reserved for larger machines - because they have the digging and lifting power to handle it," he said.
Top tips for reducing total cost of ownership
If you're considering the purchase of a mid-size excavator in the 20- to 40-ton range, it's important to consider the overall cost of such an asset throughout its life cycle. Considerations like maintenance planning and costs, fuel economy, dealer support and more should all play into that decision.

When considering maintenance, don't forget that there are multiple categories of costs involved, Kleingartner noted, and they can change depending on your approach to maintenance. Maintenance plans are ideal for planning out maintenance work, and partnering with local dealers adds expertise and capability through the life of the plan.

Planned maintenance contracts with local dealers take some burden off fleet managers over time and offer peace of mind in the process, Waldschmidt said. Many pieces of new equipment come with planned maintenance contracts these days, and can include such things as warranties, telematics subscriptions and more.

Some manufacturers have focused on reducing the overall maintenance requirements for their machines; Caterpillar has targeted fuel efficiency and lower maintenance on its Next Gen excavators, Stellbrink said. Modern machines like the Next Gen excavators extend maintenance intervals to reduce overall costs, in Cat's case by between 15 and 20 percent.

Buyers looking to maximize value over time should review the fuel economy of the machines they are considering. Updates throughout these machines have changed fuel use rates and, at today's prices for diesel, it's a key part of the budget. Reid advised that fuel economy and productivity be reviewed when selecting a machine, and contractors should choose those that ensure savings on the bottom line.

Take note of other fluid use rates as well - machines that use DEF for emissions control require that additional cost on a regular basis, Woods pointed out. Keep fuel productivity - fuel burned per amount of material moved - in mind, and review warranty coverage carefully.

Earing echoed that point, noting that differing technologies require different amounts of fuel consumption. DEF consumption is often overlooked, but different engine and aftertreatment options can use drastically different amounts of fuel and DEF.

When it comes time to seek out a mid-size excavator, it's beneficial to connect with local dealers who can provide their expertise and break down the benefits of specific machines and features for your specific requirements. Steger encourages that buyers maintain a strong relationship with their dealer, both for purchasing knowledge as well as for repairs and maintenance expertise. Ensuring that machines are maintained properly and have the most recent updates is key in reducing total cost of ownership; a strong dealer relationship can help keep machines running for work today and improve resale value down the road.