Snorkel launches its first lithium-powered rough-terrain boom lift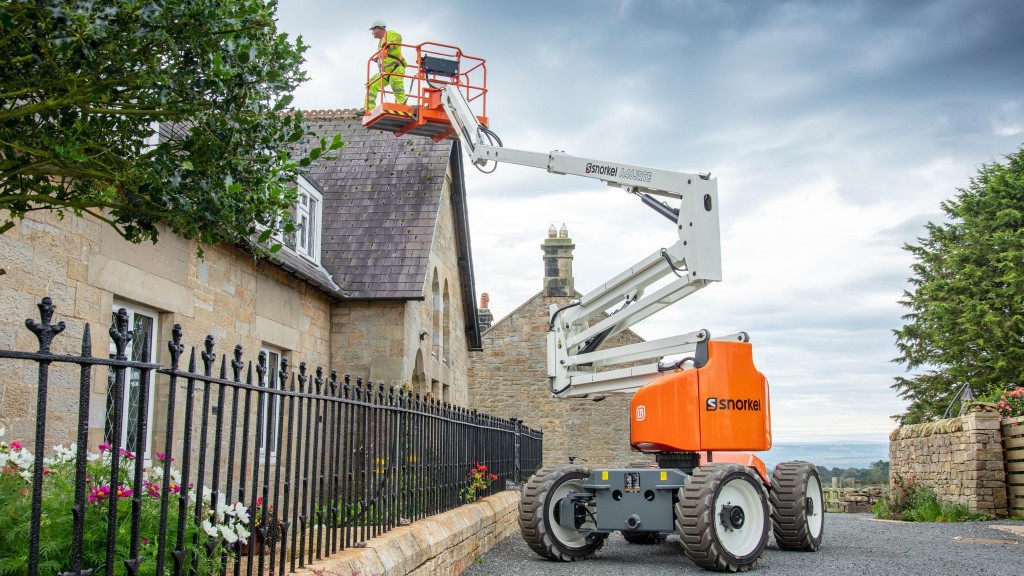 Snorkel has introduced the ninth model in its lithium-ion battery powered family of rough-terrain mobile elevating work platforms and telehandlers.
The new Snorkel A46JRTE joins eight other lithium-powered Snorkel models which have been introduced since late 2019, including the SL26RTE and SL30RTE electric Speed Levels, the S2255RTE, S2755RTE, S2770RTE, S3370RTE and S3970RTE electric rough-terrain scissor lifts, and the electric SR5719E/SR626E compact rough-terrain telehandler.
Utilizing the same lithium-ion battery pack solution as the other mobile elevating work platforms in the family, the A46JRTE offers a true zero emission rough-terrain solution, without compromising on the reliability and four-wheel drive capabilities of the diesel equivalent. It comes as standard with three 111Ah (5.75kWh) lithium-ion battery packs, which satisfies many applications, including heavy-use.
The automotive-quality lithium-ion battery packs are produced in the North East of England, and are individually equipped with the latest battery management systems (BMS). Requiring zero maintenance, the battery packs have been tested in climatic chambers between -77°F (-25°C) and +140°F (+60°C), making them suitable for use in most environments.
Depending on usage, Snorkel lithium-powered mobile elevating work platforms are delivering extended duty cycles per charge, when compared to similar models. Based on typical use in rough terrain under test conditions, a single charge can last for more than one week, and in light use on elevation jobs with minimal driving, this increases to more than two weeks on a single charge.
Featuring a powerful AC electric motor, which creates efficiencies in the hydraulic drive system, the Snorkel A46JRTE benefits from higher torque, which results in increased traction and improved rough terrain performance. The electric motor also delivers 62 percent less jobsite noise and with no engine fan, dust generation is reduced for safer and cleaner operation in low emission zones and green cities. With minimal battery and electrical system maintenance required, servicing costs are reduced by up to 93 percent when compared to an engine, while also eliminating the costs and risks of waste oil and filter disposal. Less servicing also reduces the load on service engineers.
The original diesel-powered Snorkel A46JRT is a proven and globally popular articulated boom lift, known for its long working life and exceptional working envelope. Capable of reaching a maximum working height of 52 ft. 11 in (16.3m), the A46JRT has a working outreach of 24 ft. 11 in (7.35m) and benefits from a zero tailswing and 5 ft. (1.5m) jib boom for excellent maneuverability in confined spaces.
The new lithium-powered four-wheel drive A46JRTE expands the A46 family to three models. Snorkel continues to offer the diesel-powered four-wheel drive A46JRT model, as well as its two-wheel drive electric powered A46JE, which is suited to indoor and outdoor work on concrete slab and is popular in industrial applications.
Matthew Elvin, CEO, Xtreme Manufacturing & Snorkel, said, "The launch of our first lithium-powered boom lift is an exciting next step in our development of zero emission alternatives to diesel. The compact and mid-size aerial lift and telehandler segment is a sweet spot for electrification, and our lithium-battery technology is proving to be a zero-compromise solution in this product category, delivering zero emissions, reduced noise and equivalent or better performance than the diesel."
Company info
Related products