Spot 3.0 features added flexible autonomy and repeatable data capture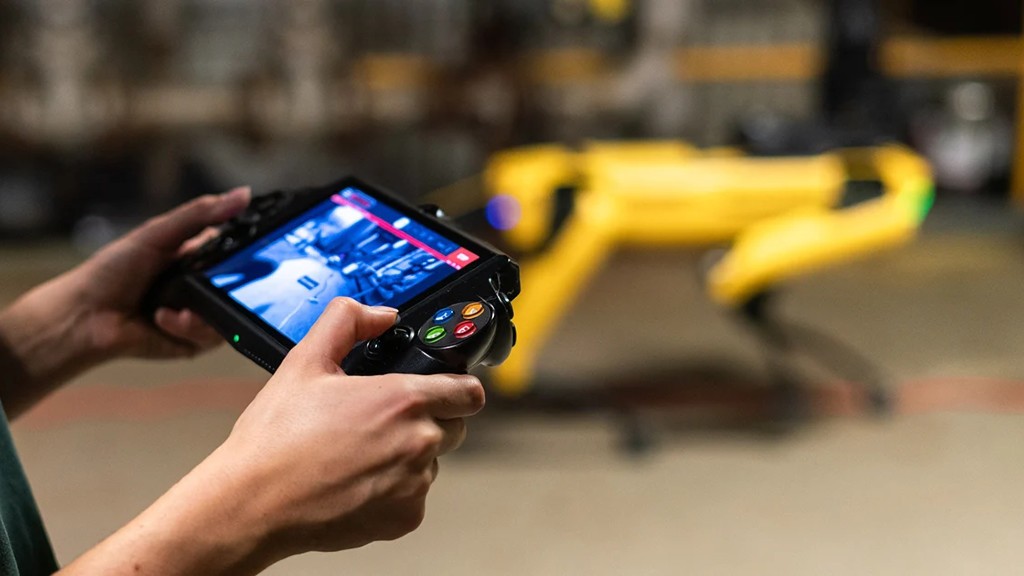 Artificial intelligence is changing how businesses operate, furthering applications from enterprise asset management to construction site tracking and everything in between. AI systems depend on data, but reliable, repeatable data is hard to collect in busy, remote, or hazardous work sites. Spot solves this problem by acting as a dynamic sensor, collecting data where and when it's needed, freeing operators from tedious data collection and enabling companies to accelerate their digital transformations.
Boston Dynamics has been working closely with Spot users in asset-intensive industries to operationalize the robot on their sites. With Spot Release 3.0, the company has added flexible autonomy and repeatable data capture, making inspection rounds safer and more efficient.
Every step of setting up Spot's automated inspections has been streamlined for effective data capture and processing. Schedule missions for Spot to collect photos, thermal images, point clouds, and other critical data; process that data into valuable signals at the edge with computer vision models; and create custom uploads to send those signals to existing systems, so it's easy to keep all of your data in one place for analysis and review.
Flexible autonomy
Spot's Autowalk system has logged thousands of miles in industrial facilities and on construction sites around the world. Release 3.0 adds powerful new capabilities to Autowalk, enabling operators to record autonomous missions that implement dynamic sensing sitewide. Features include:
Mission editing: Map your entire site by extending paths and adding new inspection actions to existing missions over multiple recording sessions.
Mission planning: Save time by selecting which inspection actions you want Spot to perform, and it will take the shortest path to collect your data.
Dynamic replanning: Don't miss inspections due to changes on site. Spot will replan around blocked paths to make sure you get the data you need.
Scheduled missions: Inspect your site after hours with simple scheduling tools and tablet-free, unsupervised autonomy.
Data collection with AI at the edge
Release 3.0 makes data capture more reliable and easier to process. Now you can connect computer vision models to Spot, adding valuable context to teleoperation and turning raw mission data into actionable signals at the edge. Features include:
Repeatable image capture: Capture the same image from the same angle every time with scene-based camera alignment for the Spot CAM+ pan-tilt-zoom (PTZ) camera.
Live review of computer vision models: Use models from TensorFlow or choose a model from our API library to carry out inspection tasks such as gauge reading, thermal analysis, or acoustic anomaly detection. Preview computer vision models on the tablet and create smart Actions that process images within Autowalk.
Enterprise integrations
Spot closes the loop with the systems you already use to understand and manage your operations, helping your team manage assets, detect anomalies sooner, track work, build digital twins, and more. Features include:
Upload data: Automatically push data into your existing systems at the end of a mission with custom code.
Cloud-compatible: Connect Spot to AWS, Azure, IBM Maximo, and other systems with existing or easy-to-build integrations.
Scout: Use Boston Dynamics' web-based remote operation application to manage your entire dynamic sensing fleet, schedule missions, and review data collected on site.
Additional new features
Release 3.0 contains dozens of other features designed to help teams operationalize Spot and enable dynamic sensing on the job site. Features include:
Payloads: Remotely restart payloads, easily configure payload parameters, and more.
Manipulation: Remotely operate the Spot Arm with ease through rear Spot CAM integration and split-screen view. Arm improvements also include added functionality for push-bar doors, revamped grasping UX, and updated SDK.
Sounds: Keep trained bystanders aware of Spot with configurable warning sounds.