New Tigercat logger features various grapple configurations to meet wide range of job site needs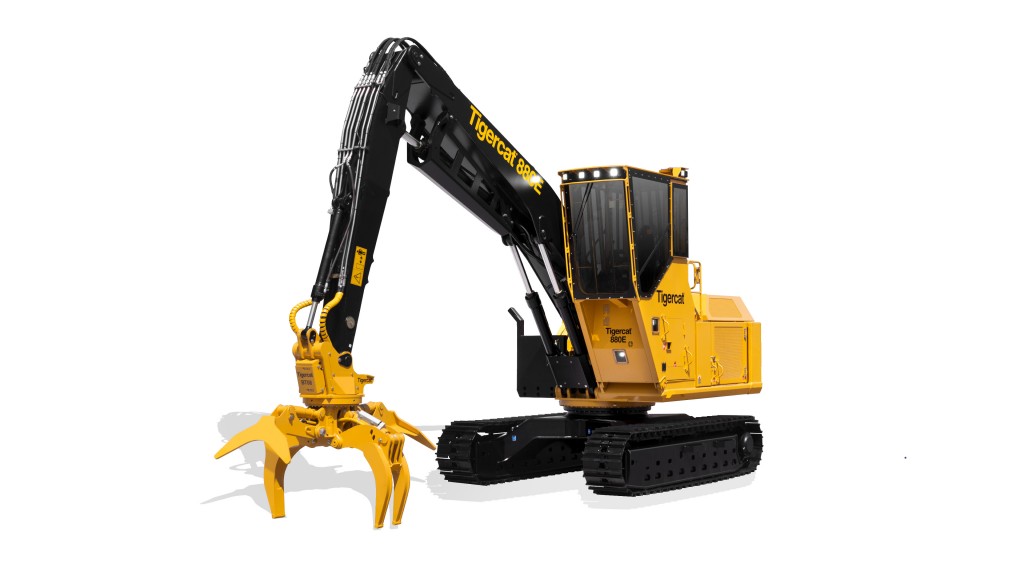 Tigercat's new 880E logger introduces several new features including an updated operator's station and various grapple configurations to tailor the machine to specific job site needs.
The 880E is powered by the Tigercat FPT N67 engine, producing 308 horsepower. The F7-163 undercarriage is designed and built to withstand full-time forest duty with enhanced stability for heavy timber applications.
Machine controls are integrated into both sides of the joystick pods, eliminating the need for any bolt-on control pods. The controls and large machine control system touchscreen interface improve ergonomics and machine monitoring. The quiet interior diminishes outside noise so operators can hear the auxiliary audio input port, Bluetooth audio and hands-free calling.
Additional new features include a standard equipped rearview camera system, emergency stop button, and a key fob to turn on exterior lights remotely when entering the cab in the dark.
The 880E can be configured as a loader equipped with various power clam, butt-n-top and log grapple options. Equipped with a live heel boom system, the 880E is a shovel logger with enhanced stability, tractive effort and swing torque. The carrier can also be configured as a high-capacity processor capable of running large harvesting heads in demanding duty cycles.
Some of the advantages of the 880E over excavator conversions include better service access, higher cooling capacity and an operating environment with increased sightlines. The result is higher production, uptime and fuel efficiency.