Technology and connectivity the core of CASE wheel loader updates
CASE Construction Equipment has focused on integrating new technology features and improvements in its G Series line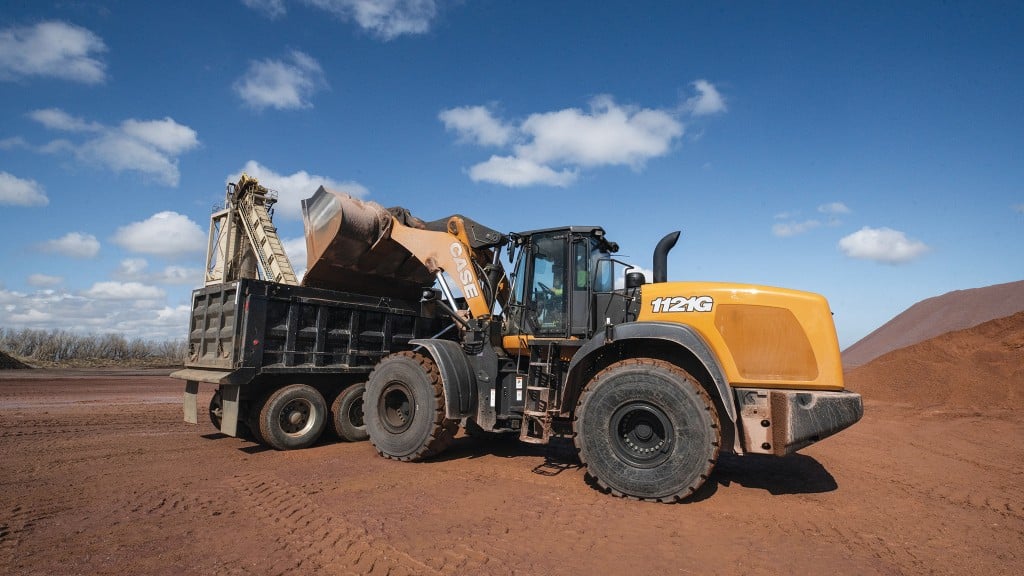 CASE Construction Equipment has introduced a suite of enhancements for its G Series wheel loader line that adds new technology, connectivity and uptime improvements along with various other updates across the seven model series.
CASE's goals were focused on shortening cycle times, making operation easier and reducing maintenance downtime. Those targets are met through a range of changes that encompass everything from machine design updates to smartphone apps.
Integrated payload system and material handling improvements
Many of the updates are aimed at assisting owners and operators in specific uses, including loading and material handling. According to North American Product Manager Andrew Dargatz, one new feature makes material handling easier.

"We know that many contractors use wheel loaders pretty extensively as material handlers, with forks, to load palletized material, pipe and so forth. We've now given them parallel lift capability across the entire wheel loader line," said Dargatz, who has been working with CASE and its wheel loaders for more than ten years. "We've now made it more accessible, even if users prefer one of our Z-bar or extended reach models, with the new electro-hydraulic Parallel Lift setting. This setting automatically maintains the angle and position of the bucket or forks. Enabling ride control in this mode further minimizes the risk of material shifting while loading or transporting."

For buyers who use their loaders for just that - loading - a factory-integrated payload system will be a real bonus, Dargatz noted. Purpose-built by CASE for the G Series loaders, the payload system is available directly in the loader's primary display and offers bucket weight, pass counts, accumulated and running weight, job tracking data and more, providing plenty of information in high-volume loading and production environments.

"This allows operators to precisely load each truck to reduce under/overload situations by accurately weighing each bucket, and cumulatively track the total weight of material loaded into each truck," Dargatz said. "It also helps operators track total loads and total volume of material moved over a period of time, and can also track history by customer, truck or material as well as provide ticket histories."

Using that information improves efficiency in loading cycles while also removing the need for operators to top trucks off on the scale or offload overweight trucks. It can also provide training opportunities and guide future buying decisions around bucket or machine sizes, Dargatz noted.
New touchscreen connects operator with technology improvements
A key update in the G Series loader cab is the new touchscreen display, which provides the operator with a connection to a variety of technology features beyond the new payload management system. Dargatz said the touchscreen provides a broad array of functionality to improve operation.

"One of the new settings you'll see to make operation more intuitive is for the new adjustable electro-hydraulic controls. These allow you to independently set lift and tilt functionality to smooth, moderate or aggressive, to adjust the boom and bucket responsiveness for the type of work you do," he said. Smooth provides deliberate movement and the most control, moderate is a more standard responsiveness and aggressive gives more immediate response to joystick operations. A fine bucket metering setting allows for easier and more precise topping off of loads, he added.

Another setting available from the touchscreen is the engine power mode; options have been reduced to two from four, with Smart and Max available, Dargatz said. Max is for when working at full throttle, while Smart improves communication between the engine and transmission to provide smoother shifting, high performance and enhanced operator experience. It can also reduce fuel use by up to 10 percent.

Other settings are available through new configurable buttons on the loader armrest, which allow the operator to set a range of tasks or for settings to be accessed quickly.
Uptime improved with telematics and tire monitoring
Beyond the in-cab connectivity, the G Series is able to work with CASE's Site Connect module and SiteManager app that allow for faster resolution of key issues remotely, saving time and expense.

"Uptime and responsiveness are primary drivers when it comes to heavy construction equipment consideration, and the advances brought to the CASE G Series with remote diagnostics and the ability to update software and clear codes remotely will significantly shorten any downtime events experienced by the owner/operator," Dargatz described. "This will significantly improve uptime for the machine owner and allow the dealer to better understand the status or issue at hand, resolve the issue faster and save the dealer hours in travel time and expense."

A new tire pressure monitoring system has been added to the G Series to aid with tire health and keep fuel efficiency up through avoiding underinflated tires.

"As with any truck or car, tire health and performance has a significant effect on overall performance, tire and component life, and fuel efficiency, especially when driving on underinflated tires," Dargatz said. "The all-new TPMS features individual sensors that mount to the valve stem of each tire along with a receiver module that communicates the pressure for each tire onto the display and alerts the operator when the tire pressure is outside of a set range."