Hyundai updates excavator and wheel loader lines around new engines
Cummins partnership drives power and design changes for Hyundai A Series machines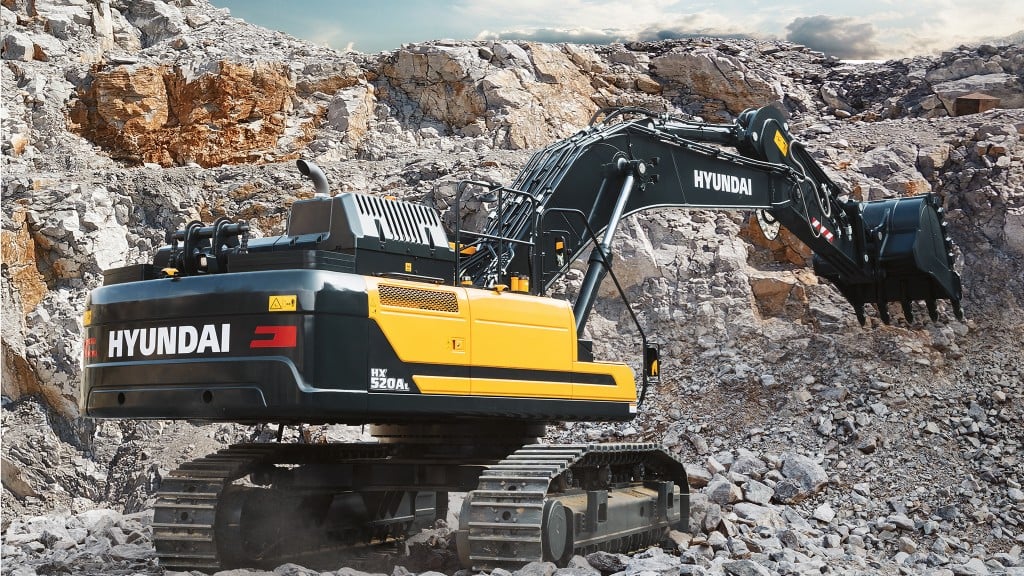 When Hyundai headed to CONEXPO 2020, it came with some big news: a repowering and redesign for key pieces of its heavy equipment portfolio. The introduction of the A Series wheel loaders and excavators, easily identified by its distinctive new colour scheme with all-black boom and stick, was the start of a process that continues to bring new machines and new power options to the table.

Key to the A Series introduction was a drive to meet emissions regulations, in this case Europe Stage V. To make that move, Hyundai has partnered with Cummins and powered the entire A Series line with Performance Series engines. That partnership is one aspect of a refresh for lines that were introduced in 2015, explained Juston Thompson, Hyundai senior product manager.

"As emission requirements change and we receive customer feedback, we adapt those things and requirements to what's needed," Thompson said. "The other driving forces were demand from customers on product changes and feedback to better develop our equipment to meet those customers' needs."

The Cummins Performance Series engines paired with A Series machines use the company's Single Module aftertreatment system, which operates without exhaust gas recirculation (EGR), leading to simpler installation and lower operating costs. Single Module incorporates a diesel particulate filter (DPF), selective catalytic reduction (SCR) and urea-dosing technologies into a single unit, reducing the package size by 50 percent and cutting weight by 30 percent.
In addition, the Cummins engines provide increased power and torque compared to previous engines, while cutting fuel consumption. Plus, a single engine manufacturer common to all machines in each line provides service and maintenance benefits, Thompson added.
Redesign improves visibility on wheel loaders
The move to Stage V compliance meant redesigning to bring in the new engines, and that, Thompson noted, provided an opportunity to take Hyundai's machines in a new direction and address the feedback that had come in over the years.

"We had a whole list of things we wanted to come up with, and customer requests - it made good sense to do some redesigns and incorporate that feedback," Thompson said.

One key change, especially on the six A Series wheel loaders, had to do with visibility. When Tier 4 Final engines and equipment were installed on the loaders, some adjustments had to be made for the cooling package that cost some visibility for operators, Thompson noted. The A Series development meant a redesign of the hood while keeping the popular swing-out cooling package and its standard reversing fan.

While the cab design has remained similar to the previous series of loaders, greater visibility has definitely piqued the interest of customers. "They get into the cab and say 'man, this is a great, comfortable cab with lots of room and a great operating environment' - we didn't change any part of that. The cabs are basically identical," Thompson noted. "When they actually look over their shoulder they say 'this thing has a lot more visibility - we can see inside this machine a whole lot better than we could before.'"

That visibility improvement is a key part of Hyundai's safety improvements on all of its machines. The company offers rear-view cameras as well as its AAVM - All Around View Monitoring - camera system, which is available on both excavators and wheel loaders. Four cameras provide a 360-degree view around the machine on the in-cab monitor with the touch of a button, and the Intelligent Moving Object Detection feature alerts to the presence of people or objects within a certain distance of the machine.

"We aren't going to stop with just AAVM - we brought out radar along with it, bringing in a secondary monitor for some added visibility and make it a little easier for the operator to see as opposed to just being on the standard monitor," Thompson noted.
Excavator line expands into new size
Much of the excavator design was also carried over, but the nine-model line has been expanded with new machines, including the HX210A L, Thompson noted. Based on the popular HX220 - itself updated as the HX220A L and equipped with a powerful B6.7-litre Cummins engine - the HX210A L is targeted at price-conscious buyers and rental markets.

"It's a little bit lighter, so it saves you about 4,000 pounds, and it is powered by a four-cylinder Cummins engine, the B4.5 - it gains fuel efficiency and saves some weight," Thompson described.
Hyundai's excavators are designed with easy serviceability in mind. A design change made the DEF/AdBlue compartment and access door easier to access, making refills faster, and overfilling is prevented with better visibility of a ¾ to Full sight gauge. Cooling efficiency is improved through aluminum open-core coolers that are stacked, improving air flow.

Mid-size to large A Series excavators, along with the wheel loaders, can take advantage of the Hyundai Hi MATE remote management system, which offers easy access to service and diagnostic information. Machine location, operating history, fuel condition and more can be tracked through the system, giving owners the opportunity to manage and maintain their fleets easier.

More A Series models will arrive in the near future, Thompson said, as well as other options.

"The 965 and 975 are the only two we haven't launched yet in the A Series, but they're on the slate," he said. "We are going to have an updated HL975 - it won't have all the updates the A Series has, but it will be a bridge . . . we're going to make those same changes on the hood to improve visibility before we actually launch the A Series version."

With the A Series well established with customers, Thompson said that customer feedback as the machines hit the ground will help guide further updates and improvements down the road.

"We're always looking for customer feedback and surveying our current and potential customers on what they would like to see on models going forward - options, enhancements, things that would make them more productive," he said. "We're always working on new things to help customers improve their productivity."