Curbside Construction cuts dolly pad paving time in half with unique GOMACO configuration
Embracing technology adds competitiveness for contractor on large construction projects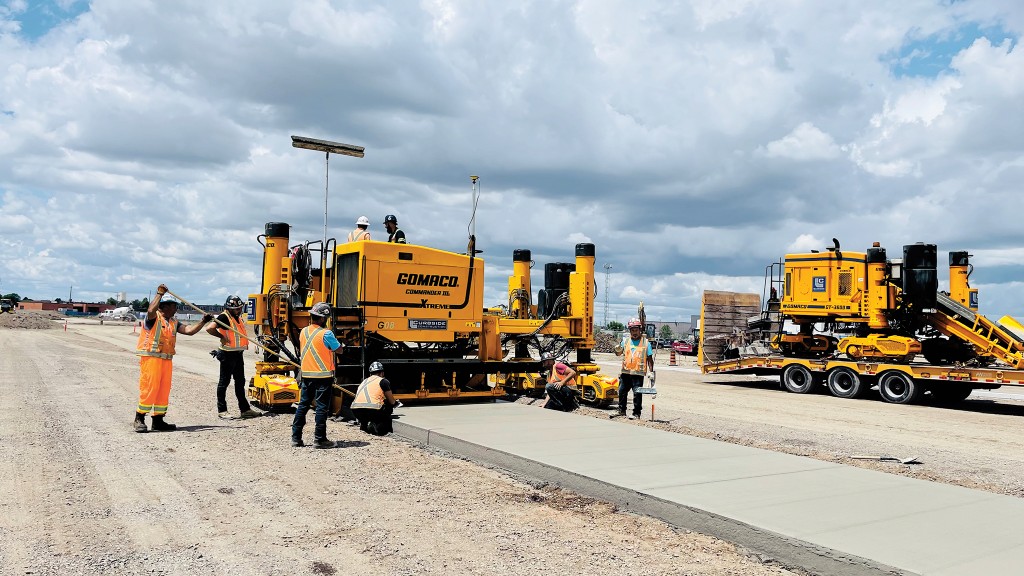 Embracing technology to keep competitive is built into the DNA of Curbside Construction, a multi-generational concrete paving contractor based in the GTA. That forward thinking has resulted in a unique set-up for the company's latest GOMACO machine, which Larry Di Pietro, owner, says has halved the amount of time that it takes his crew to pave dolly pads for large distribution centres in Ontario.
Curbside Construction
Formed in 1986, Curbside Construction started primarily as a curb and sidewalk construction company with expertise in slipform paving concrete curbs, barrier walls and sidewalks.

Larry Di Pietro's father, Greg Di Pietro was a 25 percent owner and in 2006 bought out his partners. Around that time Larry and his brother, Gerry Di Pietro, joined the company. Larry Di Pietro grew up with the paving business, spending weekends working with his father and eventually as a summer student on the site of Curbside's projects. He studied Civil Engineering at Humber College and once out of school worked for Warren Paving, which was later acquired by Lafarge Construction. Di Pietro spent much of his time there as an estimator and then as a construction manager for the GTA until joining Curbside Construction.
About eight years ago, Curbside Construction expanded into site grading and site development to complement its curb and sidewalk business. The company, which used to carry out just the concrete portions of jobs, could now build an entire parking lot from the ground up, for example. The site development side of the business is branded Gregor Siteworks, a division of Curbside Construction.
The company now has between 80 and 90 employees and Di Pietro says that they are still growing.
Today much of their focus is on industrial commercial projects, such as distribution centres, in the GTA. Projects include Amazon, Canada Post, Purolator and Canadian Tire distribution centres – all sites with buildings in the realm of one to two million square feet. Curbside Construction has also worked on large commercial projects, such as Walmarts.

The company still has steady business from curb and sidewalk projects, and Di Pietro estimates that they complete between 100 and 150 projects per year and have between six and eight industrial projects on the go at any given time.
Pushing the envelope with technology adoption
Di Pietro says that Curbside likes to push the envelope when it comes to adopting new technology – and he is on the lookout for new opportunities to be better and faster at what they do to get ahead of the competition.

When it comes to working on these large distribution centre projects, the company has come up with a new solution to get the job done faster.

Where typically a dolly pad would be formed and poured by hand, Curbside Construction is doing the job with a modified GOMACO Xtreme Commander III curb and gutter machine configured to slipform 4.5 metres wide.

They've recently set up the machine with a Leica Geosystems 3D machine control system, instead of stringline, and Di Pietro says that this set-up is working out well for Curbside Construction. He credits his father with instilling forward thinking at the company and their willingness to embrace this new technology stems from him.
Long-term relationship with GOMACO
Curbside Construction also has a strong relationship with GOMACO, which goes back 35 years, and their current dealer is Orangeville, Ontario-based HMA Equipment. GOMACO has been the company's main slipform paver supplier since its inception, and over the years Greg Di Pietro collaborated with the manufacturer to provide feedback and come up with ideas to modify and take advantage of GOMACO machines' versatility.
Curbside Construction has had their GOMACO Xtreme Commander III curb and gutter machine for a few years now, and the Leica 3D control system was added in 2021. Curbside has already tried it out on the Purolator distribution centre project and used that set-up for three separate floors on the site. They started using the total station with a GOMACO GT-3600 curb and gutter slipform paver, found that it worked well, and then set up their Xtreme Commander III to run stringless as well so that they could avoid using stringline when slipforming dolly pads.
Curbside had mostly been using GOMACO GT-3600 curb and gutter machines, which Di Pietro likes for their versatility, and they have been strong performers for Curbside on parking lot and road projects. Curbside isn't doing as many barrier walls and as much highway work as they used to, but they do slipform walls on parking lots.
When Curbside Construction approached GOMACO looking for a way to set up an Xtreme Commander III curb and gutter machine to slipform 4.5 metres wide, a typical spec for dolly pads, GOMACO was able to work with them to modify the machine to make that happen. It took about a day of work in the shop to set it up, and they can undo the modifications easily to transform the machine back if needed.
According to Di Pietro, this modification doubles Curbside Construction's productivity, or cuts the time it takes them to pave dolly pads in half – a significant advantage for a company that not only does their own work, but subcontracts for large civil contractors in the GTA and Ontario.
"Anything we can do to save time, never mind profitability, even from a scheduling standpoint, allows us to do more work," he says, and adds that with the new Xtreme Commander III set-up, they now have extra working days that can be devoted to taking on more jobs – all while keeping on schedule and meeting their customers' needs. For Di Pietro, it's all about maintaining the company's reputation.
He adds that his crew loves the machine and has welcomed the stringless technology with open arms.
As for the future of Curbside Construction, Di Pietro plans to continue adapting and moving with the times. He's looking forward to working on another large distribution centre with the modified Xtreme Commander III later this year, and the machine is currently at work on the Canada Post distribution centre.
Company info
Related products
Related Articles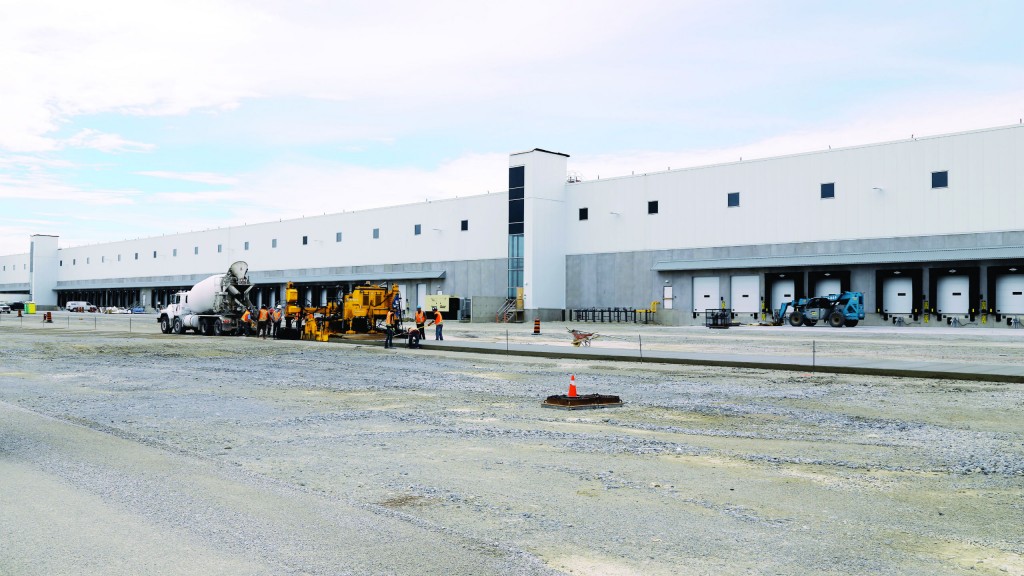 Curbside Construction looks back on slipforming thousands of kilometres of curb and gutter and sidewalks