Quartz construction software updates include progress tracking, improved concrete element verification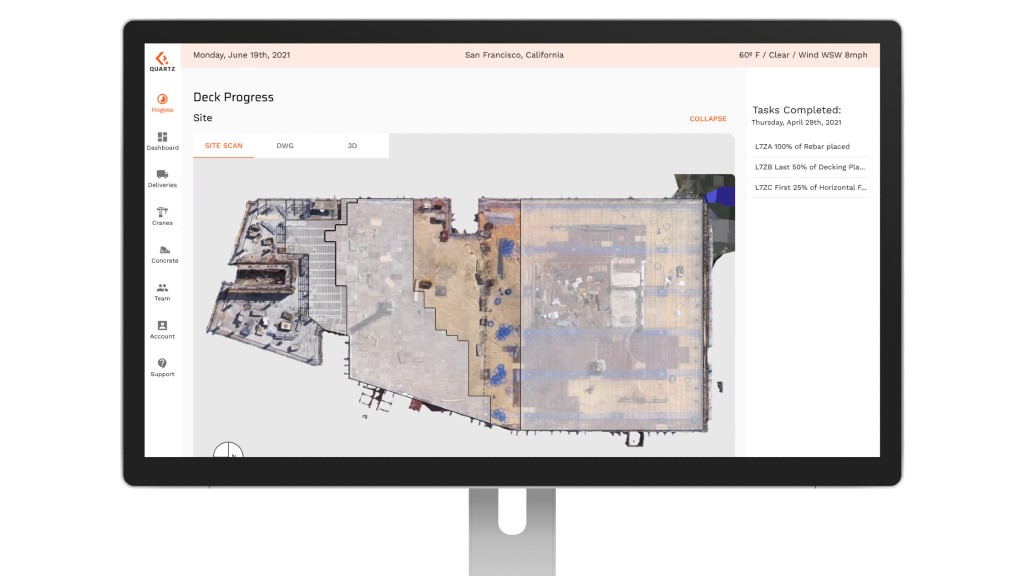 Quartz Systems has launched two new product updates, including capabilities that automatically track work progress, as well as accuracy improvements to Concrete Deck Analysis, a tool that quickly confirms placed deck elements and identifies missing or misplaced elements before a concrete pour.
Tracking progress is a core function of managing daily activities on any site. As part of select pilots, Quartz is rolling out the first generation of automated work progress tracking. Project managers can get daily updates on work performance compared to planned schedules.
The Quartz platform will soon be able to ingest site schedules and use photogrammetry data to provide status updates, including identification of progress on specific tasks by zone of the working deck. Future updates include advanced productivity tracking as well as scheduling and budget projections.
Quartz is also launching improvements to its concrete deck scanning capabilities with Concrete Deck Analysis, a tool that helps project managers minimize waste, eliminate rework and expedite their concrete pour by recognizing missing elements before the pour. Now, Concrete Deck Analysis can provide element verification with sub-one inch accuracy.
Quartz Concrete Deck Analysis makes it possible to identify preventable errors in deck work, a significant source of cost overruns and schedule delays, before they happen. Concrete Deck Analysis incorporates existing project plans, schedules, and drawings to track and understand deck elements.
Quartz then uses its 4K cameras and software analytics to build a Deck Verification Overview, a detailed report that includes what elements are present and missing. Team members can login to the Quartz dashboard to securely view and collaborate on a Deck Verification Overview to quickly address any issues pre-pour—before they become costly rework.