Miller power pack for Class 5 to 7 work trucks eliminates need for additional equipment
Expanded capabilities include integrated welding, battery charge, crank assist, hydraulic power and more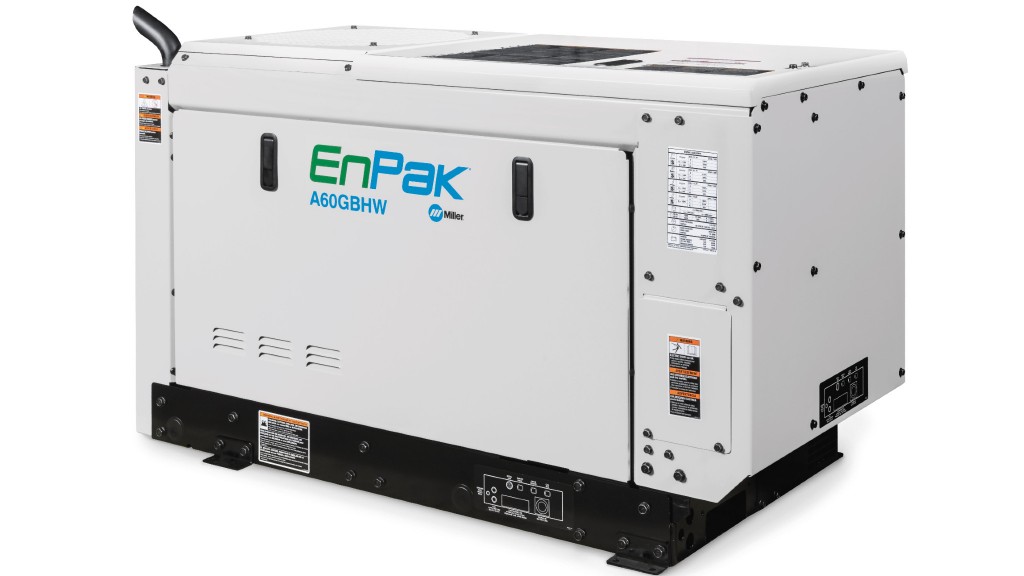 Miller Electric has released the new EnPak A60 solution for Class 5 and Class 7 work trucks. The EnPak A60 power system provides integrated multiprocess welding, battery charge/crank assist, compressed air, hydraulic power and electric power.
The expanded capabilities of the new EnPak A60 eliminate the need to carry additional equipment, maximizing available payload space. EnPak A60 capabilities include:
Integrated multiprocess welding: EnPak A60 provides up to 325 amps — at 100 percent duty cycle — of output to meet welding and machining needs in the field, including line boring, structural repair, bucket repair and more
Hydraulic power: An available integrated hydraulic pump with up to 16 gpm hydraulic output delivers fast, smooth, and precise crane operation
Compressed air: A 60 cfm rotary-screw air compressor offers uninterrupted airflow that powers impact wrenches and pneumatic pumps on the jobsite
Battery charge/crank assist: The EnPak A60 provides up to 150 amps of DC power for 12/24-volt battery charging and up to 300 amps for crank assist
Electric power: The EnPak A60 includes a 7,500-watt generator that delivers continuous 120/240-volt, 60 hertz power for high-demand electrical tools — and any other electrical needs on the jobsite.
The new EnPak A60 includes a turbocharged diesel engine which delivers high torque at lower speeds. This delivers performance in every environment, even at high elevations.
The EnPak A60 also features an LCD control panel that improves the user experience, gives full visibility to the system and empowers technicians to manage power needs. The intuitive dashboard shows key performance indicators of all EnPak A60 systems and lets operators change settings and configurations quickly and easily. Power Priority also enables operators to maximize available power by prioritizing the air compressor or hydraulic system based on what's important for optimal tool performance.