Cat wheel loaders combine with technology for greater efficiency
Software and standard tools allow for fine-tuning of truck loads, equipment and processes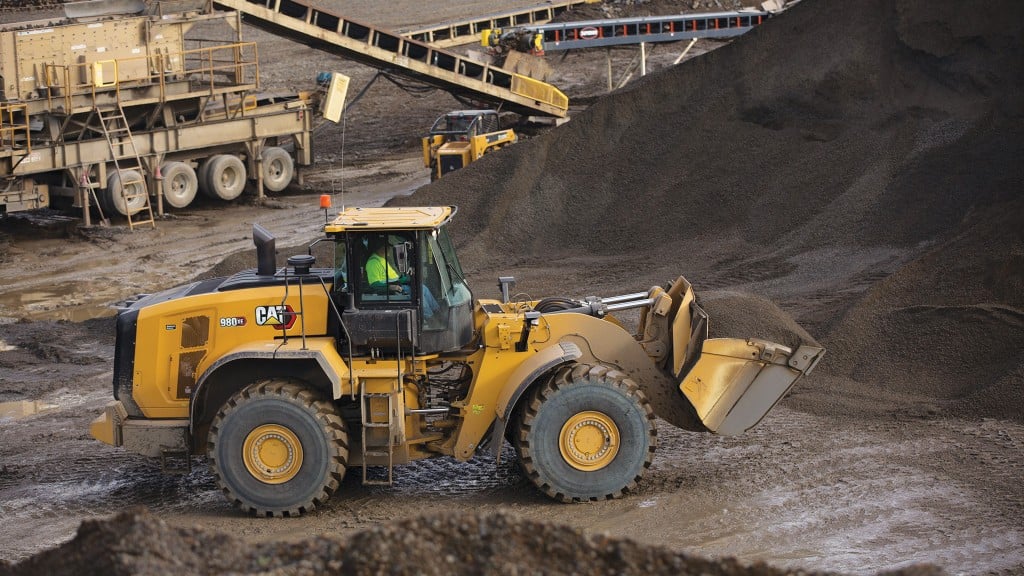 Quarry operations have often faced challenges when it comes to managing material moving around and out of the pit. Tracking equipment at work, monitoring trucks being loaded, and keeping a tally of product sold has often been done by eyeball, leading to a variety of potential challenges.

As technology continues to make inroads into the aggregates industry, skilled managers are finding out how much of a benefit precision can bring to the bottom line. Better tracking of truck loads, equipment management and other factors means better data - and that means greater efficiency improvements.

A focus on integrating technology has been put into Caterpillar's new wheel loaders, the 980 and 982. Both are also available in XE models that feature a parallel path continuous variable transmission (CVT) that helps reduce fuel use and operating costs, and the new machines come with a variety of tools to improve overall site efficiency.

All 980 and 982 loaders come with Cat Payload with Assist standard. This tool offers accurate weighing of bucket payloads that help operators load to target the first time; it includes low-lift-weigh and manual tip-off functions. Advanced Payload, available as an option, adds to that functionality, and it can be combined with other software to increase efficiency even further.

That added efficiency is where Cat Productivity comes in. As an umbrella that encompasses a variety of measurement and efficiency tools, the software collects data to help managers and operators improve the flow of work and reduce inefficiency in their quarries as a whole.

The company's Advanced Productivity offering was a step forward on that when it was released several years ago, according to Global Marketing Consultant Kit Kyarsgaard, but today's tools are designed to manage much more.

"That was really focused on individual machine data, where with Cat Productivity we're pulling in the whole site," Kyarsgaard said. "Customers want to know how much rock they produced across all their machines - they want to take a step back and look at this site holistically, how they can make the whole site more efficient, compared to just 'I have to make my wheel loader or truck better.'"
Quarries rich with data on productivity, efficiency and product volume
Quarries are a data-rich environment: every piece of equipment moving on the site can generate data about productivity, volume, efficiency and more. The trick is figuring out how to gather that data so it can be analyzed and put to work.

"What we find is most operators today still do a manual checklist of how many trucks they loaded. . . you have to add all those up and put them all together, and you don't get that report until two or three days later," Kyarsgaard said. "Now you don't know if you need to work on Saturday or not, or if you just need to work a few extra hours Friday. It's much better for planning and efficiency; it really helps meet your demands as well as adds understanding of what's going on, not two or three days of guesswork."

Cat Productivity provides an easier approach to data collection for quarry operators. A cloud-based system, it offers a digital overview of a quarry's operation and aids customers in reviewing machine data to manage the site for productivity. It can connect a mixed fleet of equipment using GPS through an on-board cellular Product Link device, and feeds data to cloud dashboards for easy review.

"All you need in general to get started is a Product Link box. When you have machines, and you have. . . our payload systems or truck payload management systems, it's feeding all of that detailed information back into Cat Productivity," Kyarsgaard said. "We take all of that, put it through our logic, and it gives us specifically the load locations, dump locations, the amount of payload that moved from one place to another. It tells the loader how much material was right there."
Various hardware levels integrate with Cat Productivity
Different levels of hardware can be integrated with Productivity, Kyarsgaard noted. A basic GPS system can be placed on any piece of equipment, both Cat and competitive machines, and a body-up switch is also capable of being integrated, showing each time that a truck bed is raised. Cat machines equipped with Advanced Productivity provide even more detailed data that can help keep Productivity's captured data at a roughly 95 percent accurate level overal

Once installed, Productivity is virtually invisible to operators - the machine simply collects data and pushes it into the system.

"It's seamless to them - a back-office support so they don't have to push a button when they do a load. It takes that burden from them - it provides facts and data that you can really understand and help you know what's going on," he described.

Using Productivity, if there's a discrepancy in terms of loads counted, a user can run a playback of the day and see where each machine moves to on a map of the quarry.

"The operator doesn't have to do a load count - they don't have to think 'hey, did I do two or three loads?" Kyarsgaard said. "You can go back and recount just by watching the location and time-stamps of the trucks and where they go to see how many got loaded."

The ability to collect and analyze load and material data is moved into the office environment and can be done with much higher accuracy than when pen and paper are used. Operators and drivers can do their job without having to worry about the number of loads they haul or meeting accuracy targets.

Other tools under the Productivity umbrella aid in increasing that accuracy as well. Dispatch for Loading, for example, allows direct communication with machines and trucks to make certain the right truck is at the right loader, receiving the right amount of material. Users can see where trucks are in the yard, make sure there isn't a backup in certain areas, and maximize time savings during the loading process while maintaining precise records of material moved.
Quick system set-up starts data collection in Cat Productivity
Setting up Cat Productivity on a site is a matter of ensuring all the necessary equipment is fitted with a Product Link box, along with scales and other additional tools where needed. From there, users need to input the site name and address, activate subscriptions, add tags to machines and set up ones for the machines in the system. Once that's done, it's all about data collection, Kyarsgaard said.

"If the machines are running, you can come back an hour later and data will be populated from the past hour. From there, it's just a matter of fine-tuning your zones - some customers want to track material from zone to zone," he said. "You can really dive in and understand how much is coming from where, to get that perspective."

As more tools become available to collect and analyze production data in quarries, Kyarsgaard said Caterpillar is seeing more customers looking into technology. Corporate customers are starting to test Productivity and other tools on some of their sites, and as those test drives move forward the results are positive.

"We're going to be in a great position for this to be successful. In the next six months or year we're probably going to see significant increases of subscriptions and new sites being added. . . they really want to be able to pull something up quickly and say 'How many tons did I get done,'" he described.

Aggregates is just the start, Kyarsgaard added - other industries are not far down the road.

"We're starting with quarries as we're just launching - hopefully by the end of the year we will start pushing into construction, which will exponentially raise the bar because there are so many more opportunities in that application," Kyarsgaard said.
Related Articles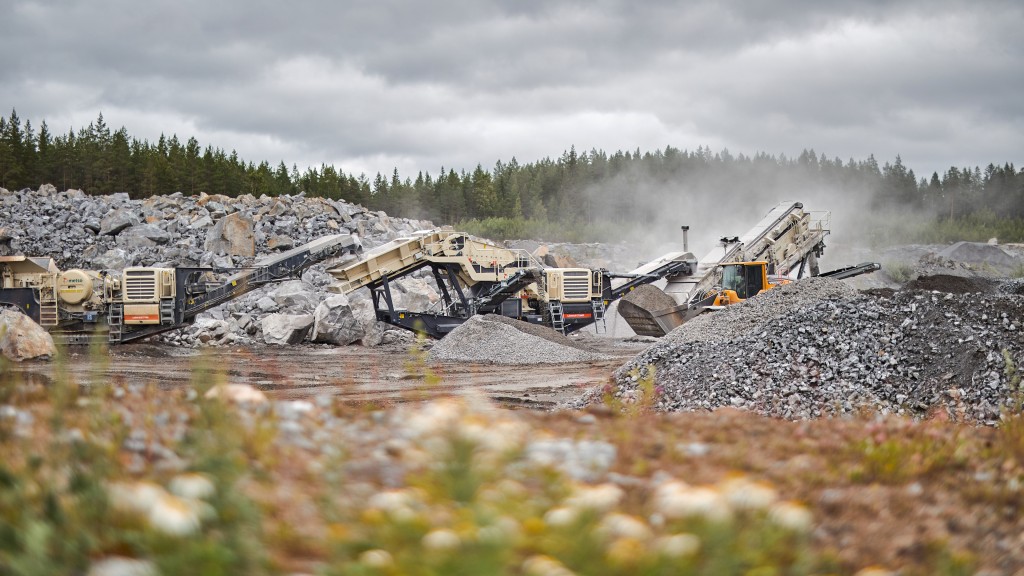 Metso Outotec to showcase updated range of cone crushers at CONEXPO-CON/AGG 2023