Skid-steer loaders deliver performance for asphalt paving
What you need to know to spec your machine for paving projects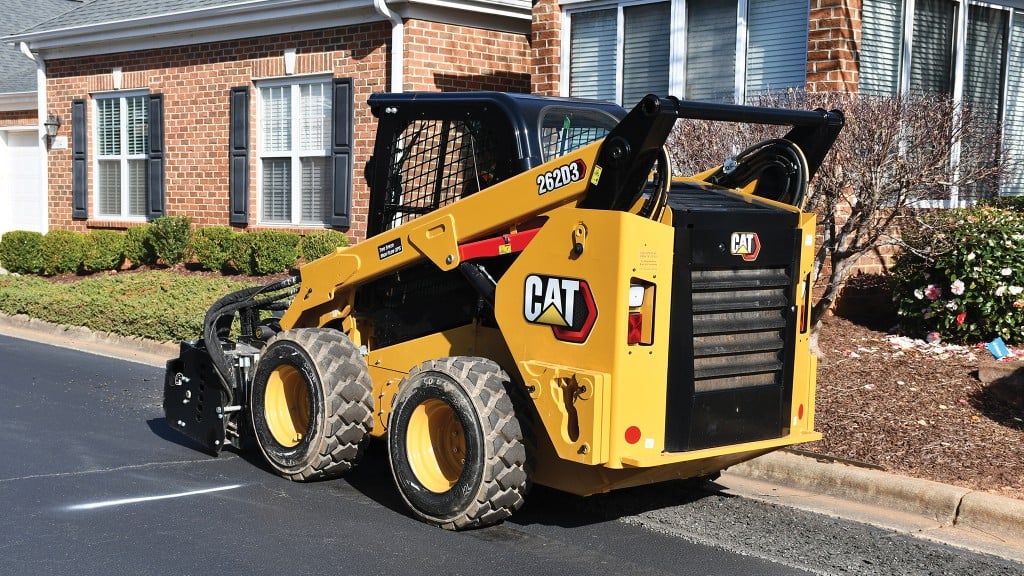 On busy job sites with a lot of equipment and time-constrained tasks, the efficiency and versatility of the skid-steer loader with its ability to perform multiple tasks is indispensable – and asphalt paving is no exception. Able to run a range of attachments, including hydraulically demanding work tools such as cold planers, the skid-steer loader can take care of site preparation, cleanup and tricky areas in asphalt milling and paving support.
Benefits of utilizing skid-steer loaders for asphalt paving support
Versatility of the machine is key. "The fewer number of machines a pavement maintenance contractor owns or rents to get a job done, the greater the opportunity for profit," says Sarah Peckskamp, marketing manager – loaders with Bobcat. "Skid-steer loaders have the capability to operate and alternate between dozens of function-specific attachments, including planers, sweepers, breakers, wheel saws and vibratory rollers - just think of a paving support/asphalt maintenance task and you'll find that there's a combination of a skid-steer loader carrier and attachment to handle it."

In addition to handling a range of tasks, a great thing about deploying a skid steer for asphalt paving work is that these machines are easy to move from job to job, says Kevin Coleman, senior project engineer from Caterpillar. Not only are they easy to move between smaller jobs, but they can trailer in and complete supporting milling or cuts ahead of the larger planers, then clean up with a broom attachment after and use a four-in-one bucket to clean up and load the millings into a truck.

Skid-steer loaders can get into tight spaces that other equipment can't, Peckskamp adds. A skid steer can pivot 360 degrees to work in close quarters beside other machines or obstructions. The skid steer can also spread asphalt on surfaces, such as driveways or small roads precisely by feathering it off the bucket as it backs up to ensure even spread.
What to consider when spec'ing a skid-steer loader for asphalt paving support
Skid-steer loaders come in a range of sizes and vary in capability – from smaller machines with basic specs, to larger machines with mighty hydraulic power for the most demanding applications.

"Ensuring that the machine you are looking to purchase has the hydraulic capacity to support the gallons per hour requirements of your attachments ensures they can perform to their design and maximize productivity," says Luke Gribble, solutions marketing manager with John Deere Construction & Forestry.

Coleman agrees that the first thing you want to look for when spec'ing a skid-steer loader for asphalt paving support is hydraulic performance. You should look for a machine that delivers a high psi, as pressure is the real key; that's what will enable a cold planer attachment to repeatedly tear and rip through the material, which may vary in density and hardness.

An efficient cooling system is also a must-have, according to Coleman. Milling is a high-load task and you don't want to be worried about overheating your skid steer's hydraulics and engine. He suggests a side-by-side cooling arrangement, which means that the hydraulic oil cooler and the engine radiator are in one package next to each other – not stacked – so that they get equal share of the cooling air flow.

He then suggests looking at the hydraulic tank size. Does it have a large reservoir that not only allows the fluid to power the tool, but once it comes back, does it have time to cool off before it's recirculated back through the system?

Once you know the level of power that you need, you should consider corresponding carrier frame sizes, keeping in mind the compact design of the skid-steer loader is the key advantage in this application, says Peckskamp.

She adds, "Other considerations when spec'ing a skid steer for this type of work are height to hinge pin, dump angle and breakout force – as you will likely be working with high-sided trucks. For example, municipalities or communities often do not allow the dumping of asphalt directly onto the road; instead, the material needs to be extracted from the back of a dump truck with its bed tilted. This is where the skid steer comes in to scoop. To do this effectively, skid-steer loaders not only need to have the height to hinge pin and a good dump angle, but they also need to have tilt breakout force to ensure that when they scoop, they can get an efficient load of material on each trip out of the back of the truck."

Skid-steer loaders working in a paving environment are typically doing tasks that generate dust or flying debris, so spec'ing a machine with an enclosed cab that is sealed and pressurized is recommended by Caterpillar.

As asphalt paving is often done in busy areas, such as a lane closed to traffic, good visibility that enables the operator to work and turn precisely, and gives them a wide view of the area, is essential when selecting a skid-steer loader. Gribble notes that you should select a machine that provides the operator with good visibility to the outside of the tires and to the edges of the attachment, and Coleman adds that an advanced display monitor with rear-view camera will enable the operator to see all the way around the machine.

Another advantage of utilizing a skid steer for asphalt paving is the available range of rubber tire options. They can be easily swapped out depending on the application need, and, according to Peckskamp, "The ideal tire for asphalt paving work features a ply thickness and tread design for traction and durability to withstand the rigours of the application and offer extended life."
What you need to know about cold planer attachments for skid-steer loaders

Cold planer attachments for skid-steer loaders are ideal for street repair, levelling uneven pavement, cutting drainage in parking lots, where bridge decks meet the road, going around manhole covers or cleaning around large milling machines. They're also ideal for work on driveways, sidewalks and municipal work.

They come in a variety of widths and the smallest cold planers can be operated with standard hydraulics, while other cold planer attachments with more advanced features require high-flow hydraulics, says Gribble. John Deere offers four models with widths up to 30 inches, Caterpillar offers cold planer attachments with widths up to 48 inches and Bobcat offers the attachment with widths up to 40 inches.

According to Peckskamp, the application should determine the planer width that a contractor chooses. If they are doing a larger job where high production is required, a wider planer is the best choice paired with a larger machine with high-flow hydraulics.

"Flow is speed and pressure is torque," says Tharen Peterson, product application specialist at Caterpillar. "I like to see about two hydraulic horsepower for every inch of planer on the ground. For example, if you had 40 inches of planer, ideally you would have about 80 hydraulic horsepower."

For patch jobs, a narrower-width planer paired with a standard- or high-flow machine will get the job done. Peckskamp says that all of Bobcat's planers cut a minimum of 5 inches.

However, Peterson notes, for jobs that require extensive milling along roads, "standard flow" should not be in the contractor's vocabulary.

He adds that Caterpillar offers a feature called the Max Pro Gauge, which tells the operator when the pressure has built up too much and is about to stall the attachment so that they can avoid stalling. When the attachment stalls, the operator needs to come out of the cut, then go back into the cut, and this process leaves a little riser when they go to do the overlay – this is where a failure can happen on a new road.

Advanced features on three of John Deere's cold planers include in-cab control of depth, tilt and side shift for precise positioning, and heavy-duty planetary design producing high torque. Gribble adds that high rear-spoil clearance reduces recirculation of material, and an exclusive wheel guard design prevents wheels from riding up and over millings. He notes that the side shift feature and removable right-side plate allows for the cantilever-mounted drum to plane close to curbs.

Given the brutal nature of the milling process, properly maintaining a cold planer is essential if you want to extend the life of the picks on the attachment. Asphalt can be messy and, depending on the region, roads can get gummy very fast at the height of summer. Peterson says that when the asphalt gets like glue, it can prevent the planer's picks from spinning. The operator needs to get out of the cab and loosen the material from the picks regularly, otherwise the picks will have to be changed out faster.

Peterson adds that Caterpillar's planers are offered with an optional on-board water tank for dust suppression on the job site. Some operators swear by flooding the drums to keep the picks lubricated and prevent buildup, and some even add dish soap to the tank, but keeping the picks clean is an ongoing struggle. There's no magic solution – Caterpillar doesn't have an official recommendation. Generally, pure labour is required to keep the picks clean.
Speed control delivers a smooth cut
When the goal in paving is to achieve the smoothest finish possible, maintaining an even ground speed when utilizing attachments, such as cold planers, is vital.

"Features like creep control are also important in that they allow the engine to run at full throttle which allows maximum power and hydraulic capabilities while also limiting the ground speed of the machine itself," says Gribble. "This makes operation much easier on the operator and allows them to fine-tune how much power and speed they need to accomplish the task at hand."

"When you reach over for your drive control joystick, you don't want the machine to just take off like a scared rabbit," notes Coleman. "You want to have a nice, smooth travel speed out of the machine. And on our machines, the creeper control allows you to move that joystick all the way forward and find that travel speed that really matches the performance of the attachment."

Coleman adds that by utilizing speed control on the machine, you get a really good finish, you don't stall out at the head and you don't mess up the cut to have a jagged finish on the asphalt.

The same function is ideal for cleanup with a broom attachment. Speed control prevents overwork on the broom and its bristles and picks up and moves the material efficiently without missing it.

The skid-steer loader is a jack of all trades – this machine is an indispensable tool for paving support on small jobs, in hard to reach areas and for cleanup on large projects. The key is to spec the machine correctly for its utilization to deliver the most efficient asphalt paving support.