VÖGELE adds real-time temperature measuring system to line of digital road construction solutions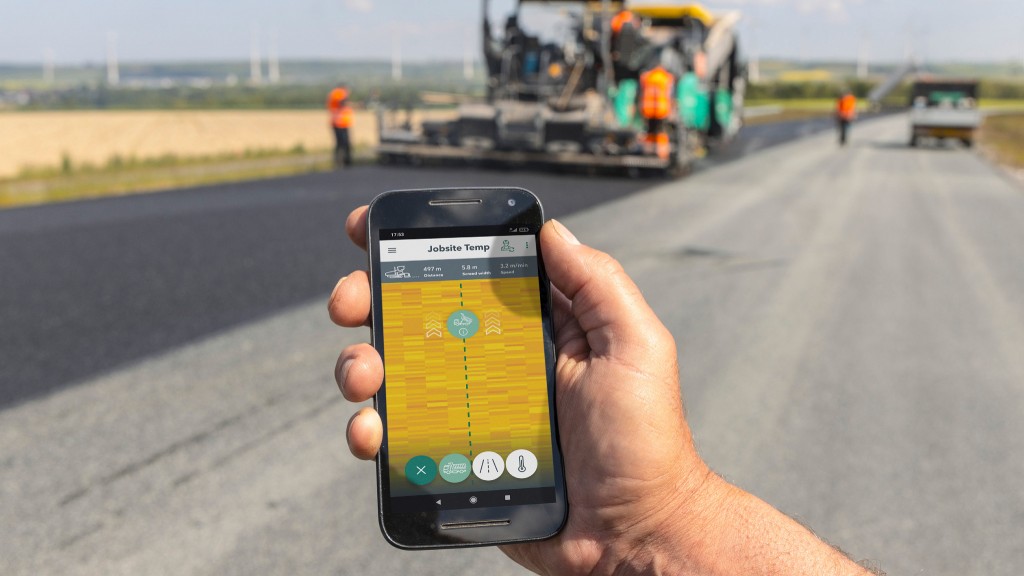 VÖGELE has expanded its existing solutions by adding numerous new functions which increase efficiency through digital monitoring, automatic temperature correction, and documentation data.
One component is the new Jobsite Temp app: users of WITOS Paving Docu and WITOS Paving Plus who also use the RoadScan temperature measuring system can connect to the paver by QR code and activate the application.
Apart from viewing paving temperatures in real time, the foreman, for example, can see other data such as current pave speed, screed width and paver position. In order to work out where a particular truck is unloading, they can also show positions of trucks including the associated delivery note information. Likewise, roller operators can view their own position and distance from the paver and to define exclusion zones.
The app and the paver are networked via WiFi, with the result that information can be exchanged between the RoadScan temperature measuring system and the smartphone even where there is no mobile phone connection. To achieve this, the paver sets up a WiFi network with a radius of around 50 to 80 metres and acts as a server.
RoadScan: Automatic corrections
VÖGELE has also continued improving the temperature measuring system itself. RoadScan's infrared camera measures paving temperatures across the whole area behind the screed in a width up to 10 metres.
In order to avoid faults in the thermal image due to moving objects, VÖGELE has now developed automatic correction: the RoadScan system compares up to four images for a position, enabling it to detect moving obstacles such as those caused by scanning moving rollers, for example. These faulty measurements are removed from the thermal image, giving construction managers and paving supervisors a true-to-life overview of paving temperatures.
VÖGELE has furthermore optimized odometer calibration: RoadScan's GPS receiver and the odometer are now calibrated automatically every 2 metres.
WITOS Paving Docu with additional functions
The WITOS Paving Docu documentation tool also has new practical features which users can use to monitor paving data. Paving crews have the option of entering target project values such as target tonnages, paving sections or areas directly in the Jobsite app.
VÖGELE has expanded the WITOS Paving Plus process optimization solution and thus made it easier for planners and construction managers to issue calls to tender: once the relevant planning data has been entered in the control module, they can create a template for a paving and logistics concept and have it output in the form of a document which can be edited.
Users of WITOS Paving Docu and WITOS Paving Plus who also use the RoadScan temperature measuring system can now use the Jobsite Temp app to track all the relevant temperature data in real time.