Mack mDRIVE HD now available for TerraPro concrete pumpers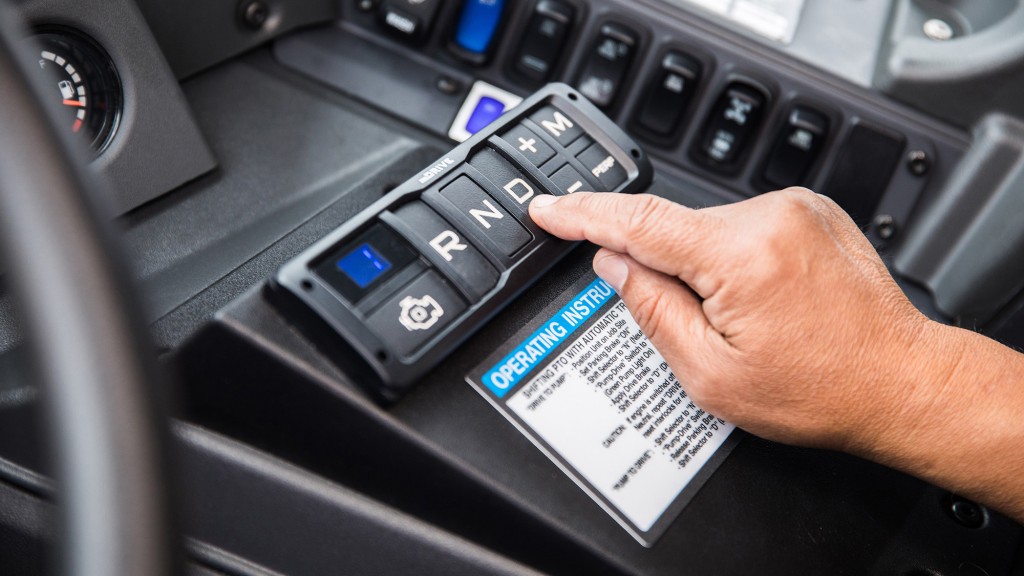 Mack Trucks customers can now order a Mack mDRIVE HD automated manual transmission (AMT) in Mack TerraPro cabover concrete pumpers powered by the 13-litre Mack MP 8 engine.
Fully integrated with the MP8 engine and Mack axles, the 13- and 14-speed mDRIVE provides concrete pumper customers a solution to help improve performance, boost on-site productivity and safety and maximize uptime.
Mack customers requiring pumpers with longer booms, starting in the 30-metre to 40-metre range, prefer bigger pumps and higher horsepower to power the pumps to move concrete through the boom.
The mDRIVE HD paired with the MP8 engine, delivering up to 505 horsepower and 1,860 ft.-lb. of torque, is a proven combination, providing durability and power where high horsepower is necessary.
The mDRIVE HD features split-shaft PTO functionality, receiving output directly from the transmission, creating higher torque for large auxiliary equipment like concrete pumps.
The 13- and 14-speed mDRIVE HD AMTs also feature low-ratio creeper gears that enable improved startability and ultra-low speed maneuverability.
The mDRIVE HD also includes advanced standard features like Rock Free, which allows drivers to free stuck vehicles by rocking the truck back and forth by pumping the accelerator, and Auto Neutral, which improves jobsite safety by automatically putting the mDRIVE into neutral when the parking brake is set. Additional features include MaxBrake, Performance Mode and Grade Gripper, which helps prevent rolling backward on an incline.
To help maximize uptime, the Mack MP8 engine and mDRIVE HD are monitored by Mack GuardDog Connect, Mack's integrated telematics solution that monitors critical fault codes. When a fault code is detected, GuardDog Connect proactively contacts our 24/7 Mack OneCall agents. With Mack GuardDog Connect, several service alerts can be resolved using Mack Over The Air (OTA), which allows customers to make unlimited driver-activated software and parameter updates, improving uptime and simplifying the update process.
Company info
Related products