MegaDome announces new Website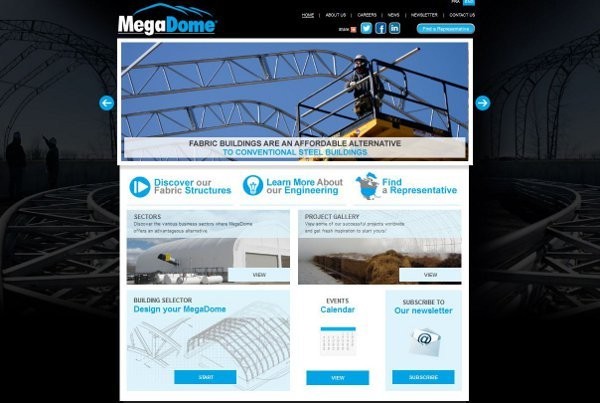 MegaDome structures, a division of Harnois Industries Inc., have announced the launch of its new website which can be found at the following address http://www.megadomebuildings.com
The new website has been greatly updated and facilitates access to strategic information for the benefit of MegaDome customers. The redesign of the website also takes place at the same time as the launch of a complete new range of products.
On the new site, it is now possible to configure a dome structure via a Building Selector by identifying the appropriate profile. Furthermore, the Structures and Technical Information sections of the new site offer information on the superior quality of MegaDome engineering and the company's unique warranties. The new website, also offers insight on MegaDome's activities and future events with which the division will be associated. Additionally, it will also allow customers to have access and follow MegaDome through different social media channels such as Twitter, Facebook, Linkedin, Google+ and Youtube, along with the possibility to share information from pages that are most popular.
Harnois Industries Inc. has been involved in steel structure manufacturing since 1965. MegaDome has since become a leader in multi-purpose steel building manufacturing by providing a wide range of high quality products and industry leading service which also contribute to a greener economy. MegaDome states their mission as being: to design and manufacture steel structures that meet the highest standards of engineering and facilitate the achievement of a customer's financial, logistical and environmental objectives.