How a greater demand for telematics is shaping the construction industry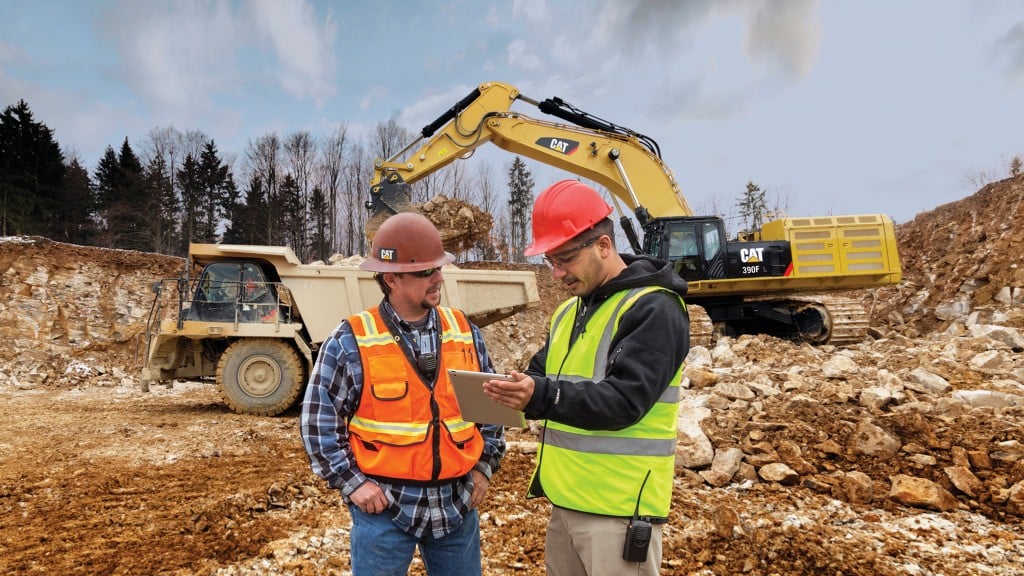 Telematics technology has made huge progress in the last decade. More construction companies are trusting it to get the job done faster and safer. But the biggest shift was seen last year. With COVID-19, technology quickly emerged as the real hero, mitigating the negative effects on the construction industry while reducing costs, keeping project schedules on track and increasing job site security and safety.
Today, there is an increased need to maximize project productivity, doubling down on not just health and safety, but scheduling, resourcing and everything in between. What was once new and revolutionary is becoming the industry norm. Telematics is continuing to help construction companies operate more effectively and efficiently and now can also be used as a tool to meet sustainability goals.
The next level of connectivity
Telematics has been used to drive big change in the construction industry for years. But today, companies are demanding even more – better connectivity, more upgrades and deeper data insights to help push their business to be more competitive and profitable.

The use of telematics is continuing to grow as data analysis technology evolves. Telematics for mid-sized to large pieces of equipment has been around for years – but there has been a recent shift in its use on other assets and smaller equipment such as grout pumps, power generators, trailers and drills.

In power generation, telematics allow situations to be monitored in real time and critical decisions can be made in minutes, not hours or days. If there is an issue with a generator, the site manager and equipment dealer are alerted right away and are able to either fix the equipment remotely or dispatch a technician. The data generated through telematics can provide a big-picture overview of generator health, especially on larger sites with multiple units. When the information is gathered and analyzed properly it can be filtered and compared against historical records to increase efficiencies and help develop the right preventive maintenance programs.

Telematics has also been a game changer when it comes to drilling. It helps operators better understand how they are using drills, tracks progress and offers advice as to when maintenance is needed to order parts and schedule repairs. It can also be used to locate lost or stolen equipment. For example, grout pumps can easily get lost underground after being covered with dirt and mud. Using telematics they can easily be tracked and recovered.

When applied to its full potential, telematics can have a big impact on the cost of doing business. It can help with bids on future work, schedule maintenance to reduce downtime and ensure operators are getting the best use out of equipment. Next-generation machines are coming straight from the factory with telematics already installed, helping ensure more operators know about the technology and how to use it. The next step is operator training, preventive maintenance and greater productivity.
What to do with all that data
Today, data-driven analytics are fast becoming the foundation for the planning and management of successful construction companies. And remote access means that site managers can track and analyze data without ever having to step foot on a job site.

Companies are now looking for even deeper visibility into equipment operations and are capturing a significant amount of data. But on larger construction sites that could have upward of 10,000 pieces of connected equipment, this also presents a new challenge around how to use and get the most out of the information available.

First you need to understand what information is critical to the success of your operations. Avoid being distracted by metrics that don't meet your business needs. For some, GPS tracking with daily reports may be the only requirement. Others want the full dashboard – access to historical information on equipment, tracking location, idle time or fault codes to help identify issues and resolve problems remotely. They may want to use telematics as a way to predict future behaviour, identifying patterns and potential problems before they become issues. For example, when an operator has an issue with their machine they can connect via telematics to their technology support team who can immediately assist with remote troubleshooting. The dealer can also log into the machine and access live machine diagnostic information to help identify the problem. If a repair is required, a technician can be dispatched with the right parts and tools to fix the machine, saving time and money.

When it comes to payload systems, telematics can be used to report cycle times and volume moved. Construction companies can then use these metrics to establish cost per ton, giving them the ability to track productivity and, as a result, price jobs more accurately.

Telematics can also enable equipment updates without the machine ever leaving the job site. Operators receive a notice that a software upgrade is available on their machine. Similar to a smartphone, the updates can be completed remotely, removing bugs or issues from equipment and improving the operation of the machine. When companies focus on upgrading their existing technology it can set them up for whatever may come next and potentially save them money in the long run. Not only can telematics receive information, it can send information as well. Using telematics, surveyors can send design files to the machine, allowing them to build and plan their job through grade control systems. There is a significant productivity benefit here as previously surveyors would have to drive to the site and upload the file manually into the machine.
Raising the bar for sustainability
There is an increasing demand to use telematics as a tool to track equipment greenhouse gas emissions. It has become a key technology to support construction companies' sustainability efforts to make substantial reductions in fuel consumption, emissions and carbon footprint.

Access to real-time reporting can help address operator behaviour that can contribute to fuel consumption and emissions such as excessive speeding, idling or sudden braking. Many telematics systems also provide insight on route selection for optimal fuel economy, improving dispatch times by scheduling technicians nearest to a job and monitoring fleet maintenance and service schedules to maximize uptime and ensure machines operate at peak efficiency. Sustainability data can also be tracked on invoices as a way to show environmental improvements and prove due diligence.

Sustainability in construction is becoming a significant concern for government and corporations on both a global and local level. In the near future, addressing and lowering emissions in the construction industry won't just be the norm but a regulatory requirement. Carbon footprint analysis will not only work toward supporting green initiatives and emissions goals but help to maximize equipment energy efficiency.

Unknowingly, COVID-19 accelerated a greater adoption of telematics – a change which will have lasting impacts on the industry long after the pandemic is over. The long-term benefits and increases in efficiency and productivity seen due to connectivity cannot be ignored, and the industry will continue to see greater advancements as telematics evolves. Recognizing telematics as part of a bigger strategy is key to the future growth of the construction industry. The first step is trusting that telematics has the ability to improve and transform all levels of your business and that it will help optimize job sites, drive greater sustainability and efficiencies, improve your competitiveness and increase the bottom line for your operations. Partnering with a trusted equipment and technology dealer, implementing telematics early on and knowing what data you need right from the start can help remove some of the initial barriers to adopting the technology.
Peter Gibbons is regional technology manager at Finning Canada.
Company info
16901 - 109 Avenue
Edmonton, AB
CA, T5P 4P6

Website:
finning.com
Phone number:
888-346-6464
Read more