In-depth report: Tackling the skilled heavy equipment operator shortfall
How training programs are helping operators keep up with the evolving needs of today's job sites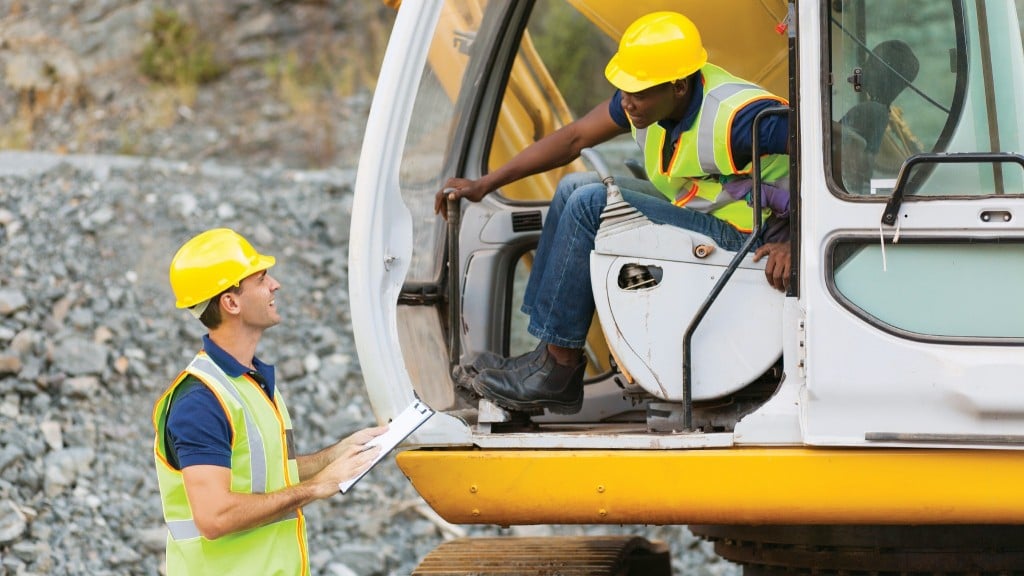 Whether business owners are looking to hire new heavy equipment operators or upgrade the skills of their existing employees, training is an ongoing process throughout any operator's career. As machine technology advances and the demands of work sites shift, today's operators are now expected to do more than just operate equipment. Employers expect operators to have experience that includes safe operating practices, knowledge of technology on machines, ability to perform basic maintenance and more.
Opportunities to develop this baseline of skills include post-secondary training programs, union-based training, private heavy equipment operator training schools and contractors' in-house operator training and mentorship programs.
How Canadian training programs prepare operators for the job site
Heavy equipment operators get their training in several different ways. Many get their start with contractors who give them the opportunity to work on smaller machines and work their way up. Today, prospective operators who may not have that opportunity can take advantage of training programs through post-secondary institutes, private heavy equipment colleges or through local unions. These programs can also benefit established operators looking to upgrade their skills or gain experience on a new type of machine. Common types of heavy equipment covered in these programs include excavators, articulated haulers, motor graders, wheel loaders and backhoes.
University training programs
One such training program is Vancouver Island University's heavy equipment operator school located in Nanaimo, B.C. The Heavy Equipment Operator Certificate Program is designed for entry-level operators and provides students with 10 to 17 weeks of instruction, after which they are granted a Foundation and Technician Certificate as well as a machine specialty certificate.
While many students prefer to focus on just one type of heavy equipment during their training, the program gives students an opportunity to familiarize themselves with other machines on site.
The program also teaches students marketable skills such as first aid, traffic control, safety and basic machine maintenance. Operators learn to look after the equipment, including how to re-track an excavator and change flat tires and blown hydraulic hoses, says Paul Mottershead, associate dean of Trades and Applied Technology at Vancouver Island University.
As today's latest machines are equipped with advanced features, such as telematics and machine control, VIU also prepares its students for the technology that they might encounter on a job site.
"We're trying to duplicate what the industry is and what the expectations will be. The idea is to have all of our students prepared on GPS so that when they jump onto the site, they won't be experts on it, but at least they've had exposure to it and know their way around it quite well," says Mottershead.
Access to virtual reality training also gives operators the chance to develop their skills in a contained and safe environment before moving on to the real thing.
"When running these machines, you shouldn't have to look down and see which way you need to move the lever to pull the bucket," says Mottershead. "The simulators are really beneficial for that. If you give the students some simulator time ahead of getting on the actual machine, they're much more comfortable."
VIU's program also caters to experienced heavy equipment operators who already have a strong foundational knowledge of the construction industry and are looking to train on a specific machine. This option allows operators to skip the introductory classes and go straight to the heavy equipment training.
"For example, somebody who's run a backhoe their entire life might say, 'Well, I got this opportunity with my new employer and they want me to come in and do some training on an excavator,'" says Mottershead. "We have lots of people that have been in the industry long enough that they have a fair amount of knowledge, just not on a specific machine."
Union-based training opportunities
Unions also offer training opportunities for members and non-members. The International Union of Operating Engineers (IUOE) consists of over 100 local training and apprenticeship programs throughout North America that have been training operating engineers since 1896.
One benefit of this type of heavy equipment operator training is that unionized contractors are able to customize training for certain courses, says Jeff Gorham, administrator of the IUOE Local 115 Training Association. For instance, if a union contractor requires an operator to use skid-steer forks rather than a bucket, the contractor can request to have this added to the skid-steer course delivery. Union employees also have the option to continuously receive training throughout their careers as the demands of projects change.
Union training programs offer the advantage of online training to help with operator scheduling and distance learning. According to Gorham, these online courses allow operators to complete a portion of their training without losing a day's pay, proving beneficial to employers.
"Since trade union schools may have multiple locals, these schools have the benefit of collaborating and sharing educational resources with each other, such as curriculum and instructors," says Gorham.
Private training schools
Private training schools, such as Canada Heavy Equipment College in Cambridge, Ontario, also cater to both entry-level and seasoned operators. The program provides operators with the skills needed to enter the workforce, such as manual dexterity, spatial awareness, problem solving, critical thinking and safety. General labourers who want to upgrade to heavy equipment operators are common applicants to the course.
"Safety on a job site is of paramount importance and without proper training, operators are more likely to develop bad habits or not be able to handle difficult situations," says Cyndy Dutkiewicz, campus manager at Canada Heavy Equipment College. "Training needs to be ongoing and appropriate to the tasks at hand."
CHEC also offers on-site training and supervised instruction to municipalities and companies who already have their own heavy equipment on site.
In-house heavy equipment operator training helps hone base skills
When contractors are hunting for new employees, the level at which they consider heavy operator training courses as part of the process varies, but the quality of the operator's knowledge and skill in the seat becomes key.
Metric Civil Contractors is a general contractor with a broad focus; its crews handle jobs in earthmoving, underground utility, roadbuilding, demolition and more. It recruits new staff through various channels including its active social media, looking for new crew members who fit well and know their stuff, according to owner and Operations Manager Marlon Hall.
"One major element of our hiring process most certainly involves the evaluation of previous training and operating experience, and we believe the best way to approach this is through candid and open conversation rather than a robotic interview," Hall says. "This provides us with a much clearer picture of the true experience and quality of an interviewee."
For North Construction, the business is often more of a challenge. Its jobs are often on steep slopes, challenging sites and difficult terrain. When looking for new hires, the preference is for operators with some experience in a machine rather than a fresh graduate. Training schools are excellent for providing new operators a good overview and the skills they need to operate, but specialty work like the contracts North tends to work on needs some additional time, according to Director of Logistics Joel Markson.
"We don't tend to hire really new green operators per se, straight out of those HEOs. . . a lot of times it comes down to at least a number of years of experience operating on steep terrain in the mountains, in forested areas, so that they're aware of those safety concerns," he explains.
Once a new employee joins the team, however, they can expect to learn quite a lot to help fill in the gaps where necessary. Both Metric Civil Contractors and North Construction have their own in-house programs that rely on the knowledge of experienced operators to help bring the newer members of the team along.
"We've created our own training program in-house that we call North University. We have basic all the way through advanced training when it comes to operating equipment," Markson says. "We do on-site training using our more experienced operators to mentor younger ones in various scenarios, whether it's on steep terrain or in civil applications."
Training focuses on operation, use of attachments, and constant work on improved safety for the operator and fellow employees.
"Safety, especially in our business where we're always on that steep terrain and working around people in public, has got to be at the forefront in planning and all your execution," Markson says.
While Metric is open to newer operators to join their team, they also focus on development once new hires are in the seat. Hall explained that the company looks at both internal and external training opportunities, depending on the operator, but no matter the method they emphasize personal development for everyone on the team.
"We achieve this through external course work, but also through our own in-house mentorship program, Green Hand, Gold Hand. The purpose of the program is to pair less experienced employees with carefully selected, senior team members who are willing to impart their skills and knowledge, in a measurable way, in facilitation of the 'green' employee's future advancement within the company," Hall explains. "We have learned that quality employees are difficult to find, believing instead that they are easier made."
Management works with the mentor operators to track the development of newer operators, their skill set and knowledge of their equipment, and the tasks to be done on various projects. "We make every effort to expose the newer operators to a variety of projects to give them an opportunity to perform tasks that they might need practice on," Hall says.
The advent of technology has added a new aspect to operator training for many contractors, and at North - which uses a variety of technologies including grade control, drones and others - it has become part of the overall continuing education of operators.
"We've partnered up with Finning and Trimble on our 3D grading packages - we have a training program developed between them and our in-house survey team," Markson says. "They learn the basics of how to use 3D grading capabilities in our excavators and dozers, and even in our compactors. . . once they've mastered the basics we have an advanced program so they can learn the next levels and further skills to make things more efficient."
While excavators are the main machine that North Construction trains its employees on, Markson says operators who can be trained to run multiple machines can often be relied on to be more precise and skilled.
"I think they have a better understanding of the full build scope when they can see it from multiple different angles. They understand better about the timing and the structure and sequence of how things are built when they know how to do it from any different piece of equipment or any different position," he notes. "A lot of our operators, we try and utilize them in a ground crew for a period of time beforehand, just so they, again, get further understanding of what a good operator does and how they can make the crews' life on the ground that much safer and easier by being a conscious and really safety-minded operator."
For Metric, having operators who can run each type of machine is important, but a big part of training and development is ensuring the ability to work within the overall team, Hall says.
"We determined early on that an operator's attitude and ability to work with others in a team environment is the greatest attribute that lends to the success of not only the operator in realizing their potential, but also the success of the projects they work on and team members they work with," Hall describes. "Without question, the operator needs to possess a high level of operating skill and ability and understand, in depth, the work they are doing. But without the means to communicate or collaborate with others, that operational skill set becomes only as useful as their ability to utilize the latter."
Across Canada there is a range of training opportunities for operators of all experience levels. From new recruits to seasoned operators, today's training programs offer a comprehensive way to develop operational skills and gain the knowledge required to keep up with the evolving needs of today's job sites.