Medium wheel loader update from Cat adds technology features and efficiency
980 and 982 joined by XE models featuring continuous variable transmission for added fuel savings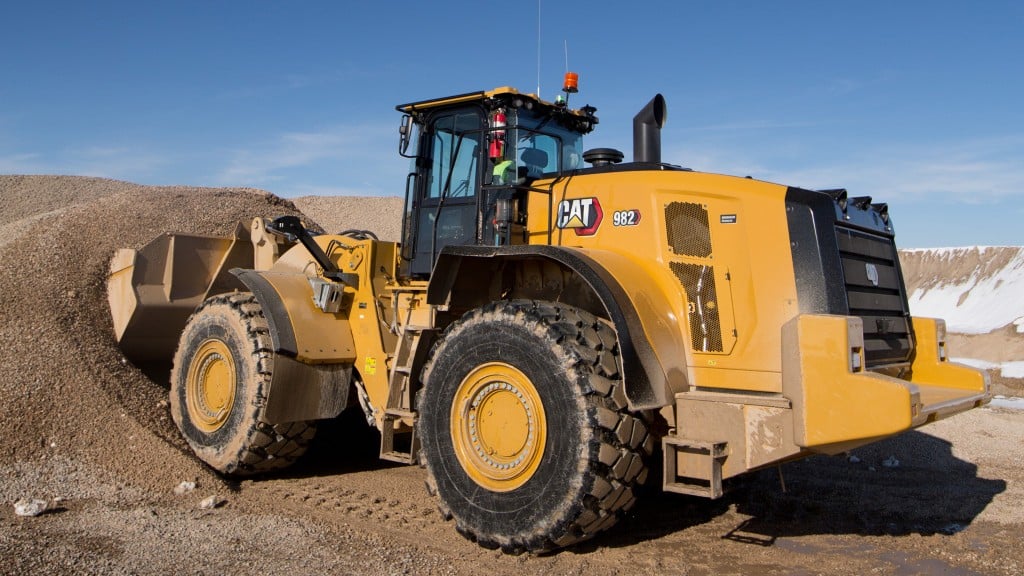 Caterpillar has released new versions of its popular 980 and 982 wheel loaders, which feature a long list of technology updates and changes to improve fuel efficiency and productivity in the 9- to 11-tonne medium wheel loader class.
Cat has said the new machines are up to 10 percent more productive and have 20 percent less maintenance costs than the previous M-series loaders. In addition, both the 980 and 982 are also available as XE models, featuring a Caterpillar designed and manufactured continuous variable transmission (CVT) which increases fuel efficiency by up to 35 percent and cuts maintenance costs up to 25 percent compared to M-series machines.
CVT on XE machines boosts fuel efficiency up to 35 percent
The CVT in the XE models, previously available on the 966K XE, 966M XE and 972M XE model loaders, comes with more than 10 years of production experience and features a high-efficiency continuously variable parallel path drive system, which combines a direct mechanical path from the engine to the wheels with a Hystat variator.
Deep system integration of the Cat CVT, engine, hydraulic and cooling system improve fuel efficiency by up to 35 percent through lowering the rated engine speed with high rimpull. These models feature fine rimpull modulation capability and virtual gears to allow operators a seamless switch from powershift machines.
Standard technology additions include improved assist features
A suite of technology updates will bring greater assistance to operators for everything from pushing into a pile up to precise truck loading.
The new Cat Autodig feature with Auto Set Tires helps with loading by allowing the automation of the full bucket loading cycle, ensuring that the operator is able to get consistent high bucket fill factors - enough to add 10 percent more productivity. Auto Set Tires help the operator when pushing into a pile; the system provides greater traction, reduces wheel spin, and aids in getting the bucket truly full every time.
Now standard on these machines is Cat Payload with Assist; this system gives operators an accurate weighing of bucket payloads. Users can load to target the first time around thanks to the system, which includes low-lift-weight and manual tip-off functions. Advanced Payload, available as an option, adds functionality with things like Lists Management, Multitask and Manual-Add Modes, and tip-off assist. It is compatible with third-party scale house software, and can be combined with Dispatch for Loading, available as a subscription service.
Cab designed to add comfort
In the newly redesigned cab, the 980 and 982 are equipped with a seat-mounted electrohydraulic joystick steering system for precision control with minimal arm movements, giving operators more comfort and accuracy. The 980 is available with a conventional steering wheel. A wide door, stair-like steps and grab rails for stability give operators easy access; in addition, lights along the machine turn on to give easier access when the operator makes their way into the cab. Increased legroom will be welcomed by taller operators, while sound suppression, seals and viscous cab mounts help cut noise and vibration levels. A broad range of safety features are available, including the standard rear-vision camera and additional mirrors for enhanced visibility. Options include Cat Detect radar and a multi-view 360-degree vision system.
Added ease of maintenance combined with longer intervals
Fluid and filter change intervals have been extended on the 980 and 982, helping to cut maintenance costs. Intervals are now scheduled at 1,000-hour increments. Remote services technology reduces service trips to the jobsite, and help ensure the machine runs at peak performance. Remote Troubleshoot helps diagnose fault codes without an on-machine cable connection, and Remote Flash allows software updates to be pushed to machines in the background.
The 980 can be equipped with the optional Fusion Quick Coupler, which allows for quick bucket changes without leaving the cab. Special purpose-built configurations are available for tough applications like waste, forestry, industrial and more.
Performance Series buckets are designed to balance the bucket shape against the machine's linkage to ensure higher fill factors and better material retention.