Link-Belt Previews 2014 its new 2014 Tier 4f engine package at ICUEE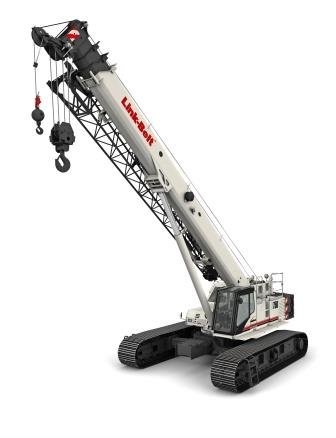 Link-Belt's new TCC-750 will be taking time off from its busy test schedule and sneak over to nearby Louisville to give patrons a peek at its new 2014 Tier 4f engine package at the 2013 International Construction & Equipment Expositions (ICUEE). Link-Belt will be located at booth N-2046. Available in the second quarter of 2014, patrons at ICUEE will have the opportunity to check out the best the 70-80 ton telescopic crawler crane market has to offer.
For its relatively short time in the market, distributors, operators and end users are finding plenty of ways to utilize the strength and versatility of the TCC-750. Aside from general lift duties in hostile work environments, the 750 lends itself to a variety of special applications like foundation work, bridge building, rail construction, power transmission lines, wind energy and the oil & gas sector. It can also include a hydraulically powered earth auger or work platform. The same well-thought-out features and bulletproof hydraulics are found in the TCC-750 as the rest of Link-Belt's proven lineup of telescopic cranes. It comes with added safety features like upper guard rails and a rear-view and winch-view camera system to monitor on-site conditions.
The TCC-750 also has a completely sealed lower and hydraulically retractable side frames for easy, fast transport; the largest telecrawler that can transport with tracks attached at under 100,000 lbs (45 359.2 kg). Additional features include Link-Belt exclusive four-section, full-power formed boom with greaseless Teflon wear pads and a maximum tip height of 121 ft. Link-Belt's exclusive "A" boom mode offers substantially increased capacities for short radii, while the standard mode extends all four sections equally for extended reach. The quick reeve boom head and lightweight nylon head sheaves reduce weight and make rigging easy. A hammerhead boom nose allows the operator to work at high boom angles.
Link-Belt Construction Equipment Company, with headquarters in Lexington, Kentucky is a leader in the design and manufacture of telescopic boom and lattice boom cranes for the construction industry worldwide.
Complete crane specifications are available at www.linkbelt.com.