Sandvik introduces fully optimized top hammer system for large-scale quarry and surface mining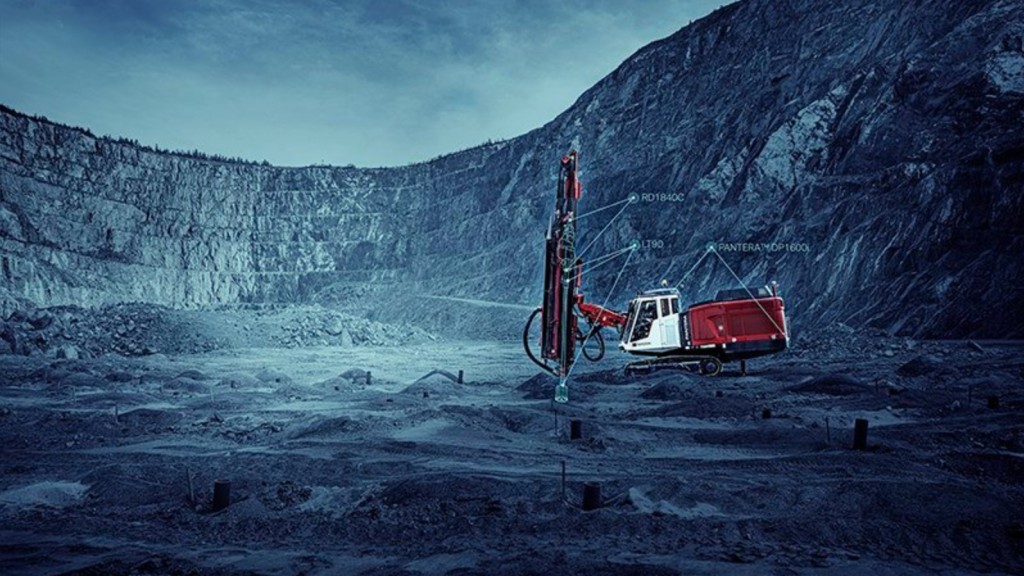 Top Hammer XL is the latest innovation in surface top hammer drilling from Sandvik Mining and Rock Solutions. The new, groundbreaking drilling system, targeting large-scale quarry and surface mining customers, offers a faster, more fuel-efficient and more cost-effective way to drill holes 140 to 178 millimeters (5.5 to 7 inches) in diameter. The components of the system - a new Pantera DP1600i drill rig, new RD1840C rock drill and new LT90 rock tools - are all optimized to work together seamlessly for exceptional drilling results.
Higher productivity - lower fuel consumption
Sandvik's top hammer drilling innovation offers the benefits of top hammer drilling technology as a viable alternative to down-the-hole (DTH) drilling, on a much larger scale than before. The Top Hammer XL drilling system expands the hole size range of top hammer drilling to up to 178 millimeters (7 inches) and provides a faster and more fuel-efficient drilling method. It is part of Sandvik's commitment to use engineering and innovation to make the shift that will drive safer and more sustainable business.
In addition to enhanced drilling results, it offers an effective solution to reduce fuel consumption and, ultimately, CO2 emissions. This more fuel-efficient yet productive drilling method can help Sandvik customers grow their business in a more sustainable way.
Proven efficiency that makes a difference
The efficiency of the new Top Hammer XL drilling system stems from the three components. The carrier offers a solid base for the extremely powerful rock drill that generates an optimum pulse for the effective tooling system, which in turn transfers the high-energy shock wave with minimum losses to the rock.
The Top Hammer XL system has been thoroughly tested and proven in several field tests by drilling more than 100,000 meters in challenging rock conditions. The test results in the given conditions show a 50 percent reduction in fuel consumption, 25 percent reduction in total drilling costs and 15 percent increase in productivity compared with the DTH drilling method.
Pantera DP1600i
Pantera DP1600i is the newest member of the Pantera DPi series family of intelligent top hammer drill rigs, characterized by high penetration rates and advanced automation options for data-based fleet management and drilling performance optimization.
Designed for large hole size drilling, the Pantera DP1600i, with its practical intelligence and support for higher-level automation solutions, is ideally suited for production drilling in large quarries or open pit mines.
The new Pantera DP1600i is based on the reliable and proven Pantera DPi series platform, with upgraded key components to meet the needs of the Top Hammer XL system. T
ogether with the powerful RD1840C rock drill and robust LT90 rock tools, the end result is extreme capacity for a larger hole size, without increasing the actual physical drill rig footprint. Pantera DP1600i offers the highest power in its class and can be customized with a variety of options to meet special requirements.
RD1840C rock drill - more power than ever
The new RD1840C rock drill is designed for large hole drilling with high 49 kW (66 hp) drilling power. Its robust design and well-balanced long piston percussion package are made especially for demanding circumstances. The new layout of pressure accumulators maximizes efficiency and minimizes hose vibrations.
The long piston technology generates high-impact energy with optimum pulse form, optimizing performance in large hole drilling without compromising the rock tools' service life. The geometry and physical dimensions of the new RD1840C rock drill have been optimized for the entire Top Hammer XL drilling system.
As an additional option, RD1840C will be available with the Sandvik RockPulse tool stress monitoring system later in 2021. The system offers the drill operator real-time measurement data on three key drilling parameters: drill bit response, tools load and feed level. The system measures the stress waves and guides the operator to find the right drilling parameters for the best rock contact and performance.