New rough-terrain crane from Terex features 90-ton lifting capacity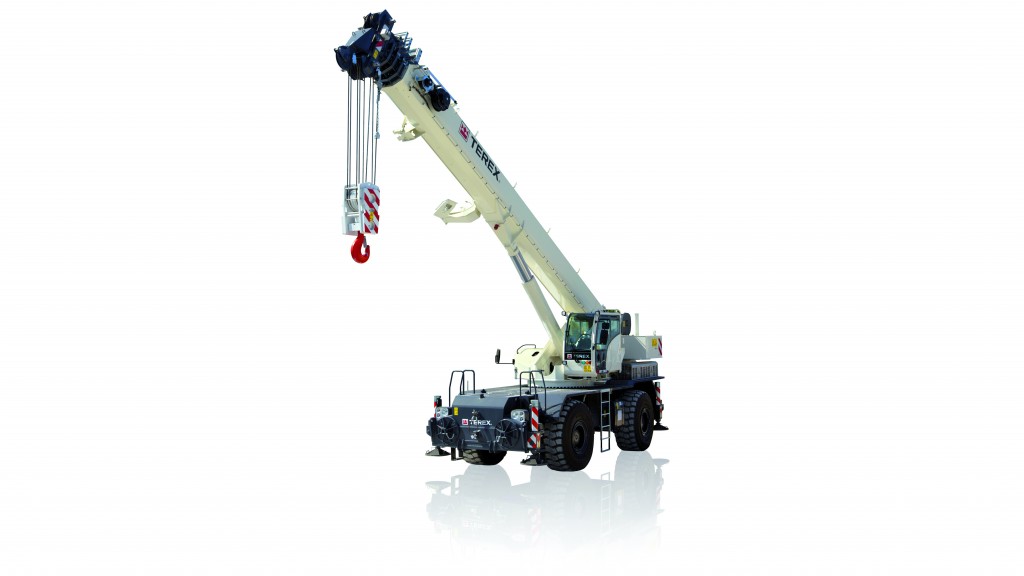 Terex Cranes is pleased to introduce its TRT 90—the latest model in the Terex Rough Terrain (TRT) product range. The TRT range features the new generation of the Terex Operating System (TEOS), which combines proven capabilities with a 10'' full-color touch screen display with intuitive interface to maximise efficient and safe operation and maintenance.
The TRT 90 (90t maximum lifting capacity) is the second model of the TRT range, which also includes the TRT 80 (80t maximum lifting capacity). Both models include a full power proportional boom mode, which gives the operator the best lifting performance, irrespective of the boom length. The counterweight of the TRT80 is designed so that it can be modularly assembled, meaning its overall weight can be reduced when needed, while the TRT 90 features the same self-removable ballast as its predecessor (RT 90), eliminating the need for auxiliary cranes.
An important feature of both cranes is the machine width of only 3m—allowing the cranes to be easily transported and maneuvered, even in congested job sites and narrow/confined areas. Maneuverability is also enhanced with four steering options.
An extra-wide, tiltable cabin with large glass surface provides excellent visibility and comfort.
Both cranes are equipped with a Cummins 6-cylinder engine to provide high power and low fuel consumption thanks to its Eco Mode function and anti-stall control. They are also available with Terex Telematics T-Link, fully stowable double section jib and many other features such as new LED lights, outrigger control from the carrier and the anemometer.
For more information on the TRT range or any Terex Cranes, visit https://www.terex.com/cranes/e...
Related Articles
The new Volvo EC950F crawler excavator was made for large haulers. In fact, it can fill our 60-ton A60H haul truck in just four bucket passes with an average cycle time of just over a minute. Right now, get 0% for 24 months to save up front, then enjoy improved efficiency and lower fuel consumption to spend less down the road.
Learn more about how the perfect pair from Volvo boost your profitability.