Volumetric scanning with optical belt scales improves aggregate operation efficiency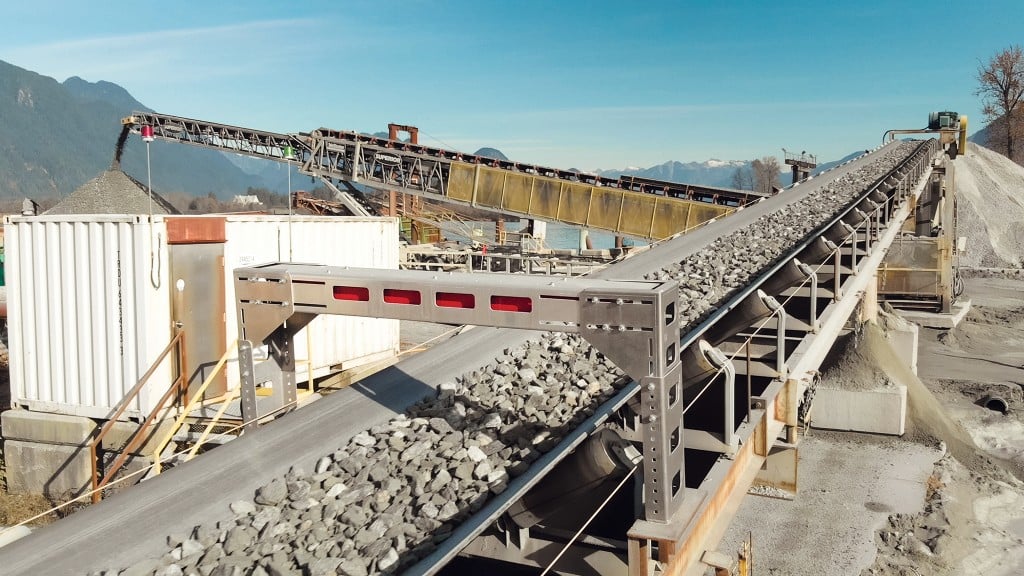 Measuring and managing the flow of aggregates has always been a challenge for quarry operators. Keeping track of how much product is moving from a crusher or screener is frequently difficult to do with precision – and causes a hit on the bottom line.

The use of conveyor weighing tools has become more popular, giving operators a better look at what's being moved on any particular unit. However, physical weighing of material moving across conveyors has its own potential problems.

A solution that is gaining in interest for aggregates operations is the use of laser technology to measure material using 3D imaging technology. An easy add-on to conveyor systems, optical belt scales provide a far more detailed look at the amount of material being moved while providing head office or remote personnel more data to fine-tune budgets and improve profits.

Optical belt scales developed by manufacturers like H-Sensortechnik offer a range of benefits over traditional scale systems, especially in the busy environment of an active quarry. Traditional units rely on load cells that are placed on the conveyor; these often have issues with declining quality over time. In addition, load cells need to be recalibrated when conveyors are moved around – and with mobile machines growing in popularity, that means more time spent fiddling with calibration rather than producing material.

Optical belt scales, in comparison, require far less calibration and are more well-matched to mobile equipment than load cells. These units are mounted above the belt and use lasers to volumetrically measure material moving beneath them, with no moving parts to be knocked out of calibration through vibration or conveyor movement. Wind, dust, temperature and other factors have no effect on these types of tools, either, making them more efficient and more precise than load cells, according to H-Sensortechnik.

As material moves through the scanner, Sensortechnik tools detect the level of product by measuring the cross-profile of the material on the conveyor belt and the feed rate of the belt, providing data on the material flow in cubic metres or yards which can be converted to tonnage with the use of bulk density factors. The Sensortechnik unit has a measurement accuracy of 1 mm variance and is precise on both stationary or tracked machines.
Volumetric measurements collected by the optical belt scale are transmitted to users in multiple ways. For immediate use, the data is sent wirelessly to the operator's handheld device or computer; the operator can configure their scan settings as needed including changing the material types or customer profile.

In the office, Sensortechnik optical belt scales interface with SensorTrack, a data management system that provides real-time visibility based on scale, site and material types, providing metrics and performance indicators at a glance. Those measurements give managers a wealth of data that can be analyzed to determine a range of factors such as how much material is processed daily and any trends that are arising and causing problems with overall operations. Use of this data allows operators to understand when operational issues are cropping up and respond quickly to save money and time from downtime or other factors.

"Through visualizations and an easy-to-navigate dashboard, SensorTrack provides owners and operators increased visibility into their business in real-time," said Charles Arnot, sales manager of Frontline Machinery, North America distributor for H-Sensortechnik. "In many aggregate operations, producers rely on traditional material measuring tools such as loader scales and stockpile reporting which can be inaccurate, dated, and can result in inventory discrepancies. Instead, the optical belt scale provides accurate and timely data ensuring producers never miss any critical information needed to take action."
OBS systems can be easily integrated with operations that use programmable logic controllers (PLCs) or other in-house reporting tools, providing flow rate control and continuous monitoring. This connection is available both hardwired or can be configured via wireless networks. All information is available to be downloaded into internal databases for data management.
With precise measurements being recorded by the optical belt scale, operators are able to track the flow and loading of material far more effectively. For example, one operation loads aggregate barges via conveyor and has traditionally relied on a physical measurement of the loaded material to determine when the barge was filled. With an OBS, the system loads the barge to a precise measure and then stops, ensuring the customer gets precisely what was asked for.

"Beyond being a practical measurement application, Sensortechnik Optical Belt Scale is truly an operations management tool. From verifying equipment and crew productivity, to centrally monitoring multiple sites and equipment, the Optical Belt Scale saves time, reduces costs and improves overall site management," said Arnot.