Cat next gen excavators add efficiency
Cat leaps forward with new cab designs, construction technology and maximum productivity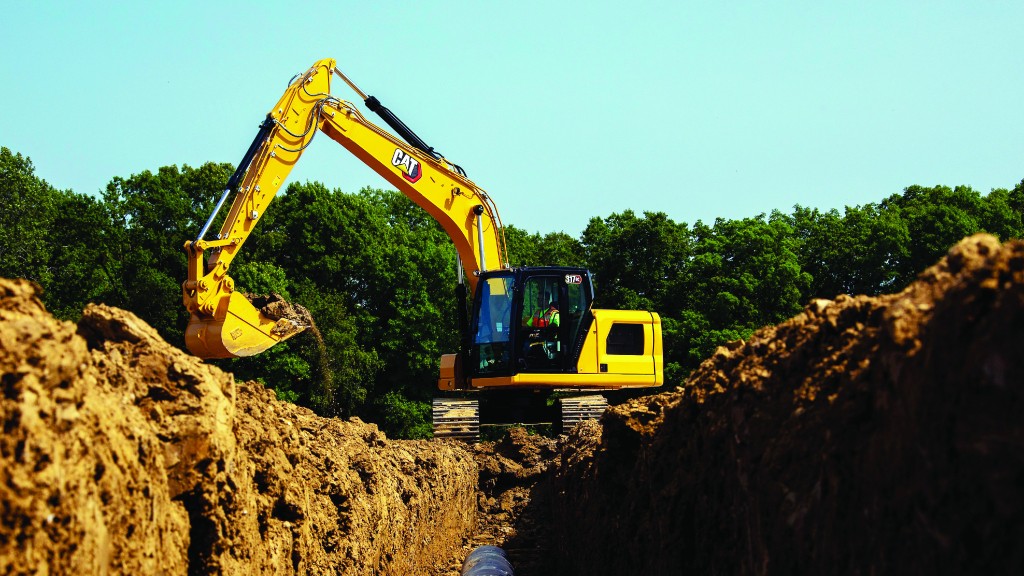 At CONEXPO 2020, Caterpillar kicked off a new initiative with the introduction of its first Next Generation excavators in sizes ranging from 13 to 95 tons. The effort to improve and expand on the capabilities of the next generation of Cat equipment took a big step forward later in the year with a flurry of additions to the excavator line.
Numerous new next generation Cat excavators
The Next Generation excavators are designed with greater capability, better efficiency, lower fuel consumption and lower maintenance costs overall. A series of announcements in late 2020 introduced numerous models of new Cat excavators, including wheeled and compact radius machines that ensure contractors have a variety of sizes to meet a range of job requirements.
Major updates include new, larger cab designs that are available in a number of different designs, giving buyers a unique choice when it comes to how they outfit their machines. Extended maintenance intervals, greater fuel efficiency and more construction technology are all hallmarks of the Next Gen excavators and all assist contractors to improve their business bottom line.
Compact radius gets Cat 315 GC Next Gen excavator into tighter spaces
Intuitive operating system boosts work done with lower fuel and maintenance costs
The Cat 315 GC compact radius machine is a 15-ton excavator that offers maintenance costs up to 25 percent lower than previous machines. It has an intuitive operating system allowing operators of any skill level to work at a high production level, making the machine ideal for space-restricted operations in rental, municipal and other excavating applications, Cat states.
Powered by the Cat 3.6 engine, designed to meet U.S. Tier 4 Final and EU Stage V emission standards, the 315 GC Next Gen excavator offers Smart Mode operation, which matches engine and hydraulic power to digging conditions for optimized fuel consumption and performance. Combined with ECO mode, saving fuel in less demanding applications, the system cuts fuel consumption by up to 15 percent compared to the preceding Cat 315F. The 315 GC features a new main hydraulic control valve that eliminates the need for pilot lines, reduces pressure losses and lowers fuel consumption.
New comfort cab offers improved visibility
Cat excavators are available with a new comfort cab, which has a low-profile design and provides 60 percent greater visibility than the previous machine, along with easier cab entry and exit and a variety of safety features including added camera views and an 8-inch touchscreen LCD monitor. Bluetooth connectivity means operators can use their smart phone wirelessly in the cab.
Standard and short tail swing options on 317 and 317 GC Next Gen excavators
Range of engine modes help excavators achieve lowest cost and reduce fuel use
In the 17-ton range, the Cat 317 and 317 GC excavators offer more power and performance - as with the 315, Cat Smart Mode helps owners achieve the lowest cost and improve efficiency by sensing lower hydraulic pump demand and allowing the machine to operate at lower engine speeds. Power mode gives the Cat 317 excavator max power and productivity for challenging projects. A responsive hydraulic system features a new main valve control that cuts the need for pilot lines, reduces pressure loss and cuts fuel consumption.
How much does technology enhance Next Generation performance?
Performance-enhancing technology on the Cat Next Generation 317 and 317 GC improves operator efficiency by up to 45 percent, Caterpillar states. Standard Cat Grade Assist automates boom, stick and bucket movements, so operators can stay on grade with a single lever. Cat Grade with 2D guides depth, slope and horizontal distance grade through the touchscreen monitor, and Cat Payload is also standard, providing the ability to track weighing and payload estimates in real time. All of that data and more is captured by Cat Product Link technology for fleet managers to review via Vision Link.
Maintenance made easier with checkpoints at ground level
Daily maintenance routines are easier with all excavator engine checkpoints easily accessible to the operator from the ground level. A new hydraulic oil filter offers improved filtration and a 50 percent longer 3,000-hour change interval, lowering maintenance costs. New cab options are also available on the Cat 317 excavators. Like the 315, a new control valve removes the need for pilot lines and reduces pressure losses.
Remote services allow dealers to keep excavators operating properly
Cat Remote Services technologies leverage reported telematics data to allow Cat dealers to remotely keep the excavator operating at maximum production. Remote Troubleshoot analyzes real-time machine operating data to allow dealer technicians to run diagnostic testing and pinpoint issues without impacting machine productivity, saving a service trip to the jobsite. Remote Flash ensures the excavator is operating with the most current version of on-board software, while working around the machine's production schedule, so it delivers high performance, maximum efficiency and minimum downtime.
Cat 335 Next Gen excavator benefits from compact radius design
Tight tail swing radius adds job site maneuverability
In the 35-ton class, the Cat 335 Next Gen excavator features a compact radius design, enhancing its maneuverability on a range of space-restricted job sites like road projects or urban work. Like other Next Generation machines, the 335 brings along features that lower fuel consumption and reduce operating cost per hour for better bottom lines.
Powered by the field-proven Cat C7.1 engine, the 335 meets emissions standards with a no-maintenance aftertreatment system. Three selectable operating modes help reduce fuel consumption and the standard engine configuration offers high ambient temperature operating capacity of 126 degrees F (52 degrees C), cold start capability of 0 degrees F (-18 degrees C), and altitude capacity of 15,090 feet (4600 m).
New digging features improve operating efficiency
The Cat 335 Next Gen excavator is designed with increased stick and bucket sizes, which provide 15 percent greater digging forces and allow the machine to power through tough materials like hard ground or asphalt. Hydraulic power is increased by 20 percent to improve productivity, and auxiliary hydraulic options are available to work with a range of versatile Cat attachments. Material penetration and improved cycle times come from the use of Advansys bucket tips, which can be changed quickly and improve uptime.
Greater power and performance from Cat 349 Next Gen excavator
C13 engine generates 425 horsepower while using less fuel
Moving up the size chart for excavators, the new Cat 349 Next Gen falls into the 49-ton class and is powered by a Cat C13 engine generating 425 hp while meeting US Tier 4 Final and EU Stage V emission standards. Using Smart Mode and other efficiency features, the Cat 349 can offer up to 10 percent greater fuel consumption over its F-series predecessor.
Factory-installed technology boosts Next Generation excavators
It also comes with what Cat says is the industry's highest level of standard factory-installed technology to help improve operating costs by up to 45 percent. The machine comes standard with Cat Grade with 2D and can easily be upgraded to Advanced 2D or 3D systems. It also offers Cat Grade Assist and Cat Payload. Use Lift Assist to calculate weight of the load being lifted and compares it to the rated capability of the excavator - if the load is too heavy the system alerts the operator with visual and audible alerts. An E-Fence system keeps the excavator from moving outside of specific operator-defined points, protecting the Cat machine, underground utilities and other objects from damage.
Redesigned Cat 349 Next Gen cab provides operator comfort and safety
The Cat 349's cab, as with all of the Caterpillar Next Gen machines, is designed to provide operators of these excavators with comfort and safety, allowing them to use features like keyless pushbutton start and sound-suppressed ROPS, along with features like tilt-up consoles to allow easy entry and exit, advanced cab mounts to cut vibration, automatic climate controls to keep temperature comfortable in the cab, programmable joystick buttons to set control patterns and hydraulic response rates, and options including a 360-degree visibility package combining images from multiple cameras to enhance sightlines.
Technology and specialty configurations available on Cat 352 Next Gen excavator
Cat Grade and other technology features available
Many of the features of the 349 are also available in the new Cat 352 Next Gen, which replaces the 352F as Cat's 52-ton excavator. With a variable gauge undercarriage, the Cat 352 also offers up to 10 percent less fuel consumption, 15 percent lower maintenance cost and 45 percent more operating efficiency that can all add up to reduced cost per hour.
New on-demand fan operates only when needed
The cooling system features a new on-demand fan that's designed to operate only when required, saving fuel. An available reverse function assists with cleaning debris from the cooling cores, another plus for enhanced efficiency. A new Cat air filter with an integrated pre-cleaner and primary and secondary filters provides double the dust-holding capacity of the previous design.
Specialty configurations accommodate a big range of digging requirements
The Cat 352 is available with a Long Reach configuration, which reaches out up to 64 feet (19.6 m) and digs down 43 feet (13 m). Standard waterproof technology provides precision excavation down to 15 feet (4.5 m), and an optional submarine solution allows these Cat excavators to dig down to 66 feet (20 m). The long reach system uses a heavy-duty wide undercarriage and an extra counterweight to provide a stable platform. The variable gauge undercarriage enables easier transportation between job sites when retracted, and adds stability when extended.
Get to job sites faster with Cat M316 Next Gen wheeled excavator
More swing torque and hydraulic options featured
For those buyers who need the rubber to hit the road for their jobs, the new Cat M316 Next Generation wheeled excavator offers advanced hydraulics that offer a balance of power and efficiency. It provides 14 percent more swing torque and auxiliary hydraulic options delivering power and versatility to manage a range of Cat excavator attachments. A dedicated swing pump provides consistent power to improve multitasking.
Multiple cab options and simplified operation
A travel speed of up to 21.7 mph (35 km/h) gets the M316 where it needs to go quickly, keeping it on the job site longer. Like the other Cat Next Generation excavators, this Cat wheeled excavator has multiple cab options and simplified operation. Auto axle lock ensures that the machine stays where it needs to be, detecting when the brake must be locked or unlocked and releasing when the travel pedal is pressed, saving the operator time.
Lower maintenance cost and higher fuel efficiency
The Cat M316 also benefits from the same lower maintenance cost, more efficient fuel consumption and updates as the other Cat Next Generation excavators, along with the variety of technological upgrades available across the Caterpillar excavator line.
Related Articles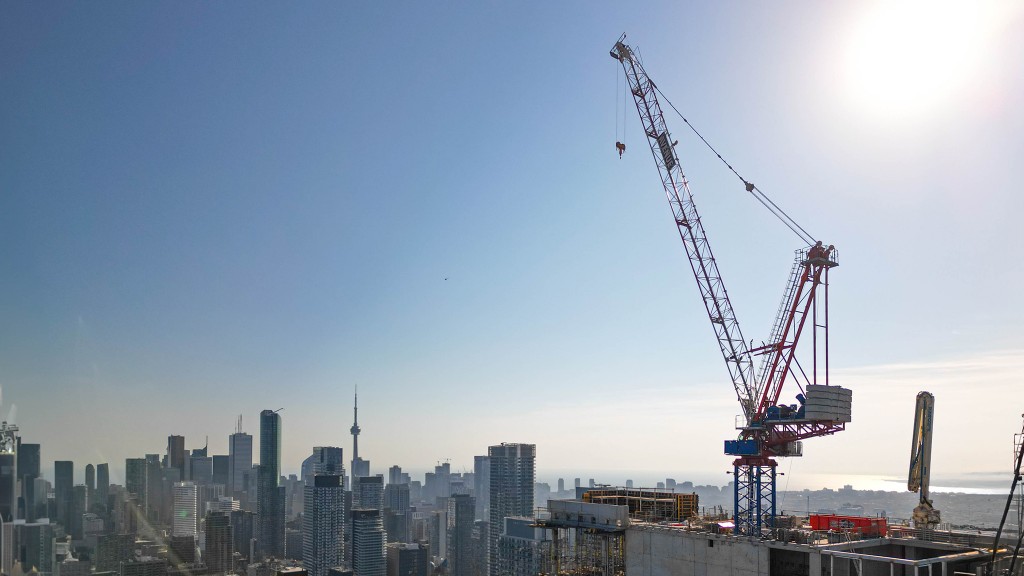 Tight squeeze in Toronto skyline is the right fit for Raimondi luffing jib crane